Art & Justice Intern, Future IDs at Alcatraz
Part-time internship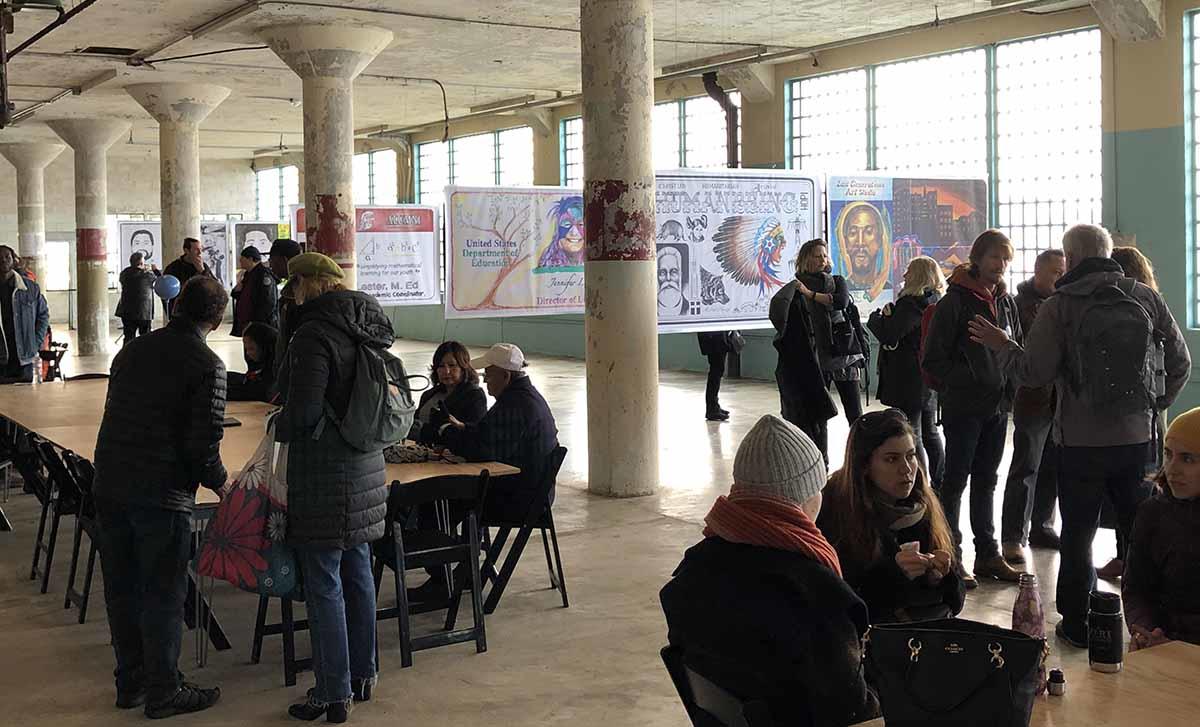 Participants at the Future IDs at Alcatraz 'Day of Public Programs' on Feb. 16, 2019, at the New Industries Building on Alcatraz Island.
Peter Hockaday / Parks Conservancy
Overview
The Golden Gate National Parks Conservancy is looking for enthusiastic individuals who have a passion for art, an interest in supporting those impacted by the justice system, and a desire to share stories and raise awareness of the reentry process through the Future IDs at Alcatraz exhibition.
The Art and Justice Interns will work within National Park Service (NPS) and Parks Conservancy to staff and support the art exhibition and series of monthly public programs. Interns will learn about facilitating and managing art, justice, and community-based projects and programs. They will support the visitor experience, answering questions, and providing information about the exhibition, the participating artists, the project themes, and their relevance to Alcatraz. 
Ideal candidates will have experience with the criminal justice system, including individuals with histories of incarceration and/or those who have family members with those histories. Individuals with related lived experience, or experience studying/working within the criminal justice system would also be good candidates. Applications are being accepted on a rolling bases through September 2019. 
About Future IDs at Alcatraz
Future IDs at Alcatraz is a yearlong project, exhibition, and series of monthly public programs opening February 16, 2019 in the New Industries Building on Alcatraz Island. Since November 2018, the exhibition space has been functioning as an artist studio open to Alcatraz visitors. The installation features artworks created by and with individuals who have conviction histories as they conceive and develop a vision for a future self. In stark contrast to prison-issued IDs, these artworks, inspired by identification cards, represent individual stories of transformation.
Social practice artist Gregory Sale leads a team that translates criminal justice reform efforts into a visual language to shift thinking about rehabilitation, reentry, and reintegration. Working closely with Dr. Luis Garcia, Kirn Kim, Ryan Lo, Aaron Mercado, LaVell Baylor, Dominique Bell, and Sabrina Reid, Sale and many collaborators led artmaking workshops and programs across California, both inside prisons and in communities.
This project on Alcatraz is presented in partnership with the National Park Service and the Golden Gate National Parks Conservancy through the Art in the Parks program. It engages Alcatraz's layered history as an iconic federal prison, birthplace of the American Indian Red Power Movement, national park, and International Site of Conscience. Together, the exhibition and public programs function as a platform for conversation through performances and civic dialogue experiments that are co-curated with community partners.  
For a full list of featured artists, collaborators, supporters, and community partners, visit parksconservancy.org/FutureIDs.
About the Art and Justice Internship Position
Description of Duties
Art and Justice Intern will work within a team of exhibit partners to provide skilled support to the Future IDs at Alcatraz exhibition and public programs. The intern will be an integral member of the working group and will:
Support exhibit opening and closing and day-to-day logistics on Island.

Welcome visitors to the exhibit and facilitate interpretation of the art work.

Work with local community groups invited to participate in the exhibit.

Support monthly public programs at the exhibit and participate in special events and activities with the public.

Attend exhibition related meetings.
Applications will be evaluated based on:
Interest in and/or experience with art exhibitions, the prison system and the process of re-entry.

Demonstrated strong writing and verbal communication skills.

Ability to take initiative, work independently and juggle multiple assignments.

Competent in use of MS Office programs.

Enthusiastic team member who pitches in and works well with people of diverse backgrounds.

Ability to work comfortably engaging and communicating with large numbers of people in a public setting.
Physical Requirements and Work Conditions
Work is performed in outdoor park settings and in historic sites with limited heating.

Work is performed standing or walking.

Must be able to lift and carry objects weighing up to forty pounds.

Interns will be provided with ferry passes to and from Alcatraz for scheduled work shifts.

Appropriate clothing (layers) and comfortable, safe footwear is necessary for the working environment.
Terms and Benefits
Interns will devote two to three full workdays per week from April to October 2019. Some part-time shifts may be available. Participation on weekends is required. Benefits include:
A taxable stipend of $75/day. 
Internship starts approximately May 1, 2019.

Length of position: 6 month commitment through October 2019.

Intern must have a Social Security Number or an Individual Taxpayer Identification Number to receive stipend. Stipend is a taxable event.

Schedule: 2-3 days per week. Vacation and sick time available. 

Opportunity to meet and interact with a variety of park and arts institution professionals.

Opportunity to participate in art and justice training with the Future IDs Creative Team, lead artist Gregory Sale, and representatives from social justice organizations.

Opportunity to earn college credit, if appropriate to an individual's program of study.

Opportunity to attend Park Academy Classes on a variety of topics including resume building and interview skills, park orientation and history, flora and fauna, program and field techniques, computer skills, etc. For more information on Park Academy see:

http://www.parksconservancy.org/learn/park-academy/

.
To Apply
To apply to the internship, please send the following items to FIDS.Alcatraz@gmail.com:
Updated resume or bio.

A Letter of Intent or Personal Statement.

Two (2) references. Please provide names and contact information.

Schedule of Availability.
All applicants are notified of the Parks Conservancy's decision to offer or decline an internship within four weeks of the application deadline. Internship selection is competitive and is based on lived experience, academic achievement, references, letter of intent or personal statement, and required interview. Each selected applicant will be asked to begin the program by making their own future ID.
The Golden Gate National Parks Conservancy and National Park Service strive to engage a workforce reflective of the community it serves. All qualified applicants are encouraged to apply.
Please no phone calls about this volunteer program.
About Art in the Parks
The Art in the Park initiative is a partnership program of the National Park Service Golden Gate National Recreation Area (GGNRA), the Golden Gate National Parks Conservancy and the Headlands Center for the Arts. The program mission of Arts in the Parks is to provide programs to connect our visitors with creative experiences in the park that are transformative, unexpected, and inspirational. Previous Art in the Parks exhibitions include @Large: Ai Weiwei on Alcatraz, Home Land Security in the Presidio, and the Portal at Crissy Field East Beach. Since the program's inception, over 280 artists have participated in 27 art projects across 19 different park sites.