Education Intern, Native Plant Nurseries Program
Full-time, 11 months, Housing + Stipend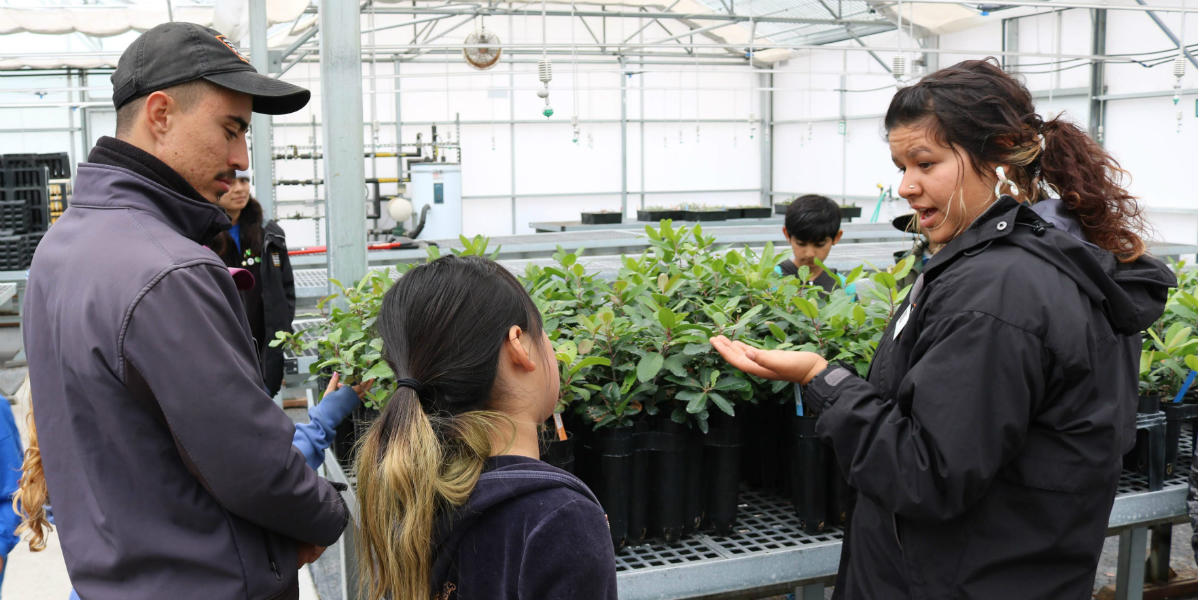 A Nurseries Education Intern engages with youth during a summer camp program
Do you want to work with youth of different backgrounds, build community, and restore open space?
The Golden Gate National Parks Conservancy Nursery Program is looking for a year-long Education Intern! The Park Nurseries support the mission of the Golden Gate National Recreation Area by providing native plants for restoration efforts, serving as outdoor classrooms, and encouraging community volunteers. As a team and as a public-serving program, we are committed to equity and inclusion.
TYPICAL DUTIES AND RESPONSIBILITIES
Education Programs (2-4 days per week): Intern assists with managing education and community programs. Training includes how to: co-lead service-learning and curriculum-based education programs; deliver in-classroom presentations to students; assist with education program statistics and evaluation; contribute in the development of new educational materials; participate in outreach and community events; and take and organize digital images.
Volunteer Programs (2 days per week): Intern assists with managing volunteer programs. Training includes how to: co-lead volunteer programs; educate new volunteers in nursery practices and plant identification; record and enter program records into a database; and give presentations for a variety of audiences.
Nursery Operations Support (about 1 day per week): Interns may also assist with native plant production including seed collection, propagation, and care of native plants for restoration. Training provided.
QUALIFICATIONS
Interest in education and volunteer programs: Interested in leading, teaching, and encouraging youth groups and volunteers. Committed to treating all people with respect regardless of background, ethnicity, race, gender, sexual orientation, age, or viewpoints.
Familiar with local communities: Understands the various communities that we work with, such as schools, neighborhood youth groups, and identity-based organizations. Must be from and/or currently live in the greater San Francisco Bay Area to be eligible for the internship.
Interest in conservation/environmental stewardship:  Wants to help inspire the preservation and protection of native plant and wildlife communities. May also be interested in a related field, such as environmental education, community stewardship, or restoration.
Work ethic: Wants to lead educational activities outside while maintaining a positive attitude. After initial guidance and training, can lead activities independently.
Driving: A valid driver's license and willingness to drive a work vehicle. If selected, needs a successful DMV record check and clearance to drive company vehicles.  
WORK ENVIRONMENT AND PHYSICAL CONDITIONS
Work is primarily performed outdoors with some indoor office work. The position requires periods of standing and walking.
PROGRAMS & SITES
Interns utilize nursery locations as outdoor classrooms at all four sites: the Marin Headlands, the Presidio of San Francisco, Fort Funston, and Oceana High School in Pacifica. Programs include Seeds to Flowers (Grade 2), Petal Pushers (Grade 3), Green Thumbs Up! (Grade 4), Oceana High School's weekly volunteer program, and service programs for both youth and adults. A work vehicle is provided to get between sites.
TERMS
Internship Start: January 17, 2019
Length of Position: 11-month commitment through December 2019
Schedule: 40 hours per week, Tuesday - Saturday schedule, vacation and sick time provided
Compensation and Housing Options:
Stipend with housing: Weekly taxable per diem stipend of $150/week and free housing. Housing is a single-occupancy, dormitory-style building in the Marin Headlands or Presidio. Basic accommodations include a furnished private room, shared kitchen, and common areas. Interns must sign a housing contract, abide by residential rules, and help maintain the household. Housing does not accommodate partners, family members, or pets.
Stipend without housing: Weekly taxable per diem stipend of $275/week (no housing).
Local: Must be from and/or currently live in the greater San Francisco Bay Area to be eligible for the internship.
TO APPLY
Submit a thoughtful cover letter and resume including relevant personal and professional experience. Include special skills, personal background, and unique perspectives you would bring to the position (e.g., multilingual abilities, cultural competency, previous experience with equity and inclusion work, art, photography, etc.)
Preference given to applications submitted by December 4. Applications accepted until position is filled. Apply by sending your application (in PDF format) to conservancynurseries@gmail.com.
The Golden Gate National Parks Conservancy strives to work with staff and interns from a wide range of backgrounds to better serve the many communities of the Bay Area. All interested applicants are encouraged to apply.
Application Dates
November 19, 2018

-

December 3, 2018
Job Type