Gardens of Alcatraz Intern
Full-time Internship, December 2018 – December 2019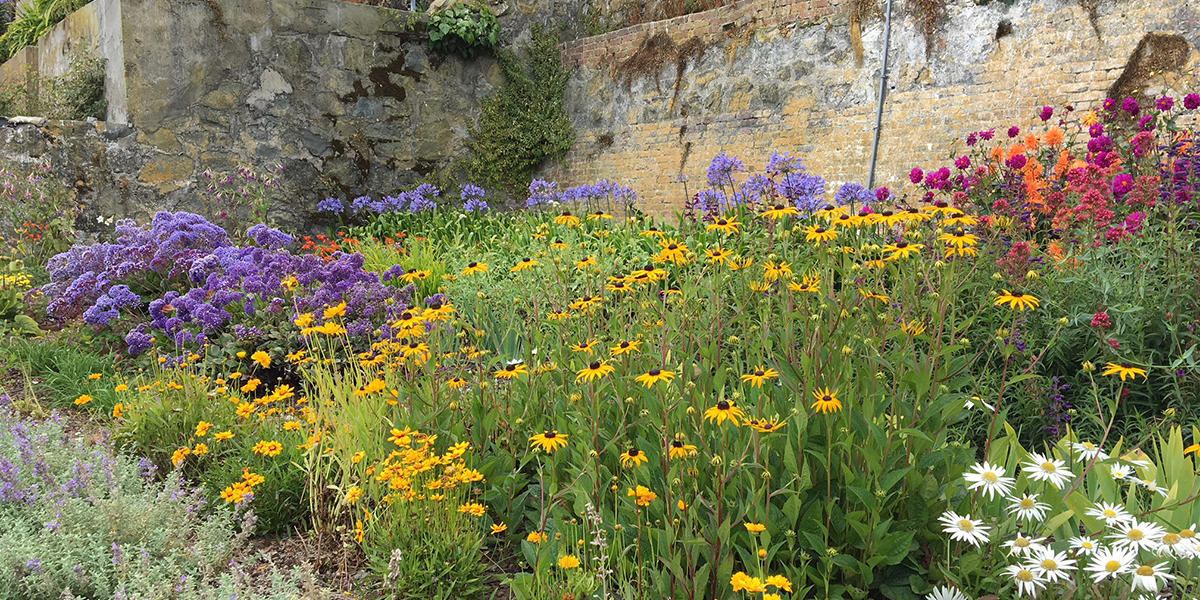 A historic, drought tolerant garden on Alcatraz
Shelagh Fritz/Parks Conservancy
Overview
The Golden Gate National Recreation Area (GGNRA) is a destination for both locals and international visitors with its sweeping vistas, immense biological diversity, and unique cultural resources. With over 15 million visitors annually and over 80,000 acres of land, the GGNRA is the largest urban national park in the country.  Alcatraz receives 5000 visitors a day, many of whom wish to see the restored historic gardens.
Overview of Position
Is a day outdoors your idea of the perfect job? Are you passionate about gardening? Would you like to speak with park visitors from all over the world? Come help us steward the award-winning gardens of this National Historic Landmark.
We are looking for an intern interested in all aspects of horticulture, maintenance of the gardens, visitor engagement, and volunteer program management. Working as part of a team, the intern will work under the direction of the Garden Manager and the Horticulturist. The intern will also work alongside and supervise garden volunteers.
Description of Duties
Garden Maintenance
Care for all garden areas utilizing the proper techniques and practices of horticulture; this includes weeding, efficient irrigation, fertilizing, planting, composting, pruning and chipping.  Report any needed insect/disease control. 
Assist with all aspects of propagation and greenhouse management.
Maintain a clean and orderly storage area. Report any necessary replacements and repairs.
Volunteer Management and Outreach
Train and supervise volunteers and lead volunteer groups in planned activities and safe garden practices.
Communicate with visitors about park issues.
Lead weekly interpretative garden walks.
Create, edit, and produce educational and outreach materials.
Benefits
Gain professional development skills and horticultural expertise and experience working in award-winning gardens.
Opportunity to take six professional development days to pursue Park Academy classes.
Opportunity to enjoy the scenery, wildlife and cultural resources of a spectacular national park working alongside staff and volunteers from a diverse backgrounds.
Dorm-style park housing plus a taxable stipend of $30/day ($150/week) if your permanent address is more than 50 miles from San Francisco.
OR a taxable stipend of $55/day ($275/week) if your permanent address is less than 50 miles from San Francisco.
Desired Qualifications
Love of the outdoors and horticulture
Previous experience with garden maintenance and knowledgeable about plant
Energetic and self-motivated; ability to work independently once provided direction
Good communication skills, respect for others
Ability to work with a diversity of people with different backgrounds, ethnicity, races, genders, sexualities, ages, and viewpoints
Reliable and punctual
Basic computer skills
Physical Requirements and Work Environment
Desire and ability to work outdoors and in inclement weather; This is a physically strenuous job - most days will require walking up steep hills
Ability to lift up to 30 pounds.
Valid driver's license.
Intern will work both indoors and outdoors, but mostly outdoors on Alcatraz.
Terms
Desired Start Date: December 1, 2018; or until filled
4-5 days per week
Length of internship: December 1, 2018– December 15, 2019
Intern must have a Social Security Number or Individual Taxpayer Identification Number to receive stipend
To apply for this position, please submit a thoughtful cover letter and resume, to sfritz@parksconservancy.org.
Position will be posted until filled.
The Golden Gate National Parks Conservancy and National Park Service are committed to diversity in the workplace. Minorities and people of color are encouraged to apply.
Application Dates
December 1, 2018

-

December 15, 2019
Job Type