Internship, Native Plant Nursery & Community Programs
Full-time Internship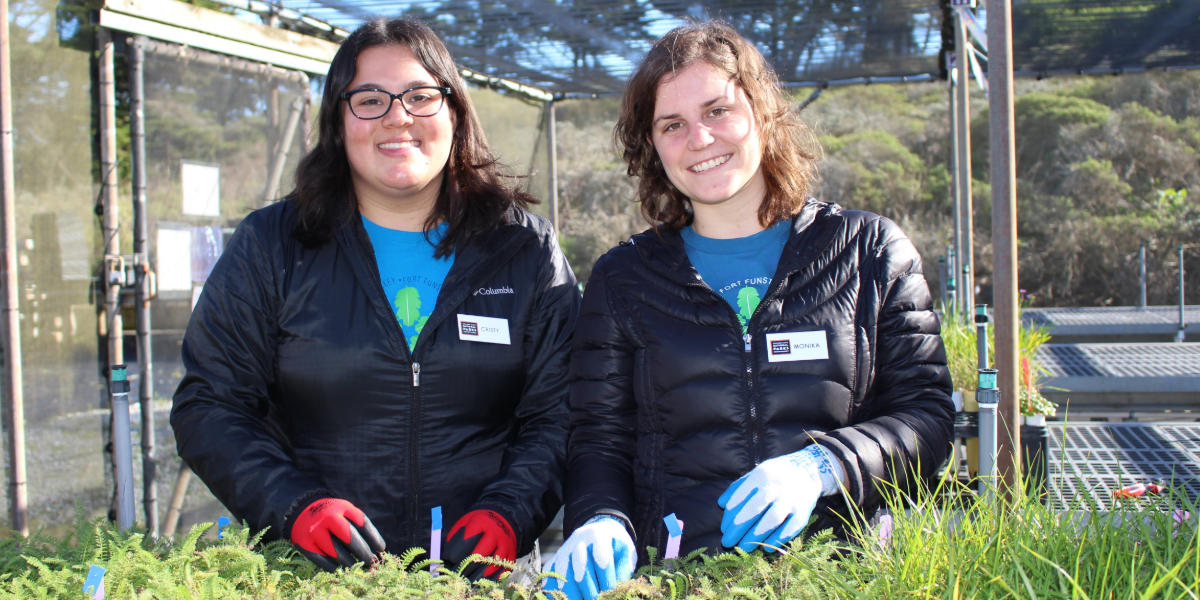 Two interns work with plants at the Fort Funston Nursery
Meghan Steinharter / Parks Conservancy
Are you interested in native plants, working outdoors, and growing plants for restoration? Are you excited to work with a wide range of audiences including community volunteers and youth?
The Golden Gate National Parks Conservancy Nursery Program is looking for an intern! The Park Nurseries support the mission of the Golden Gate National Recreation Area by providing native plants for restoration efforts, serving as outdoor classrooms, and encouraging community volunteers. As a team and as a public-serving program, we are committed to equity and inclusion.
TYPICAL DUTIES AND RESPONSIBILITIES
Plant and Nursery Work: Interns assist with native plant production including seed collection, propagation, and care of native plants for restoration.
Training includes how to: identify and collect native plant seeds and cuttings in the field; process and store seeds; sow, germinate, and transplant seedlings; perform routine maintenance like watering, weeding, pruning, and fertilizing; conduct facility maintenance, repair, cleaning, and improvements; care for on-site native garden areas; keep accurate records and use a specialized database; and follow best management practices for nursery sanitation.
Volunteer and Education Programs: Intern assists with managing education, volunteer, and community programs.
Training includes how to: co-lead volunteer and curriculum-based education programs; educate new volunteers and students in nursery practices and plant identification; give outdoor presentations for a variety of audiences; recruit, coordinate, and retain volunteers; record and enter program records into a database; coordinate and perform outreach; take and organize digital images; and support summer youth interns.
QUALIFICATIONS
Interest in plants and restoration: Committed to the preservation and protection of native plant and wildlife communities. Knowledge of or interest in native plants, nursery work, restoration, environmental studies, or another related field. Wants to learn plant identification and how to use taxonomic keys.
Interest in education and volunteer programs: Interested in leading, teaching, and encouraging volunteers and youth groups. Committed to treating all people with respect regardless of background, ethnicity, race, gender, sexual orientation, age, or viewpoints.
Work ethic: Wants to work outside while maintaining a positive attitude. Able to work in a focused manner, whether alone or in a team. After initial guidance and training, can work on projects independently.
Record keeping: Able to accurately record information and data. Can self-check work and use computer programs (Microsoft Office/Excel or Google Docs). Willing to use other applications and nursery database systems.
Driving: A valid driver's license and willingness to drive a pickup truck. If selected, needs a successful DMV record check and clearance to drive company vehicles.  
WORK ENVIRONMENT AND PHYSICAL CONDITIONS
Work is performed mainly outdoors. Exposure to ticks, poison oak, weather extremes, and other conditions can be expected. There is additional work indoors and operating computers.
Work requires the ability to lift and carry objects weighing up to 30 pounds.
This position receives training and PPE for the safe use of disinfectants and tools.
NURSERY SITES
The intern works at two locations. The Fort Funston Nursery sits atop picturesque sea bluffs loved by local San Francisco residents.  This nursery houses the the longest running weekly program in which some volunteers have been participating for over 20 years. Further south, the Oceana High School Nursery is a student-focused program emphasizing the stewardship of adjacent parklands in Pacifica, CA.
TERMS
Internship Start: May 2019
Length of Position: 8-month commitment through December 2019
Schedule: 40 hours per week, Tuesday - Saturday schedule

Vacation and sick time provided

Compensation and Housing Options:

Stipend with housing: Weekly taxable per diem stipend of $225/week and free housing. Housing is a single-occupancy, dormitory-style building in the Marin Headlands. Basic accommodations include a furnished private room, shared kitchen, and common areas. Interns must sign a housing contract, abide by residential rules, and help maintain the household. Housing does not accommodate partners, family members, or pets.
Stipend without housing: Weekly taxable per diem stipend of $375/week (no housing). Eligibility for this option is limited; please inquire if interested.
TO APPLY
Submit a thoughtful cover letter and resume including relevant personal and professional experience. Include special skills, personal background, and unique perspectives you would bring to the position (e.g., multilingual abilities, cultural competency, previous experience with equity and inclusion work, art, photography, GIS, etc.)
Apply by sending your application (in PDF format) to conservancynurseries@gmail.com. Applications accepted until the position is filled.
The Golden Gate National Parks Conservancy strives to include staff and interns from a wide range of backgrounds to better serve the many communities of the Bay Area. All interested applicants are encouraged to apply.
Application Dates
April 24, 2019

-

May 6, 2019
Job Type