Restoration and Volunteer Management Internship
Full-time Internship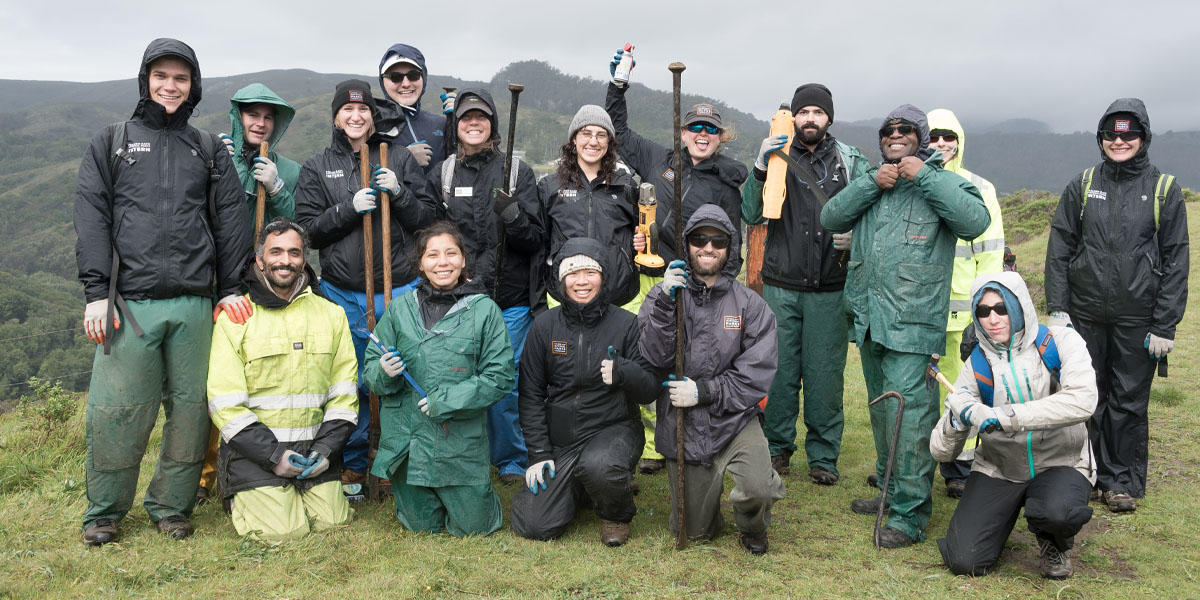 Interns and staff shown in 2018.
Alison Taggart-Barone / Parks Conservancy
Are you excited about working in the outdoors and learning about natural resources management? Are you interested in engaging communities in the Golden Gate National Parks through volunteer programs and land management projects?
Working in some of the Bay Area's most dramatic and beautiful landscapes, home to 36 rare and endangered plant and animal species, the Park Stewardship Program engages and sustains vibrant communities in the conservation of park lands. Established in 1993, the Park Stewardship Program is part of the Golden Gate National Parks Conservancy, the non-profit support partner of the Golden Gate National Parks.
Overview of Internship
We have an internship position open with one of Park Stewardship's regional teams in Marin. Through a six-month position on one of these teams, you will be a field ecologist, environmental educator, and community builder. As an intern, you will be introduced to many aspects of habitat restoration and help maintain climate resilient ecosystems by managing invasive plants, planting natives, and species monitoring. You will also participate in various elements of land stewardship which include developing and running volunteer programs for youth, adults, school groups, corporate groups, and community organizations. Interns also have the opportunity to build a strong professional network, as well as benefit from considerable formal and on-the-job training.
Most importantly, you will be an integral part of a diverse and fun Park Stewardship team, and will obtain an in-depth understanding of the values of the park system through shared experiences, workshops, and ongoing dialogue.
Description of Duties

Lead and manage all aspects of a volunteer program and coordinate outreach. This includes:
Plan and coordinate volunteer workdays
Engage and inspire community involvement; communicate with visitors about park issues
Develop and lead educational and interpretative walks and talks
Create, edit, and produce educational and outreach materials
Maintain the volunteer database and report on volunteer participation
Perform ecological restoration activities:
Participate and lead field restoration activities such as removing invasive plants, plantingnative plants, and monitoring restoration progress
Prepare reports of restoration work performed
Desired Knowledge and Skills
Enjoy being outdoors and learning about ecology
Desire to work with a diverse group of people with different backgrounds, ethnicities, genders,sexualities, ages, and viewpoints
Enjoy writing newsletter articles, using social media, taking photos and videos
Ability to work well within a team, as well as independently, with minimal supervision
Excited to take initiative
Strong organizational and communication skills
Basic computer proficiency
Physical Requirements and Work Conditions
Ready to work outdoors (in inclement weather, on steep slopes, and in poison oak)
Ability to lift up to 30 pounds repeatedly
Valid driver's license and clean driving record
Carpool will be provided during work hours (if housed in the Marin Headlands dorms) to the office location. Transportation to and from work sites will be provided. Personal vehicles are encouraged but not necessary.
Compensation and Benefits
Weekly taxable per diem stipend of $150/week is provided with dorm-style housing OR $275/week without housing
Gain extensive work experience in habitat restoration and community building at a highly respected non-profit organization
Opportunity to engage with park staff from our two partner organizations, the National Park Service and the Presidio Trust
Opportunity to take six professional development days to attend classes offered by the park
Opportunity to live in and enjoy the scenery, wildlife and cultural resources of a spectacular National Park
Opportunities to work with staff and volunteers to promote diversity, equity and inclusion in our parks
Terms
Desired start date: March 2019
Length of position: 6 months
Schedule: 40 hours/week, Tuesday through Saturday with flexibility of start and end times
Driver's license is required
US Social Security Number or Tax Identification Number required
To Apply
Please email your resume, a thoughtful cover letter and three references to psheppy@parksconservancy.org; please indicate the position title in your subject line and how you heard about the position.
Accepting applications until the position is filled. Interviews will scheduled as applications are recieved.
The Golden Gate National Parks Conservancy strives to engage a workforce reflective of the community it serves. We do not discriminate on the basis of race, color, age, gender, national or ethnic origin religion, sexual orientation, or physical disability. We will consider qualified candidates with criminal history in a manner consistent with the requirements of the San Francisco Fair Chance Ordinance. All qualified applicants are encouraged to apply.
Application Dates
February 13, 2019

-

February 28, 2019
Job Type