Youth Programs Internship, Park Stewardship Program
Full-time Internship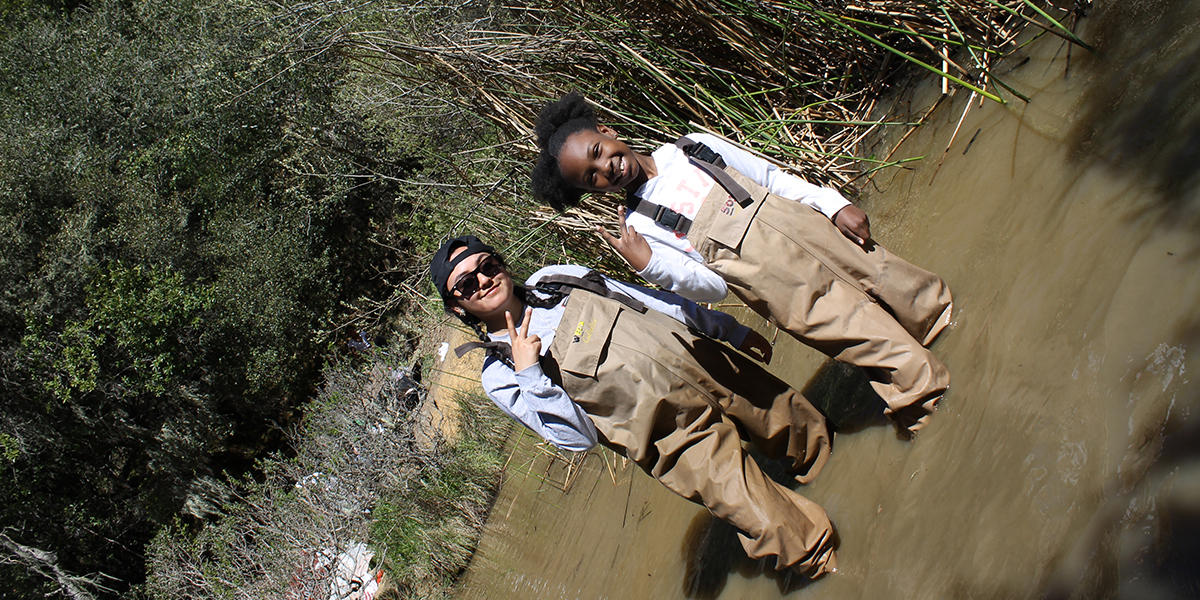 Youth Programs Intern Alexa Medina leading a student in the field.
Elsa Calvillo
Are you passionate about working with youth, building community, and restoring open spaces?
We are looking for an individual who is excited about engaging local youth in service, learning, experiential education and leadership experiences in the Golden Gate National Parks.
The Park Stewardship Program actively engages Bay Area youth with service learning opportunities in the Golden Gate National Parks. We are looking for a Youth Stewardship Program Intern who is excited to work with a broad range of young people in the Golden Gate National Parks through a variety of service and learning opportunities.
Description of Duties
Working directly under the Youth Programs Manager, the Youth Programs Intern will
Plan, organize, and lead weekly and monthly service-learning programs for K-12 youth in San Francisco, San Mateo, and Marin County.

Collaborate with Park ecologists to organize service projects for youth volunteers
Organize and lead outdoor trips and service projects for youth
Perform outreach and build partnerships with local schools and youth organizations
Learn to develop and deliver culturally relevant outdoor programs

Co-lead the LINC (Linking Individuals to their Natural Community) program during the summer

Outreach to local high school students, especially those from underserved communities
Lead youth in cultural and natural resource conservation projects
Work with youth to enhance their leadership, teamwork, and professional skills

Assist with all aspects of managing an outdoor youth program

Build partnerships with and perform outreach to Bay Area communities
Maintain detailed data collection and track key program statistics
Capture, edit, and share digital media to promote the program

Support other stewardship efforts by leading habitat restoration volunteer events, removing invasive plants, planting native plants, working in native plant nurseries, and maintaining trails
Desired Knowledge and Skills
Interested in habitat restoration, ecology, and natural resource management
Attracted to outdoor and experiential education
Passionate about youth development and social justice
Experience with youth of diverse cultural, social, and economic backgrounds
Loves nature, working outdoors, and getting your hands dirty
Confident speaking in front of groups
Flexible and adaptable to change
Values teamwork and leadership development; can give and receive constructive feedback
Proficient in Microsoft Office (Word and Excel) and Google products (docs and sheets)
Valid Driver's License with a clean record is required
Physical Requirements and Work Conditions
Work is performed in an office setting 1-2 days per week and outdoors 3-4 days per week
Ability to obtain a California Class C Commercial Driver's License with a Passenger Endorsement. Intern will drive a 12-15 passenger van on windy roads for up to 4 hours at a time.
Work outdoors up to 6 hours per day in inclement weather, on steep slopes, and in areas with poison oak and ticks
Lift objects weighing up to 40 pounds and hike up to 10 miles over uneven terrain
Compensation and Benefits
Compensation includes a taxable stipend of $375/week OR a taxable stipend of $225/week with dorm housing. Applicant must be at least 21 years old to live in dorms. Dorm amenities include:

Private single room
In-unit washer/dryer
Free Wi-Fi and utilities
Daily commute shuttle
Communal kitchen and living spaces
Easy access to the nation's premier urban National Park

Receive training in AED/CPR, Wilderness First Aid, and Commercial Class C Drivers License
Special access to Park Academy classes 
Terms
Desired Start Date: October 1, 2019
Length of Position: 1 year
Schedule: 40 hours per week with regular early, late, or overnight days. Tuesday to Saturday during the school year and Monday to Friday during the summer months.
Youth Programs Intern reports directly to Youth Programs Manager
To Apply
Please email a resume and cover letter to Elsa Calvillo at ecalvillo@parksconservancy.org with the position titile in the subject line.
We are accepting applications until the end July. Interviews will be scheduled for early/mid August.
The Golden Gate National Parks Conservancy strives to engage a workforce reflective of the community it serves. We do not discriminate on the basis of race, color, age, gender, national or ethnic origin religion, sexual orientation, or physical disability. We will consider qualified candidates with criminal history in a manner consistent with the requirements of the San Francisco Fair Chance Ordinance. All qualified applicants are encouraged to apply.