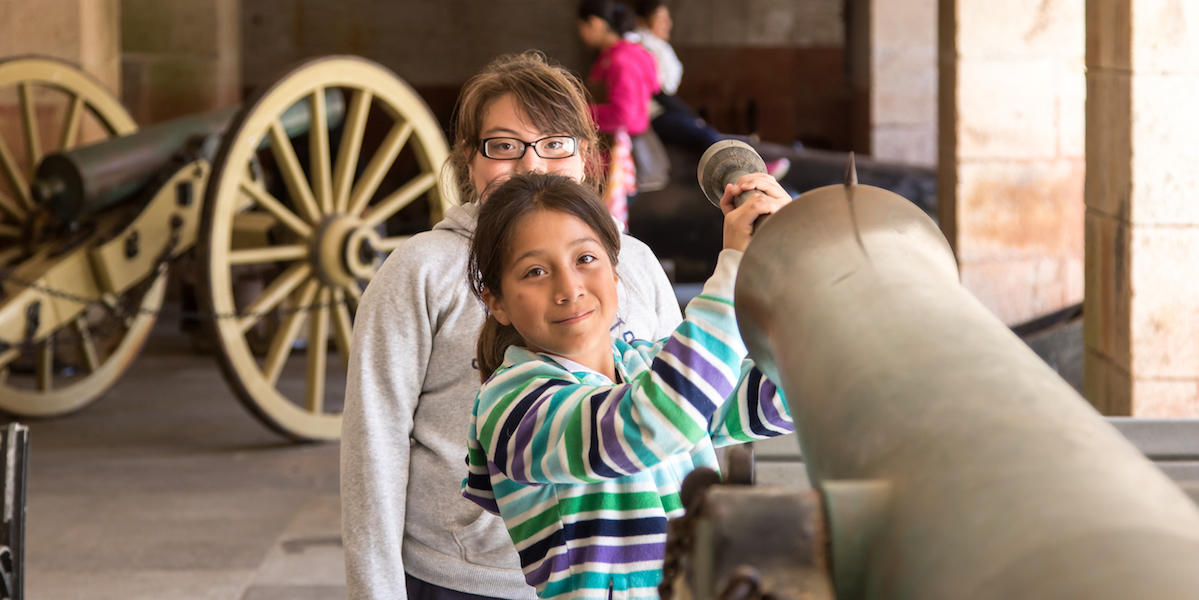 Youth at the Fort Point Cannon
Kirke Wrench/National Park Service
Unirse con Ranger Hector, cerca de la entrada principal de Fort Point para una guia de historia! Aprende acerca de los vidas de los soldados en Fort Point, La arquitectura única del fuerte, las defensas de la Golden Gate y mucho más.
"Guia de Fort Point" este programa son los sábados de 1:00 - 2:00 p.m. y generalmente dura entre 30 minutos y una hora.
La disponibilidad del personal puede afectar estos tiempos de viaje, por favor pregunte a su llegada.
For the English speaking tour, see the Tour of Fort Point event that takes place every Friday, Saturday, and Sunday. 
Past Event Dates
Sat, 12/07/2019

1:00PM

-

2:00PM
Sat, 11/30/2019

1:00PM

-

2:00PM
Sat, 11/23/2019

1:00PM

-

2:00PM
Sat, 11/16/2019

1:00PM

-

2:00PM
Sat, 11/09/2019

1:00PM

-

2:00PM
Sat, 11/02/2019

1:00PM

-

2:00PM
Sat, 10/26/2019

1:00PM

-

2:00PM
Sat, 10/19/2019

1:00PM

-

2:00PM
Sat, 10/12/2019

1:00PM

-

2:00PM
Sat, 10/05/2019

1:00PM

-

2:00PM