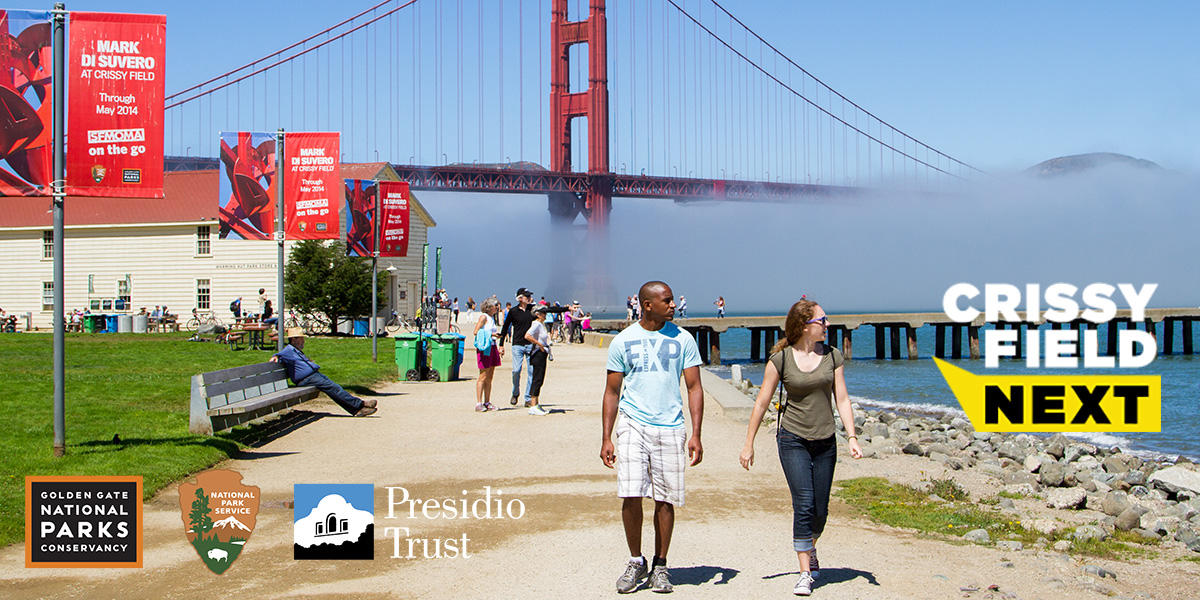 Crissy Field Next aims to improve upon many of the park's existing uses, while enhancing ways for people to gather, create, and play
Kirk Wrench/National Park Service
Throughout its history, Crissy Field has been a remarkable place -  from an important gathering place for the Ohlone to a Spanish military garrison, and then a US Army airfield. 
Almost 20 years ago, the Golden Gate National Parks Conservancy and the National Park Service (NPS) helped transform Crissy Field from a military airstrip to the beloved parklands used by so many people today. With community support, including thousands of volunteers and $34.4 million raised, the asphalt-covered dumping ground became part of the fabric of San Francisco and a cherished national park. 
Crissy Field now holds a special place in the hearts of many and is a place where the community can gather, create stories, and come out to be restored. Today, visitors and volunteers from all over are drawn to Crissy Field for relaxing waterfront strolls, picnicking, youth leadership programs, community service projects, and abundant recreational opportunities. It's truly a universally-beloved spot. 
In the 20 years since the creation of the park, Crissy Field has seen plenty of use. Parts of the bayside national park are in need of repair and rehabilitation, while other areas hold potential not yet realized. 
What do you love about Crissy Field? 
In fall 2018, we received feedback and ideas from hundreds of people excited to contribute to the future of Crissy Field. We kicked off the project in October with Crissy Field Day, an event where over 600 people gathered to celebrate the future of this special place. Throughout the fall, we also held several Roving Ranger Pop-Ups to solicit ideas and feedback from folks actively enjoying Crissy Field. Thank you to everyone who participated!
Here's what you told us:
While you love Crissy Field, most of you think it has more potential so that all visitors are able to enjoy the park for decades to come. 
So, what did we do with all of those ideas? Our project team has taken your feedback – along with input from park staff and partners, community stakeholders and experts in the field – and started drawing up design ideas. We're also taking into consideration other factors, such as the ongoing construction of Presidio Tunnel Tops and the increasing popularity of Crissy Field. We're excited to share these design ideas with you this summer. 
Project goals:
Community 


To connect with the community by creating an inclusive, welcoming place that's accessible and easy to enjoy.
Recreation 

To add more opportunities for recreation, renewal, and reflection — a visitor experience worth a day trip or more.
Access + Safety 


To improve access and safety for Crissy Field visitors, with smoother traffic flow, practical parking options, and safer ways for pedestrians and bicyclists to travel.
Ecology + History 


To preserve and enhance the value of the ecology and history of Crissy Field, with educational opportunities and insights that respect the richness of the place.
Sustainability 


To create a sustainable, well-designed space that's durable, flexible, and easy to maintain in the decades to come.
Ways to Get Involved
Open House:
On June 1 from 10 am – 2 pm, we'll be hosting a Crissy Field Next Open House at the Crissy Field Center. This public event will allow us to share design concepts and options that best reflect the input we've gathered. You'll also have a chance to talk with the project team at the Open House while enjoying family-friendly activities and snacks.
Roving Ranger Pop-Ups:
Can't make the Open House?  Our Roving Ranger Pop-Ups will continue to welcome walk-up feedback at Crissy Field throughout the summer. We want to make sure we're getting it right! Dates for the Pop-Ups will be published on this website as we finalize them.
Join us as we embark on this next chapter of Crissy Field. Learn more at crissyfieldnext.org.
If you'd like to stay in the loop about updates and upcoming events related to Crissy Field Next, please sign up for our emails here >>
Crissy Field at Sunset

Alison Taggart-Barone/Parks Conservancy

Crissy Field

Alison Taggart-Barone/Parks Conservancy

Crissy Field view

Alison Taggart-Barone/Parks Conservancy

Crissy Field

Alison Taggart-Barone/Parks Conservancy

Beach at Crissy Field

Alison Taggart-Barone/Parks Conservancy

Crissy Field and San Francisco views

Kirke Wrench/National Park Service

Crissy Field views

Parks Conservancy

Crissy Field visitors

Alison Taggart-Barone/Parks Conservancy