Tamalpais Outrigger Canoe Club paddling around Lime Point.
Alison Taggart-Barone / Parks Conservancy
While many boats navigate the Golden Gate Channel, from enormous tankers to billowing sailboats, Angela Flaviani thinks the view is best from an outrigger canoe. Flaviani is the president of the Tamalpais Outrigger Canoe Club, based out of Fort Baker. She sat down with us to tell us more.
What is outrigger canoeing?
The sport of outrigger canoe paddling originated in Polynesia. All outriggers are distinguishable by the ama (outrigger) on the left side. Our members compete in long distance and sprint races throughout Northern and Southern California, Canada, and Hawaii.
What are the names of your boats?
Our oldest canoe is called 'Kula 'Anela,' which in Hawaiian means 'golden angel,' named after the bridge and the island. The second canoe to join our ohana is called 'Tamahine Moe Moe'a,' which in Tahitian means 'sleeping maiden,' a direct reference to our namesake, Tamalpais.
What are some of the club's practice routes?
Sometimes we paddle to Point Bonita Lighthouse. We paddle around Angel Island a lot. If the tides are absolutely perfect we will do Fort Baker to Angel Island to Alcatraz and back. We shoot across the Golden Gate Bridge to San Francisco. We've even gone to Ocean Beach!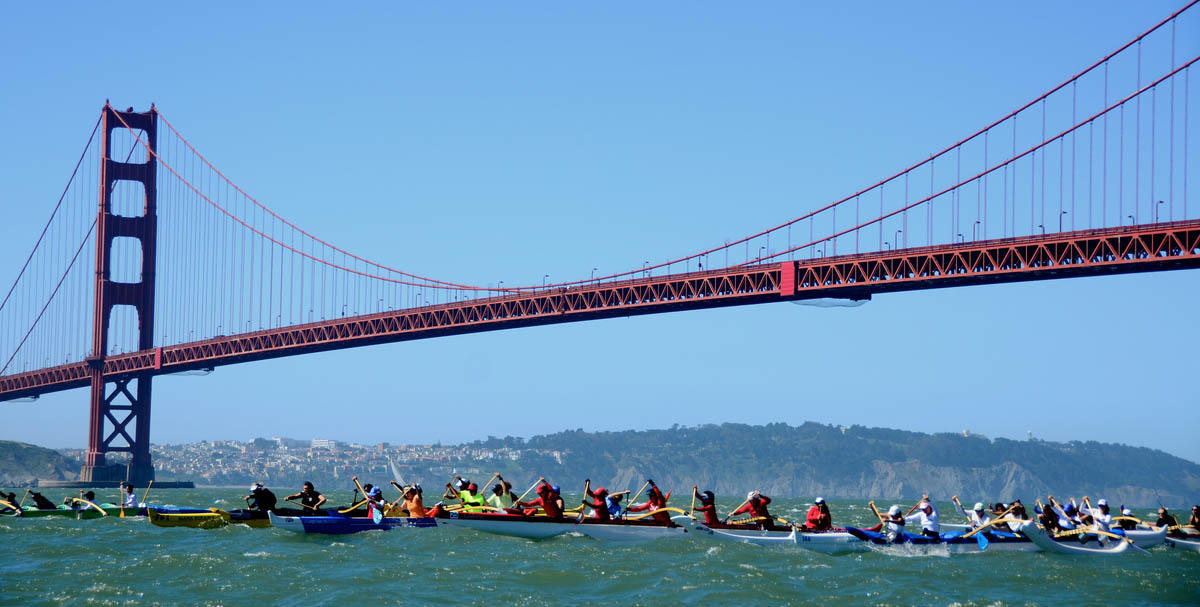 Members of the Tamalpais Outrigger Canoe Club paddle underneath the Golden Gate Bridge.
Courtesy Angela Flaviani

What's your most memorable paddling experience?
Last year we paddled out the Gate and saw a grey whale, then a humpback whale at Point Diablo. Back in the bay, we were joined by a pod of 3-4 whales swimming around the canoes! In the distance we saw two spouting whales near Angel Island. In all my years paddling on the Bay, I have never seen so many whales. You can't plan any of that. That's the beauty.
What's your favorite view from the canoe?
One is looking up at the Golden Gate Bridge from below. I love seeing the tower, and how majestic that bridge is. The other is from Point Diablo, where we are gifted with a very rare view that you can only see from the water—the skyline of San Francisco under the Golden Gate Bridge. 

The club welcomes everyone from the community to come join their team for a public practice during the winter recreational paddling season. Information can be found at tamoutrigger.org.
February 21, 2020