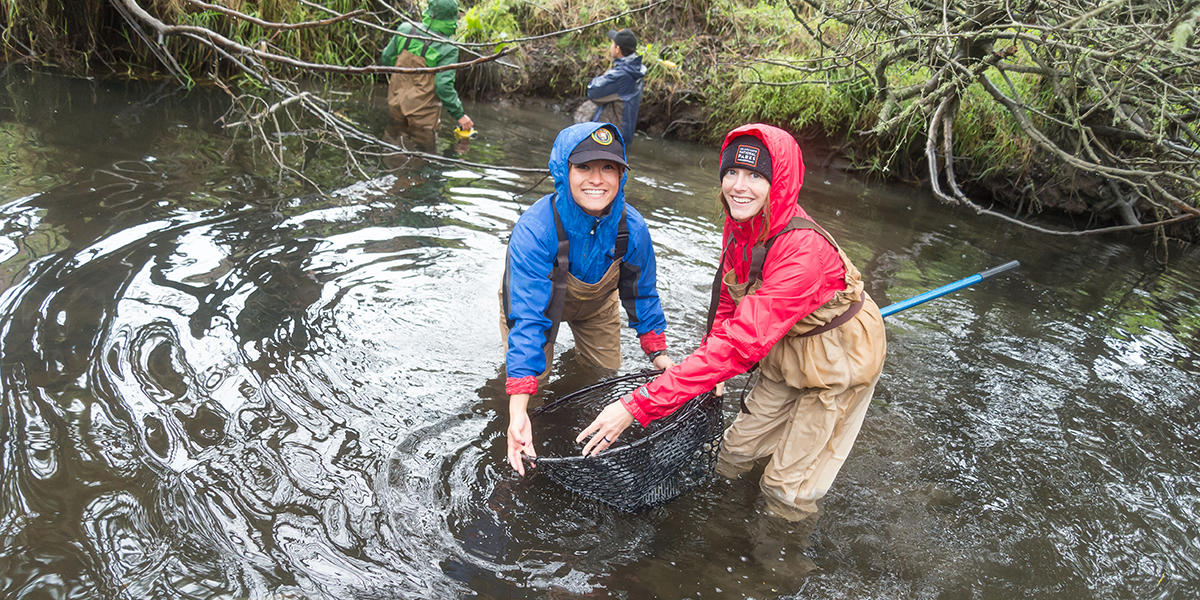 Parks Conservancy staff help release coho salmon at Redwood Creek
Alison Taggart-Barone/Parks Conservancy
Muir Woods. Crissy Field. Alcatraz. The Marin Headlands. Stinson Beach. Lands End. The Presidio. And 30 more beloved national park sites north and south of the Golden Gate.
Only one non-profit organization supports them all. The Golden Gate National Parks Conservancy.
Since 1981, partnering with the National Park Service and Presidio Trust, the Conservancy has provided over $625 million in support to the Golden Gate National Parks, rallied more than 275,000 volunteers, and pioneered innovative park stewardship and education programs.
The Parks Conservancy is a registered 501(c)(3) nonprofit under EIN 94-2781708. Donations are tax-deductible to the fullest extent allowable under the law.
Explore our diverse array of programs and projects in support of the parks—and then learn how you can help. Become a member, contribute, or volunteer.
What are the Golden Gate National Parks?
This is the popular moniker for Golden Gate National Recreation Area (the most-visited unit of the 417 parks under the National Park Service), Muir Woods National Monument, and Fort Point National Historic Site. Together, these parks often attract over 19 million visitors each year—more than the visitation to Yosemite, Yellowstone, Grand Canyon, and Olympic national parks combined.
Stretched nearly 84,000 acres north and south of the Golden Gate Bridge, these parks also constitute one of the world's largest national parks in an urban setting. They feature:
37 distinct park sites, from Muir Woods National Monument to Fort Point National Historic Site to Alcatraz Island.
More than 130 miles of trails.
1,200 historic structures.
1,000 types of plants, 250 bird species, and the 3rd largest number of federally endangered and threatened species of all 401 units within the National Park Service.
Significant natural resources making the parks a "biodiversity hotspot" designated by UNESCO.
19 separate ecosystems in 7 distinct watersheds.