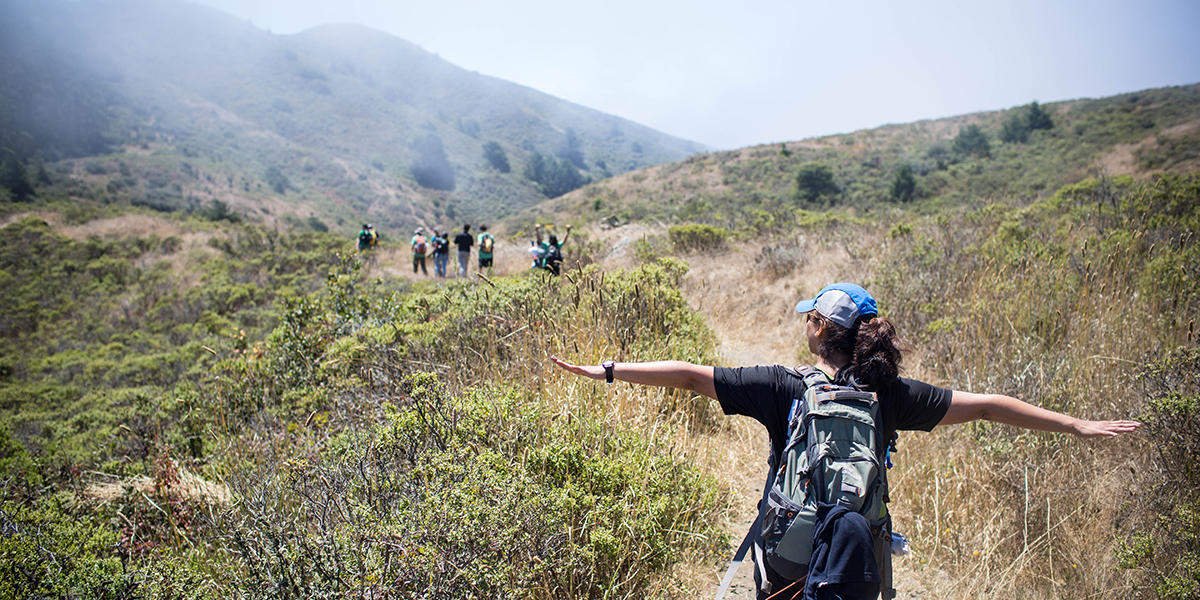 Hiking the SCA Trail in the Marin Headlands
Paul Myers/Parks Conservancy
Golden Gate National Parks Conservancy is a not-for-profit cooperating association of the National Park Service and the Presidio Trust whose mission is to preserve the Golden Gate National Parks, enhance the park visitor experience, and build a community dedicated to conserving the Parks for the future. The parks, also known as the Golden Gate National Recreation Area, stretch across 80,000 acres north and south of the Golden Gate Bridge, constituting one of the world's largest national parks in an urban setting. The Conservancy is supported by private contributions, cooperative agreements, and income earned from interpretive tours and the sale of educational materials at visitor centers throughout the Parks. The Conservancy is dedicated to protecting these PARKS, making them relevant and accessible FOR ALL communities, and instilling a sense of stewardship in this and future generations to ensure their vitality FOREVER through the following programs:
Park interpretation and visitor services include the operation and delivery of tours of Alcatraz Island and Muir Woods; sales of interpretive publications, theme-related sales items and products from interpretive demonstrations; and the production of trail signage and free publications to enhance the park visitor experience.
Park enhancements, restoration and stewardship encompass building and maintaining multi-use (pedestrian, bike, equestrian) trails, restoring sensitive ecosystems, protecting endangered species, growing native plants, rehabilitating historic structures, constructing overlooks, installing visitor amenities, and creating new park experiences for the entire community. The most significant project in progress is the Presidio Tunnel Tops project, which will connect Crissy Field and the Main Post to create a world-class public space welcoming people of all backgrounds.
Youth, volunteer and community programs include programs conducted at the Crissy Field Center (an urban environmental education center) and the Institute at the Golden Gate, through the Conservancy's other various programs, and under the auspices of the Park Youth Collaborative.
The Parks Conservancy maintains a policy that limits indirect costs (overhead) for grants and contracts as follows: Up to 5% indirect cost (overhead) rate for colleges, universities, government agencies, and non-profit organizations.