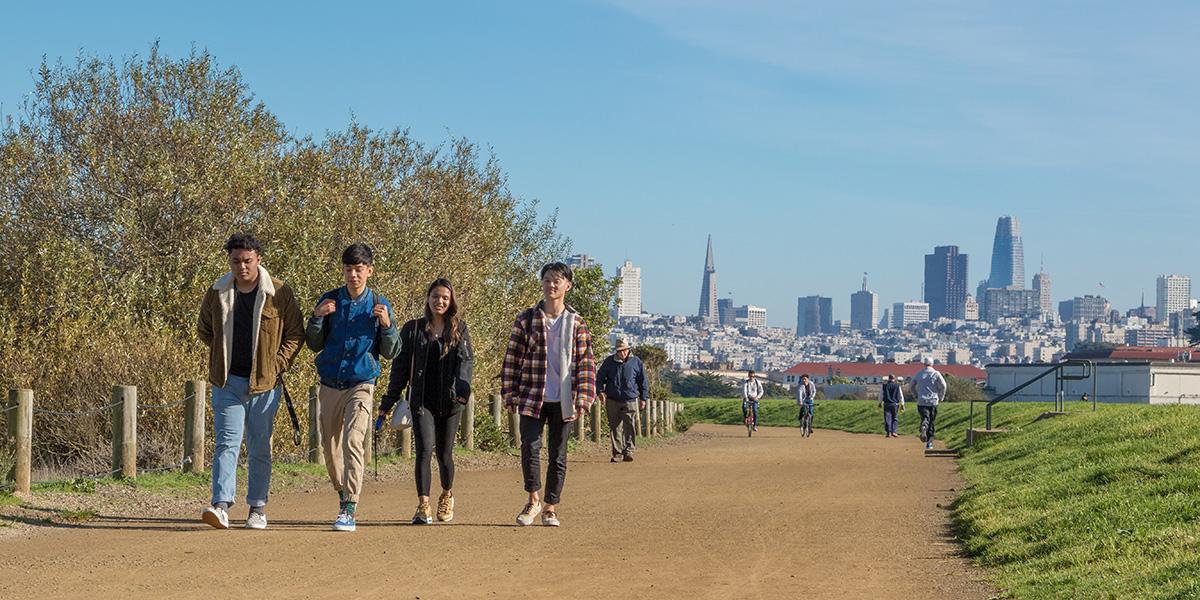 It's been almost 20 years since Crissy Field was transformed into the beloved parklands we know today. Now, we look to what's next.
Kirke Wrench/National Park Service
By Neha Gupta
Throughout its history, Crissy Field has had quite a few stewards. It has been an important gathering place for the Ohlone, a Spanish military garrison, and a US Army airfield.

Almost 20 years ago, the Golden Gate National Parks Conservancy and the National Park Service (NPS) helped transform Crissy Field from military airstrip to the beloved parklands used by so many people today. With community support, including thousands of volunteers and $34.4 million raised, the asphalt-covered dumping ground became part of the fabric of San Francisco and a cherished national park.
Crissy Field now holds a special place in the hearts of many, and is a place where the community can gather, create stories, and come out to be restored. Today, visitors and volunteers from all over are drawn to Crissy Field for relaxing waterfront strolls, picnicking, youth leadership programs, community service projects, and abundant recreational opportunities. It's truly a universally beloved spot.
In the 20 years since the creation of the park as we know it, Crissy Field has seen plenty of use. Parts of the bayside national park are in need of repair and rehabilitation, while other areas hold potential not yet realized. 

Now, through Crissy Field Next, the Parks Conservancy, NPS, and the Presidio Trust are seeking input and feedback from visitors and the broader community about possible enhancements. There will be many ideas, and the sense of tranquility and history that makes Crissy Field a special place will be preserved. 

The five goals of the planning process for Crissy Field Next are:
To connect with the community by creating an inclusive, welcoming space that's accessible.
To add more opportunities for recreation, renewal, and reflection—a visitor experience worth a day trip or more.
To improve access and safety for Crissy Field visitors, with smoother traffic flow, practical parking options, and safer ways for pedestrians and bicyclists to travel.
To preserve and enhance the value of the ecology and history of Crissy Field, with educational opportunities and insights that respect the richness of the place.
And to create a sustainable, well-designed space that's durable, flexible, and easy to maintain in the decades to come.
To accomplish all this, the Parks Conservancy, NPS and Presidio Trust are seeking your imagination and input. Keep an eye out for the Roving Ranger, our mobile trailhead, on Crissy Field from September through November. 

Learn how you can get involved by visiting the project site here. When you're there, don't forget to sign up for our Crissy Field Next newsletter to stay informed about updates and upcoming events related to this beloved park site's next story.
October 10, 2018