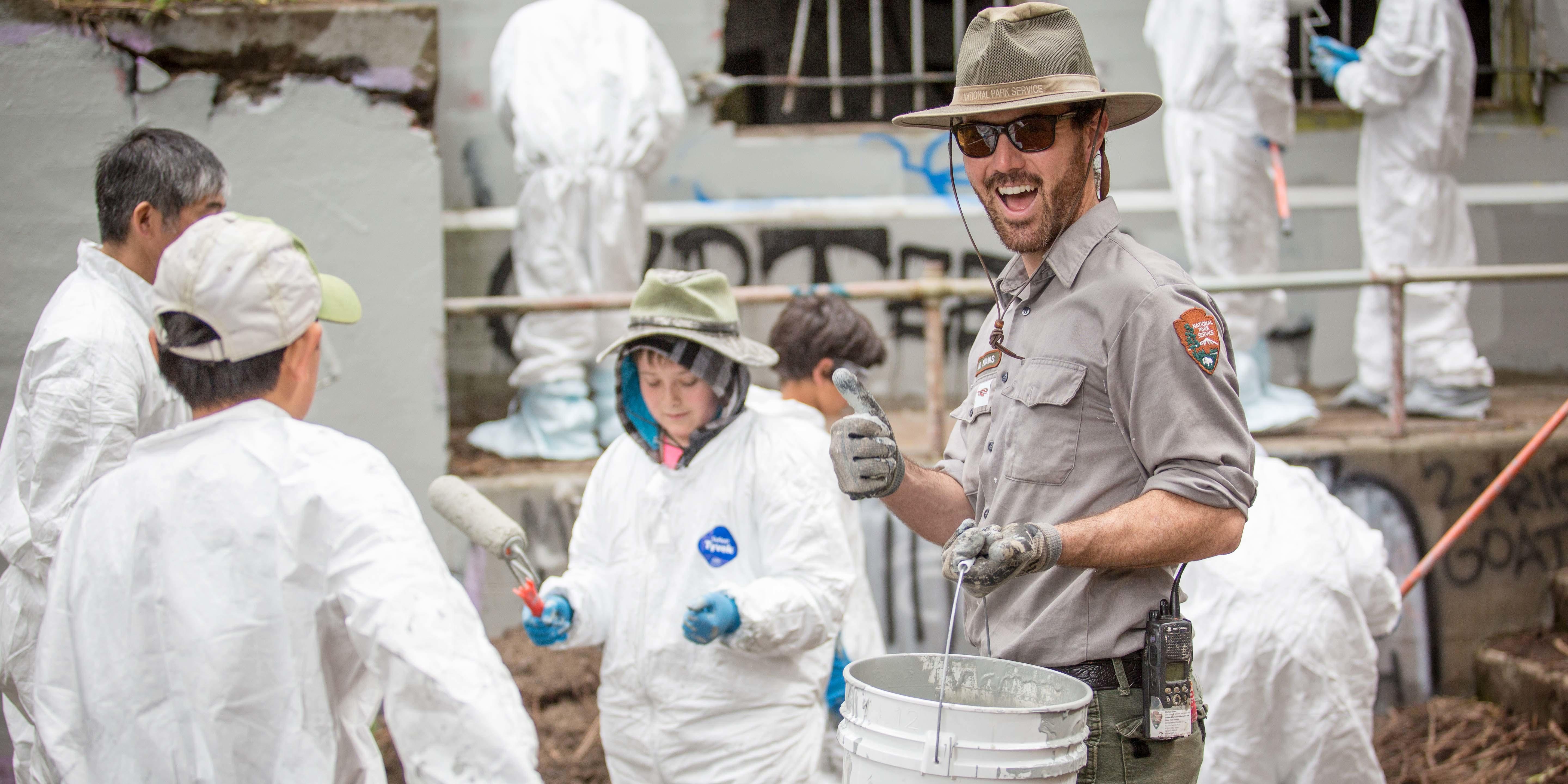 No, it's not a forensics team or an alien invasion. That's just Ranger Mike Evans getting pumped up to lead Boy Scout Troop 273 in painting over 6,000 square feet of graffiti at Battery Chester.
Maria Durana/Parks Conservancy
By Elizabeth Aldenderfer
Park Stewardship Trail Crew Intern
Happy Birthday NPS!
On August 25 of this year, the National Park Service turned 103! In honor of its birthday, here is a rapidfire history lesson about the parks and the creation of the agency that helps care for them.
March 1, 1872 marked the beginning of the National Parks movement. The founding of Yellowstone National Park on that day spurred the creation of 14 other parks before the end of the 19th century. At the time, sites designated as federal parklands were managed by the Department of the Interior, the War Department, or the Forest Service, with no unified management plan. The National Park Service Organic Act of 1916, signed by President Woodrow Wilson, moved park management from these distinct federal agencies to one agency, the newly minted National Park Service. Welcome to the world!
Since 1916, the NPS has been caring for parks all over the country, at sites including the District of Columbia, American Samoa, Guam, Puerto Rico, and the Virgin Islands. There are more than 400 National Park sites throughout the United States, a far cry from the 35 under NPS care in 1916. Our parks, monuments, battlefields, and seashores alike cover nearly 84 million acres, and are the living proof of NPS' original mission stated in the Act of 1916:
"....to conserve the scenery and the natural and historic objects and the wild life therein and to provide for the enjoyment of the same in such manner and by such means as will leave them unimpaired for the enjoyment of future generations."
This year's NPS anniversary has passed, but if you're looking for more reasons to celebrate throughout the year, here is a list of park anniversaries all over the country. Celebrate the anniversary of the Golden Gate National Recreation Area, which was the most-visited National Park site in 2018, on October 27!
Here's to celebrating our parks!
September 5, 2019