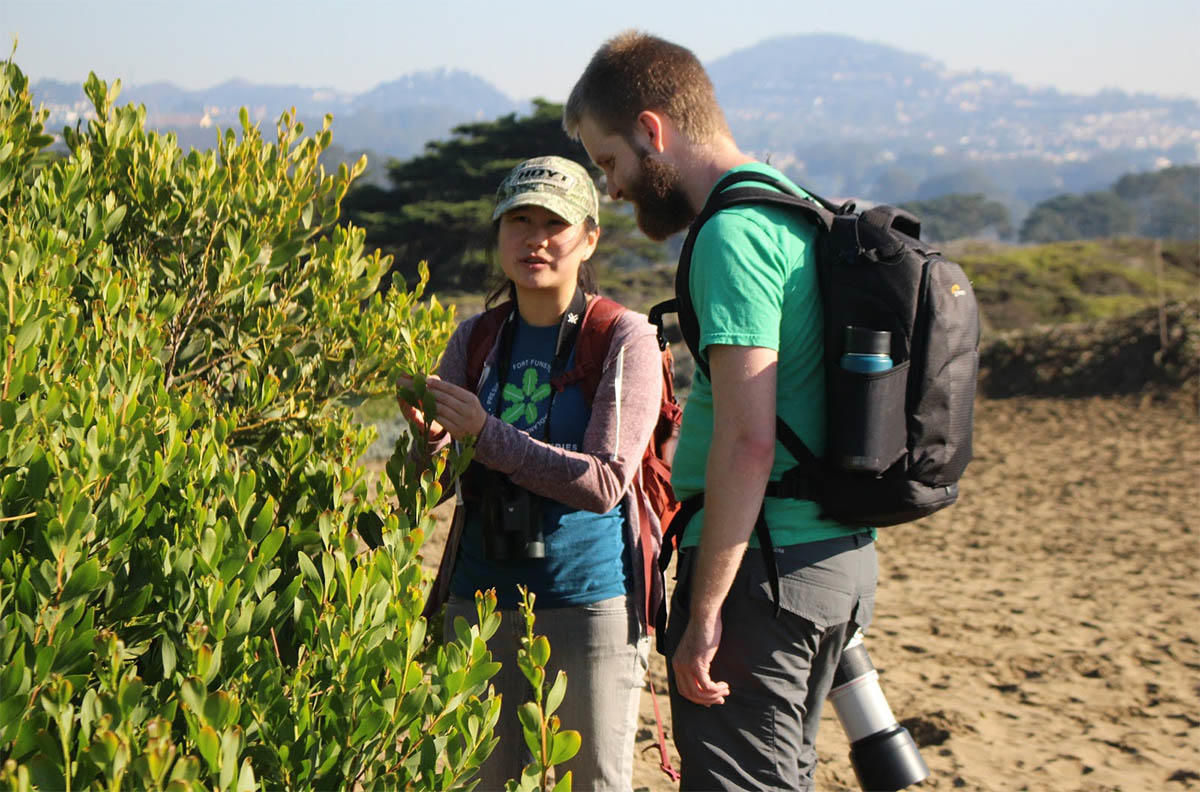 Mary Lee at the 2018 Winter BioBlitz at Ocean Beach.
Yakuta Poonawalla / Parks Conservancy
By Gabriel Tigreros
San Francisco Park Stewardship Intern
Hello volunteers!
Throughout the years, we have had some amazing volunteers come out and join us in restoring natural landscapes at our community programs. Without you, we would not be able to give our parks all the time and attention they require to stay as beautiful as they are today!
Over the years, we've realized that not only are we inspired by the grand landscapes and the lands we work, but also the people who help us take care of these lands. This new feature will take the time to thank and highlight some of our regular volunteers who have enriched our parks and our lives.
For this season, we'd like you to meet Mary Lee, who has been aiding us in restoring National Parks within San Francisco for over a year now. We asked Mary what brought her to the parks and what she's enjoyed most about volunteering:
Your birthday/Zodiac sign/or the aspect of nature or animal do you most closely identify with?
My western zodiac sign is Aquarius, and my Chinese zodiac sign is the horse.
What got you interested in volunteering with the Golden Gate National Parks Conservancy?
I've always been interested in natural spaces, and I love working in the field. When I discovered that I could volunteer in an area where I grew up and subsequently learn about the unique ecology of the SF Bay Area, I knew I would be volunteering regularly.
Favorite spot within the Golden Gate National Recreation Area? (Can be your favorite park to visit or your favorite site to volunteer):
Crissy Field is definitely one of my favorites, for a few reasons. First, it has great birding. Second, it has a beautiful view of the Golden Gate Bridge, especially at sunset. And lastly but maybe most importantly, it's a restoration success story. I don't remember how Crissy Field looked before the marsh was restored, but aesthetics aside, wetland restoration is so hugely important because the world has lost so many wetlands. To see how many water birds use the space now makes me very happy.
Most interesting thing you have found/seen while volunteering?
The radio-collared coyote in the Presidio was definitely very cool to see. And every time I find a salamander I get excited. I also enjoy salamander hunting, so whenever I'm volunteering at the nursery or at the Presidio bluffs or at Lands End, you might find me wandering off to pick up rocks or logs to find sallies under them.
Most memorable volunteering experience?
One time when we were pulling ice plant near the Legion of Honor, a red-tailed hawk landed on the ground really close to us to wait for a rodent to flush from the plants that were pulling. I had never been that close to a hawk, and you could see how big these birds are and how piercing its eyes were.
Has volunteering in the parks changed your perception of the lands we steward? If so, how has it changed?
It really brought my attention to the diversity of work in the GGNRA. There are people building and maintaining fences, restoring plant habitats, taking care of baby plants before they're outplanted, cleaning and maintaining the campgrounds, working in sales at visitor centers and cafés, interpreting the natural world for visitors who are learning about these places for the first time, ensuring the safety of visitors and protection of natural resources, and of course there are the amazing volunteers who give their time and expect nothing in return. All these things you see that make your trip to the parks more enjoyable and accessible—trails, stairs, coffee when it's cold out, plants to see, benches to sit on when you're tired or want to take in the view—were all put there by someone for everyone.
Something people do not know about you:
Agatha Christie is my favorite author. I love her stories featuring Miss Marple and Hercule Poirot.
A photo, poem, drawing, or song that you created in the parks / of the parks, that you would like to share with the rest of our volunteers: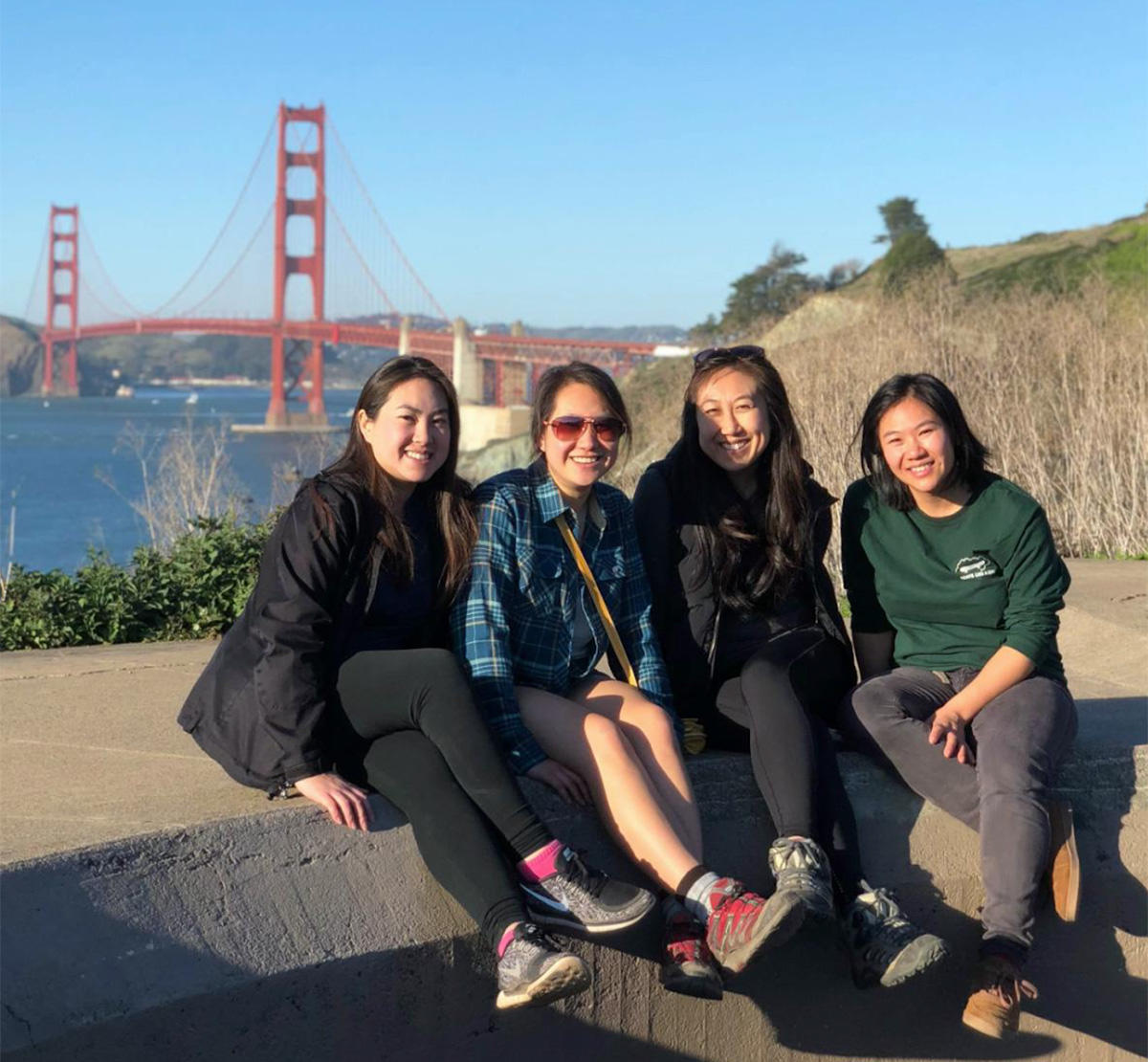 Mary Lee writes: 'With my sisters at Battery Crosby.'
Courtesy Jeremy Acedillo

Talking to Mary has us thinking about the meaning of volunteering and giving back to the lands and to the community. We take in some incredible sights and find some amazing creatures and plants regularly, but one of the best parts about our weekly programs is connecting with people from all parts of San Francisco and beyond, like Mary. So come out and join us—we look forward to getting to know you! See you in the parks!
January 2, 2019