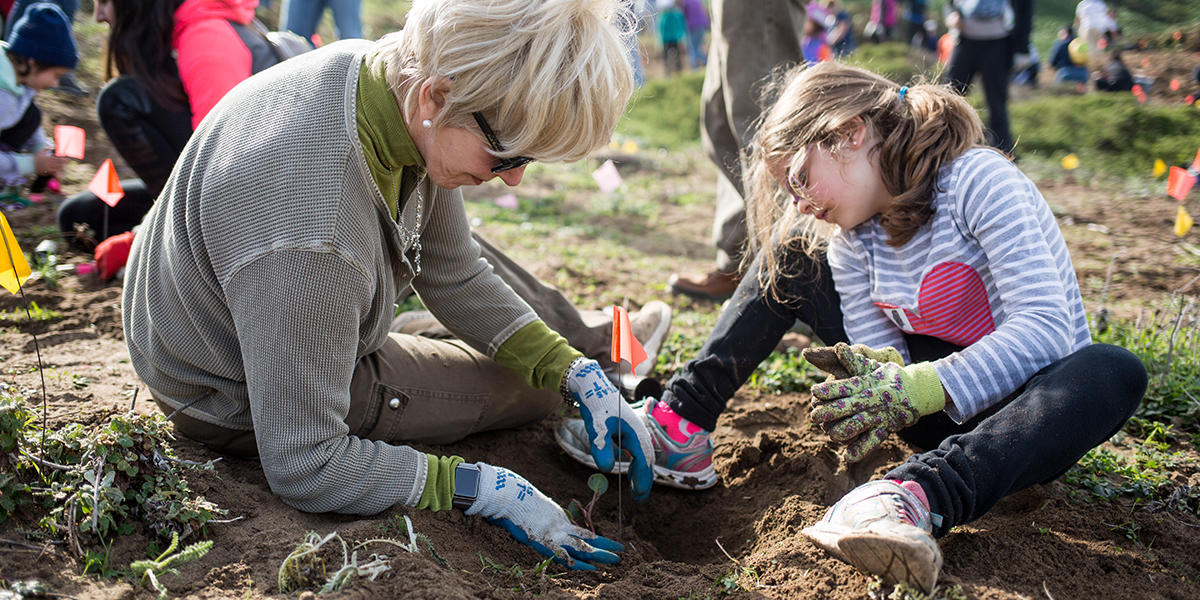 Park volunteers planting
Maria Durana/Parks Conservancy
Volunteers have played a vital role in the entire cycle of nurturing our native plants—seed collecting, seed cleaning, seed sowing, composting, pot washing, transplanting and, now, outplanting across the parks at restoration sites.
Much of this activity has centered in our six park nurseries, located in Marin, San Francisco, and San Mateo counties. And though these facilities might be small, they are mighty. With tremendous support from volunteers, these nurseries were a bustling hub of natural production: over 13,000 grams (or 30 pounds) of seed were collected, from which over 200,000 plants from 135 species were grown. Wow!
We have 55 different restoration projects throughout the parks in need of enthusiastic volunteers to help plant this year's crop of seedlings. Our top five sites only scratch the surface of the demand:
Muir Beach: 16,423 plants and 10 pounds of seeds for direct planting (grown at Redwood Creek Nursery)
Battery East Bay Trail: 7,457 plants (grown at Presidio Nursery)
El Polín Spring:  9,664 plants (grown at Presidio Nursery)
Pacific Coastal Trail: 4,286 plants (grown at Presidio Nursery)
Mori Point: 3,865 plants (grown at Oceana High School Nursery)
If you're concerned that you may not have the skills required, DON'T BE. All you need is good energy, a willingness to dig in the dirt, and a gentle touch for the delicate seedlings! We'll take care of the rest.
We provide the gloves, tools, and training. You can walk in a novice and leave an expert. Visit our Volunteer page to learn more, or contact us at volunteer@parksconservancy.org or (415) 561-3044.
Give the gift of PLANTING this season!
December 26, 2012