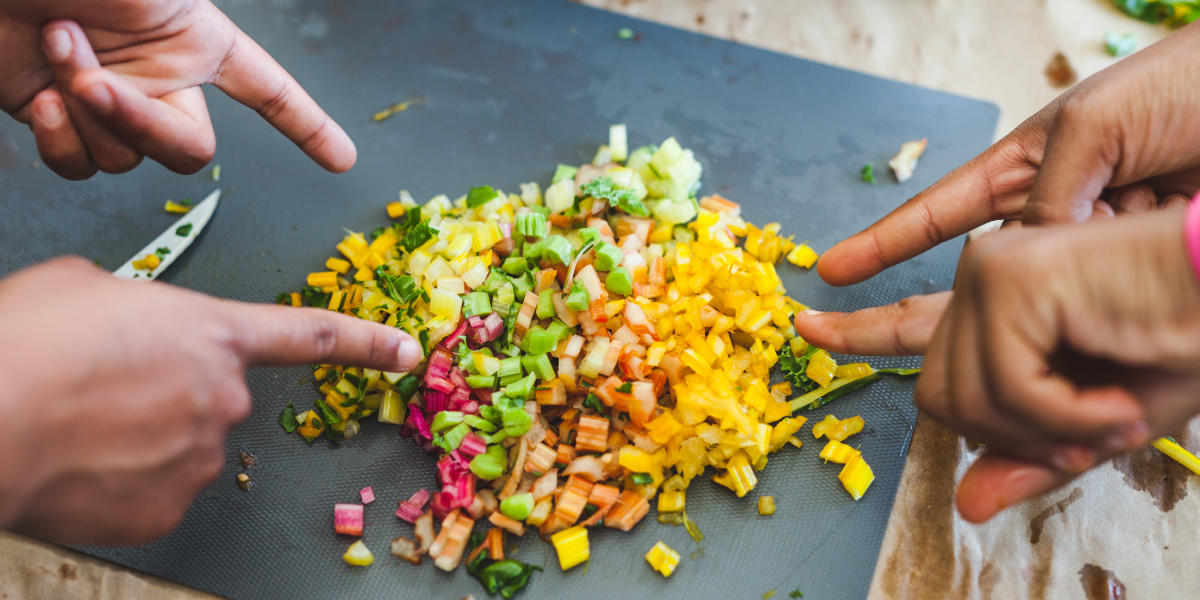 Chopped vegetables provide a colorful aesthetic
Rachael Featherweight
The Institute at the Golden Gate's Food for the Parks initiative aims to expand the availability of nutritious, local, and sustainable fresh food to park visitors nationwide. This program leverages the food purchasing power of the National Park Service (NPS) and its supply chain to affect food systems in the U.S. and beyond.

To learn more about the Institute's Food for the Parks project, visit the Institute's community hub.
The Institute created two publications that parks and food service providers can use to take the next steps.
Food for the Parks: Case Studies of Sustainable Food in America's Most Treasured Places showcases parks and concessionaires that have healthy and sustainable food programs in place and highlights a variety of best practices that can be adopted by other regional, local, and national parks.
Food for the Parks: A Roadmap to Success works as a toolkit offering strategies and ideas to inspire collaboration among partners and encourage them to take steps to create new healthy, fresh, and sustainable food programs in parks and other industries across the country. Implementing Healthy Food in Parks Across the Country
The Food for the Parks initiative also works as a model for incremental improvement within our large-scale food system beyond our nation's 10,000 parks and has the potential to create or expand markets for sustainable foods and products in other industries, reducing impact on the environment and benefiting local economies.
Food for the Parks Spotlight: Grand Tetons
The restaurants of Grand Teton National Park are offering dining experiences as grand as the jagged pinnacles towering over Jackson Hole and the Columbia River Plateau. Although the park is located 300 miles away from the nearest major airport, you will still find healthy, delicious cuisine in the greater Yellowstone ecosystem that is both good for the environment and the local community. Learn more about the two dining operations that operate inside Grand Teton National Park.
At Colter Bay Village, Jackson Lake Lodge & Jenny Lake Lodge, Grand Teton Lodge Company offers 100% scratch cooking. Eventually they plan to grow a portion of their own food in a year round Vertical Harvest greenhouse in Jackson Hole.
At Signal Mountain Lodge & Leeks Marina, Forever Resorts is partnering with locally owned grocers, farms, restaurants, and breweries to provide "Slow Foods", such as local grass fed beef, to their guests.
Food for the Parks Spotlight: Muir Woods >>
The Café inside Muir Woods National Monument used to be a place where a visitor might purchase a sandwich as an afterthought on her way home from a walk on Muir Beach. Today, the Café is a destination in its own right. In response to a prospectus from the park that called for organically produced ingredients, local sourcing, and healthy menu items, Muir Woods Gift Shop and Café sought and found local partners to accomplish these goals.
Looking for a locally grown, organic, and sustainable meal in the Golden Gate National Parks? The Beach Hut Café and The Warming Hut Café along Crissy Field and The Café at Muir Woods are great options for enjoying a day in the park. View in-depth case studies on how individual parks are procuring healthy, sustainable foods on our online web portal, ParksHealthGuide.org. This is "a one stop portal for park prescribers and providers" interested in learning how parks are serving sustainable food and beverage.
Food for the Parks: Case Studies of Sustainable Food in America's Most Treasured Places