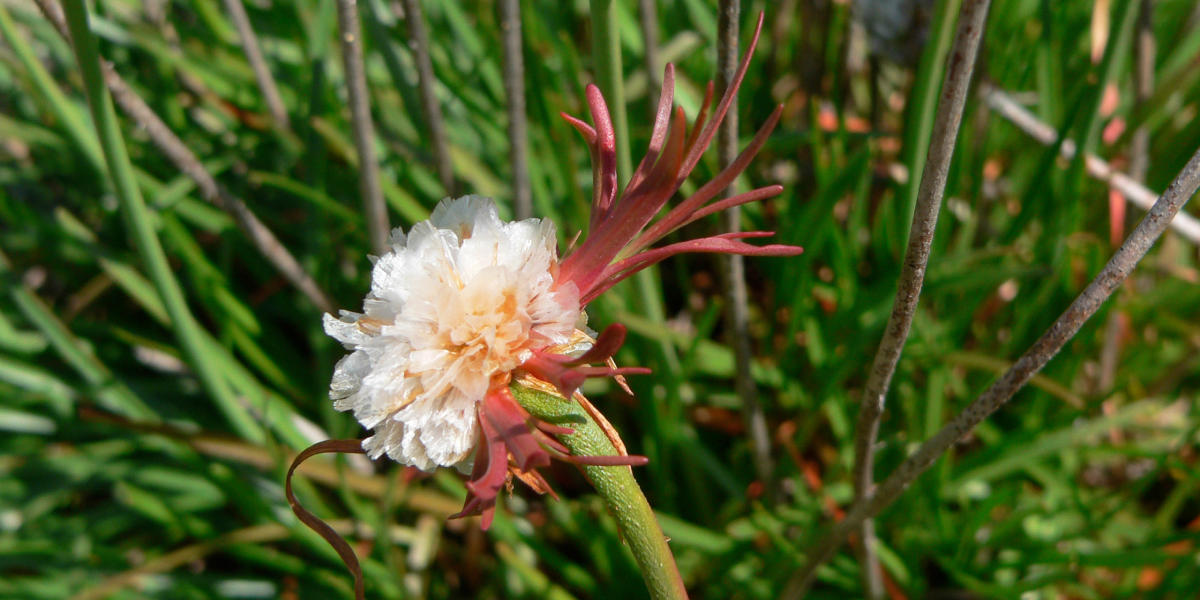 Armeria maritima (Pink Sea Thrift)
Eric Poelzl/Parks Conservancy
Endangered
No
Population
Native/Common
Family Characteristics
Plumbaginaceae Family live in Coastal Habitats, including Salt Marshes. Their flowers have a 5-lobed calyx (whose tube is often ribbed) and a 5-lobed corolla, although the corolla lobes may be separate almost to their base. The 5 stamens are in line with these lobes. The pistil has 5 styles, and develops in to a dry fruit containing a single seed. The flowers of some members of Plumbaginaceae have a paper-like texture to the calyx and/or corolla; the popular cultivated flower Statice belongs to this family.
Latin Derivation
Genus: Armeria - latinized from the old French name armoires for a cluster-headed dianthus; armoire-cupboard.
Species: maritima - of the sea.
Description
A perennial flower with a corolla consisting of five petals that are joined at the base with five stamens and five separate styles. The leaves form rosettes at the base of the stalk and the fruit capsule contains only a single seed. The leaves of Armeria maritima are narrow and numerous, and usually have hairs along their margins. The leaves surround a stalk that rises, unbranched terminating in a dense inflorescence of usually pink flowers. Often seen, and easy to identify in the absence of flowers. The rootstock is woody and easily seen under the leaves. Thrift or sea pink is a compact, low-growing plant which forms a dense, mounded tuft of stiff, linear, grass-like, dark green leaves (to 4" tall). Tufts will spread slowly to 8-12" wide. Tiny, pink to white flowers bloom in mid spring in globular clusters (3/4-1" wide) atop slender, naked stalks rising well above the foliage to 6-10" tall. Sporadic additional flowering may occur throughout the summer. Flower clusters are subtended by purplish, papery bracts. In the wild, thrift or sea pink commonly grows in saline environments along coastal areas where few other plants can grow well, hence the common name.
Habitat
Bluffs, dunes.