Nature Journal Club: What's in a Sky?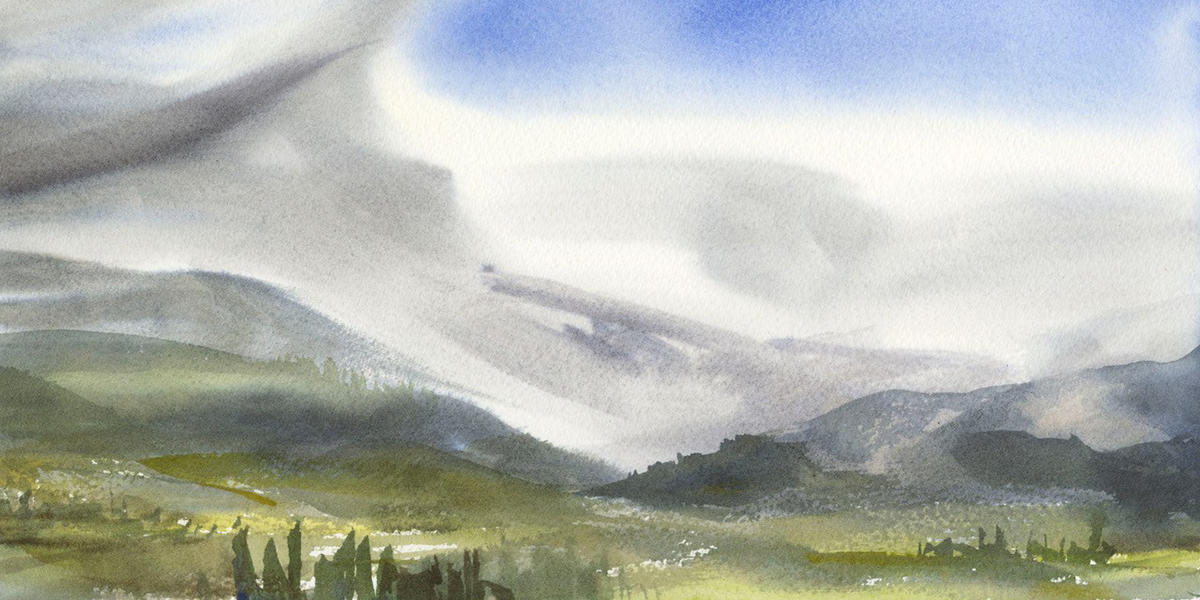 "What's in a sky?"
Laurie Wigham
What kind of blues are in that sky, and what kind of grays are in those clouds? What's the one color you never want to put in your sky, not even in the most lurid sunset? How can you show the sun breaking through the clouds, when it's so much brighter than the white of your paper? What happens where the sky touches the land, and how can you give a sense of sunlight spilling over a landscape? When do you want to precisely indicate what kind of clouds you're seeing, and when do you need to alter reality to make a better painting?
As she did in her class for the Nature Journal Club last year, Reflections and Other Tricky Things About Water, Laurie will attempt to answer those and many other questions with a grab bag of painting techniques, science, field observations, solutions from other artists, and random tips she has accumulated in her 7 years of organizing the SF Sketchers Meetup Group, teaching watercolor, and painting skies wherever she sees them.
In addition to Reflections, Laurie's previous classes for the Nature Journal Club were Splash & Scribble and How to Make Your Nature Journal Sketches Come Alive.
Bring: 
Graphite pencil and sketchbook to take notes in (cheap paper OK)
Your current field watercolor setup, including: 

Paint palette
Waterbrush or other small brush with a compact water container. (Doesn't need to be sable: synthetic brushes are fine.)
Rag or paper towel
A few scraps of good quality watercolor paper to try out special effects. 
There will be art supplies you can borrow if you don't have any of the above. Open to all ages and skill levels. $20 sugested donation. 
For a google map to the meeting location, click here >> 
Note: You must ring the doorbell to be let into the building. We will meet in the gathering room to your left as you walk in.
Please note: Park Academy classes are meant as a special perk for volunteers, members, and employees. If you do not work for the Golden Gate National Parks, are not a member, or have not volunteered with us in the past year, a donation is encouraged. Volunteer or become a member today!
Event Type
Audience Type
For More Information
Past Event Dates
Tue, 03/12/2019 -

12:30

-

14:00