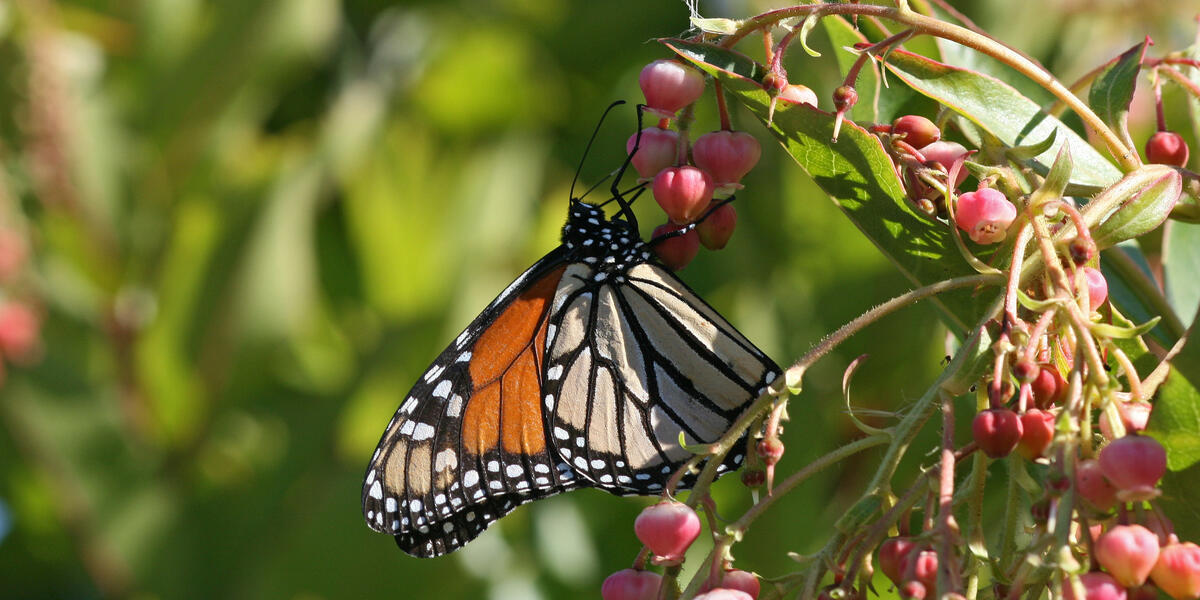 Will Elder / National Park Service
"Enjoy the little things, for one day you may look back and realize they were the big things." 
-Dietrich Bonhoeffer 
Join us virtually for One Tam Time of Thanks, to celebrate and give thanks for our beloved mountain! For many years, the weekend before Thanksgiving was known as Mt. Tam Day of Thanks where volunteers would come and give back to the mountain through restoration work. This year we are asking people to give thanks to Mt. Tamalpais all month virtually: 
Write a Letter of Gratitude 
Take a moment to reflect on Mt. Tamalpais and the nature that surrounds you.  Write about what are you thankful for and read other letters that people have written at Dear Planet Earth: www.dearplanetearth.org/.
Participate in One Tam's Time of Thanks, Monarch Observation Challenge 
Monarch butterflies are migrating through Marin in November. Use the iNaturalist phone and web app to record your observations of Monarch butterflies-- and any other butterflies! Your observations will help scientists learn more about Monarchs. Visit iNaturalist here: https://www.inaturalist.org/projects/one-tam-time-of-thanks-monarch-challenge 
Watch our Monarch Webinar and Get Free Milkweed Seeds
If you missed our webinar our November 20th, stay tuned as we will be posting a recording of the webinar. Learn about the lifecycle of Monarchs and how the population is doing on the West Coast. Most importantly, learn how you can help monarchs by joining our monitoring efforts and by planting milkweed plants. After you attend, we'll send you free milkweed seeds to plant in your own garden.  
Past Event Dates
Mon, 11/30/2020 12:00AM

-

Tue, 12/01/2020 12:55AM
Sun, 11/29/2020 12:00AM

-

Mon, 11/30/2020 12:55AM
Sat, 11/28/2020 12:00AM

-

Sun, 11/29/2020 12:55AM
Fri, 11/27/2020 12:00AM

-

Sat, 11/28/2020 12:55AM
Thu, 11/26/2020 12:00AM

-

Fri, 11/27/2020 12:55AM
Wed, 11/25/2020 12:00AM

-

Thu, 11/26/2020 12:55AM
Tue, 11/24/2020 12:00AM

-

Wed, 11/25/2020 12:55AM
Mon, 11/23/2020 12:00AM

-

Tue, 11/24/2020 12:55AM
Sun, 11/22/2020 12:00AM

-

Mon, 11/23/2020 12:55AM
Sat, 11/21/2020 12:00AM

-

Sun, 11/22/2020 12:55AM