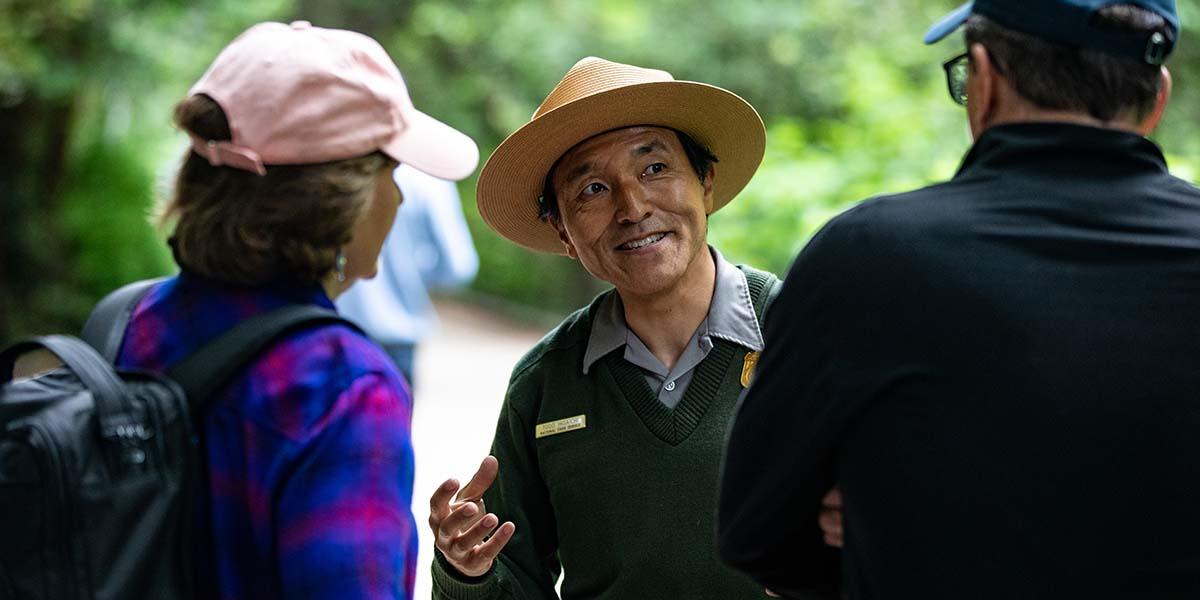 National Park Service Ranger Todd Hisaichi at Muir Woods National Monument.
Paul Myers / Parks Conservancy
To get his dream job, Todd Hisaichi had to make a choice most people don't have to make: He had to give up his original citizenship.
Todd is from Japan, which doesn't allow dual citizenship for most people, and to become a National Park Ranger he had to become a United States citizen.
"I thought, I live only once, and there might be a gift I can give to the world through this work," Ranger Todd said. "So I took a plunge."
Ranger Todd, who has been an interpretive ranger coordinating volunteer activities at Muir Woods since 2014, says the loss of his Japanese citizenship was tough. But it also started a journey to "self discovery." He started learning the history of his grandparents in rural Japan. And he met top Japanese ministers as part of a cross-Pacific park exchange program.
At Muir Woods, he gets lots of questions about redwoods—how old they are and how tall they are. He tries to show people how resilient and smart the trees can be. And how we can learn from the past, using our "superpowers" to save the trees today.
Ranger Todd helps connect Hopi people to history through the Native Conservation Corps. High schoolers spend a week learning about their Hopi elders who were imprisoned on Alcatraz in 1895. They learn about park resources, explore career possibilities by engaging in park operations, and become park ambassadors back home in Arizona.
"Since I was able to live my national park dream, I'm helping people to realize their national park dreams," Ranger Todd said.
September 20, 2019