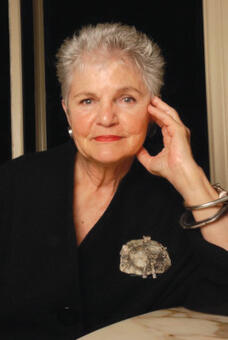 Jan Blum made a lasting impact with her time, energy, and resources on the health of our parks and for current and future generations of habitat as well as visitors, combining her passion for both parks and community.   
She was a stalwart advocate for public open space in San Francisco and a champion of the Golden Gate National Parks, specifically the Presidio.  As the Presidio transitioned from post to park, Jan served on the Presidio Environmental Council, the Restoration Advisory Board, and People for the Parks/Presidio – all volunteer groups that have represented community stakeholders.  She advised, advocated, mentored, and collaborated for the preservation, restoration, interpretation, and sustainability of the Presidio. 
Jan was a volunteer with the Presidio Native Plant Nursery, as she was fond of gardening, especially when it involved physical labor like composting.  She joked that the park was her outdoor gym: "We have to haul dried weeds and grass from a bin…uphill to the nursery…in a wheelbarrow, bring up wood chips, and horse manure…then pitchfork them into a pile." 
 "I don't know any organization in San Francisco that I admire more than the Conservancy." 
Both Jan and Crissy Field were transformed in 2000 when she joined the Help Grow Crissy Field campaign. She planted natives to help restore the shoreline dunes and tidal marsh and reclaim the natural history of Crissy Field.  "You cannot begin to know what my years of association with our great GGNRA has meant to me in so many positive ways.  I call it a life changing experience in all sincerity.  It has positively influenced my life – a great and lasting gift."
Jan was a great admirer of the leadership of the late GGNRA General Superintendent Brian O'Neill and his mentorship of youth in the parks, inspiring young people to pursue careers in public service and conservation.  When Brian passed away, she invested in youth leadership development through the Brian O'Neill Youth Leaders Fund.  Her bequest gift will continue to support communities in our parklands, including our youngest. 
She once wrote, "I don't know any organization in San Francisco that I admire more than the Conservancy: their work, their enormously important inclusivity, their inspirational work for the larger community, how they build lives."  Unselfishly and without accolade, Jan helped create a healthier, more beautiful and inclusive city, through her active service and her quiet philanthropy as a member of the Parks Conservancy Leaders Circle and Silver Lupine Circle. 
November 2, 2021