When Crissy Field was still a decommissioned airfield, small plants pushed through the cracked pavement around a two-story building that was once used by the U.S. Army as a darkroom and photography studio. During the 2001 transformation of Crissy Field from post to park, this building became the first home of the Parks Conservancy's Crissy Field Center (CFC) for youth programs.   
Over the next 20 years, the CFC team would reach over 750,000 participants through their programs. Programming has always used parks as a platform for young people to develop skills to create change in communities and society through environmental and social justice. 
"From the beginning there's been an emphasis on environmental justice and community health and the roles that young people play," shares Charity Maybury, Crissy Field Center Director. "That was in the original documents of the Crissy Field Center and its establishment, and that has been consistent all the way through." 
The Center strives to engage youth who have historically faced barriers to accessing parks due to factors including but not limited to: racial bias, finances, language, and cultural relevancy. Most of the programming is free or very low cost, offered in multiple languages and taught using multicultural education practices.  
"Our staff is a passionate mix of educators, activists, and youth workers. They are diverse culturally and generationally, bringing various talents, passions, and experiences to their work," shares Ernesto Pepito, Associate Director of Youth Leadership. "Crissy Field Center staff believe that a national park experience is one that should be defined by the communities they serve."  
The Center is nestled amongst Crissy Field's tidal marsh and dynamic marine-beach ecosystem. More than 100 species of native plants, 135 bird species and 17 species of fish have been identified here. This national park location, full of natural wonder, serves as a biodynamic outdoor classroom. The Center's approach to place-based learning gives program participants an opportunity to feel at home in the parks. 
Sam Tran was one of the original youth participants in the first CFC program in 2001, the Youth Advisory Council. Now, he has returned as an instructor to give back to the next generation of youth coming through the Center. When asked how the CFC has grown most over the last 20 years, Sam shared, "I have seen a growth of diversity in our programs with our intentional outreach to our POC communities. [I've also seen] the long-lasting relationships we have with the youth we've worked with for the past 20 years." 
Programs have included Inspiring Young Emerging Leaders (I-YEL), Environmental Educators of Color, Watersheds Inspiring Student Education (Project WISE), Urban Trailblazers, Community Partner Camp, summer camps and camping trips, the Point Reyes Science Adventure and school programs such as Migratory Story. 
In 2010, the Center was moved to a temporary headquarters near East Beach to circumvent nearby construction around the original building. The Parks Conservancy led the sustainable construction of this 7,500-square-foot interim LEED Platinum certified Center. The building includes energy-producing vertical-axis wind turbines, solar thermal hot water, solar panels, rainwater catchment, Earth-friendly building materials, an electric car charging station and salvaged redwood paneling. The education team at the Center monitors the building's energy use online and uses its sustainable design as a teaching tool in programs. 
Instructors have always prioritized youth needs and feedback in the evolution and growth of the CFC. Most programs are customized and co-created alongside participants to ensure relevancy. Youth even serve on the hiring panels for staff interviews.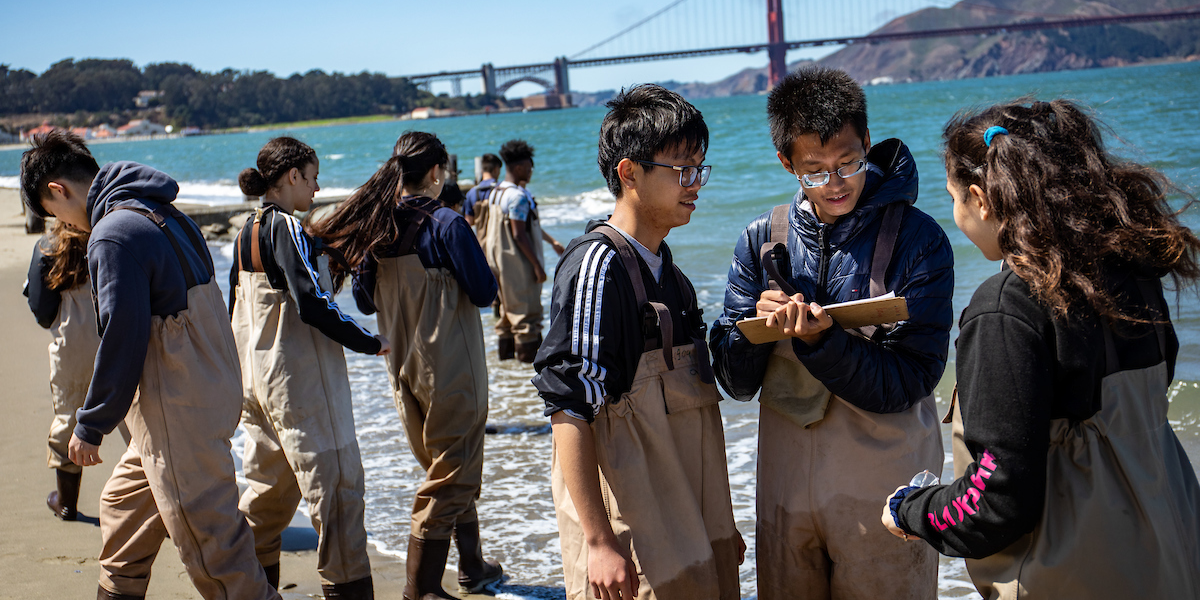 2019 Project WISE
Paul Myers / Parks Conservancy
"Something that I really value from the I-YEL group is that it's a very safe space. And the leaders, the instructors, have made it a safe space," shares Sabeen, current I-YEL intern. "And I really hope that it continues to be like that for future I-YELers." 
Staff has always nurtured an environment of welcoming and belonging for youth from all communities and identities. 
"What I appreciate about the center is that you can bring your full self, your identity there, and that there's space for it to grow there," shares Guilder Ramirez, Program Manager (and I-YEL alumni). "And the educator's job is to say there's space for it everywhere and everywhere here in the parks." 
Over the years, youth have led many projects to address social and environmental issues that they are passionate about. Participants wrote, produced, directed, acted and created props for a play that addressed gentrification in four theater shows. They organized a carnival with different booths (including a dunk tank booth) to educate people about climate change. They planned and went on a road trip to Yosemite and the Grand Canyon to evaluate access and belonging at various national parks. 
Current CFC staff reached out to alumni to see where they are now. Participants have gone on to become teachers, activists, healthcare workers, coaches, non-profit employees and tutors. They run health coaching programs for older adults, work at bike shops, attend beach cleanups, lead cultural organizations at universities and help register voters. Many alumni credit the Center for giving them a passion for community building and social justice, which shines brightly in their lives and the work they do now. 
"Being a teacher requires confidence, understanding, humility and organization—all things I learned and strengthened throughout my time in I-YEL," shared Maura Do, teacher and I-YEL alumni.  
Soon the Crissy Field Center will be making a full circle return to its original building. The building is being expanded and improved to become a hub for youth and community programs at Presidio Tunnel Tops. The Center will include a state-of-the-art media lab, a nutrition kitchen, a Student Support Center for students and their families and more spaces dedicated to youth. 
Current program participants are training to become Youth Adventure Guides at Presidio Tunnel Tops. They are designing what these roles will entail and will help train future hires. Through interviews with community members and their own life experiences, they are outlining ways to make this new park site more welcoming to youth and local communities. 
The education team has big hopes for the Center in the coming 20 years. They would like to facilitate more collaboration between the various youth programs. They are brainstorming ways to implement youth projects more broadly and deeply in the community. And as always, they look forward to welcoming and learning from each new participant who joins the ever-growing Crissy Field Center community.