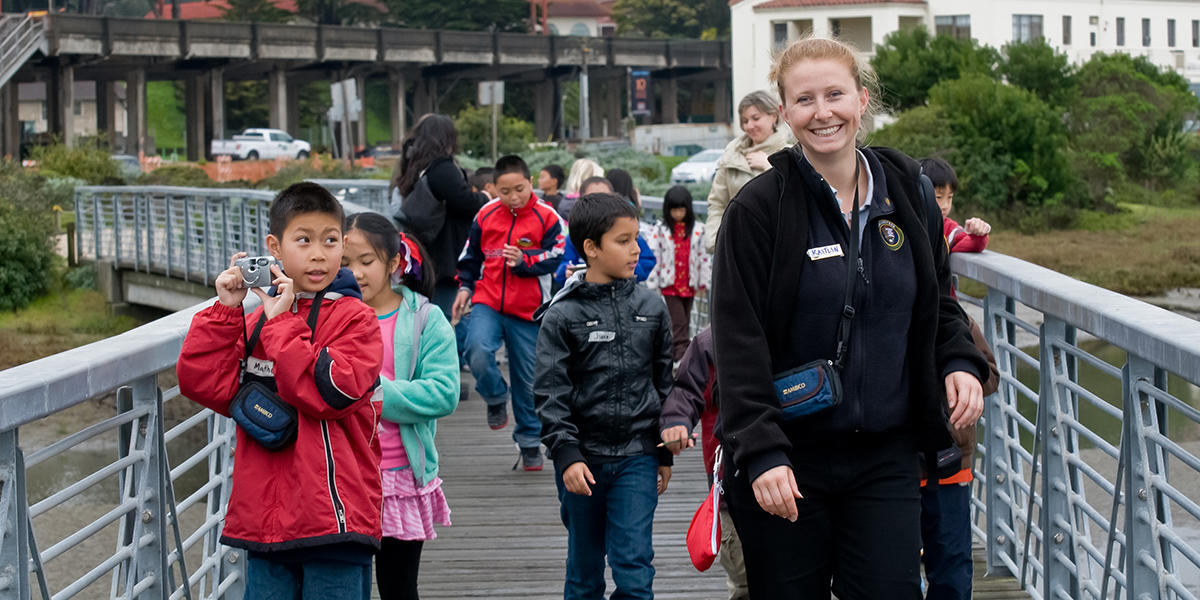 Time for a field trip at Crissy Field Center
Chee Tung/Parks Conservancy
2014 is an exciting year for the Crissy Field Center's Community Group Programs. With support from the National Park Service, the "Tickets to the Rock" program will provide opportunities for more young people to visit one of the Bay Area's most iconic landmarks—Alcatraz Island. 
Now in its second year, "Tickets to the Rock" is designed to help remove financial barriers for youth groups to engage in this unique national park experience. An allotment of 1,200 tickets was made available for eligible groups; to see if your group is eligible and to apply, visit parksconservancy.org. 
Community Group Programs has also launched a training program designed to teach youth-group leaders how to bring their young people into the Golden Gate National Parks. Historically, there have been more interested participants than staff available to lead park programs, so the "Summer in the Park Leadership Training" will give community members the knowledge they need to provide quality park experiences for their own groups.
Based on a model established by the Camping at the Presidio program, the training program gives group leaders the skills and tools they can use when visiting parks with their youth. "We want to empower community leaders to take their own groups on unforgettable experiences in and around their national parks," says May Tran, Program Manager for Community Services. May feels that groups will benefit from having a familiar face leading them on a park adventure, where trust between students and leaders can contribute to learning and development. 
For information on participating in these trainings, visit www.parksconservancy.org/learn/educators/professional-development/community-group-programs.html.
Finally, Rene Tucker, Crissy Field Center's Camp Coordinator for the past two summers, has added the role of Fitness Consultant to his camp responsibilities. Tucker, who was a certified tennis instructor for 15 years and a certified fitness instructor for 10 years, will oversee the summer camp seasonal staff, including Summer Wellness Interns. In tandem with the parkwide initiative to promote "Healthy Parks, Healthy People," Rene and these high school interns will provide daily fitness and wellness programs to camp participants, and emphasize healthy living and learning.
Learn more about Crissy Field Center summer camp at www.parksconservancy.org/learn/youth/summer-camps/.
February 27, 2014