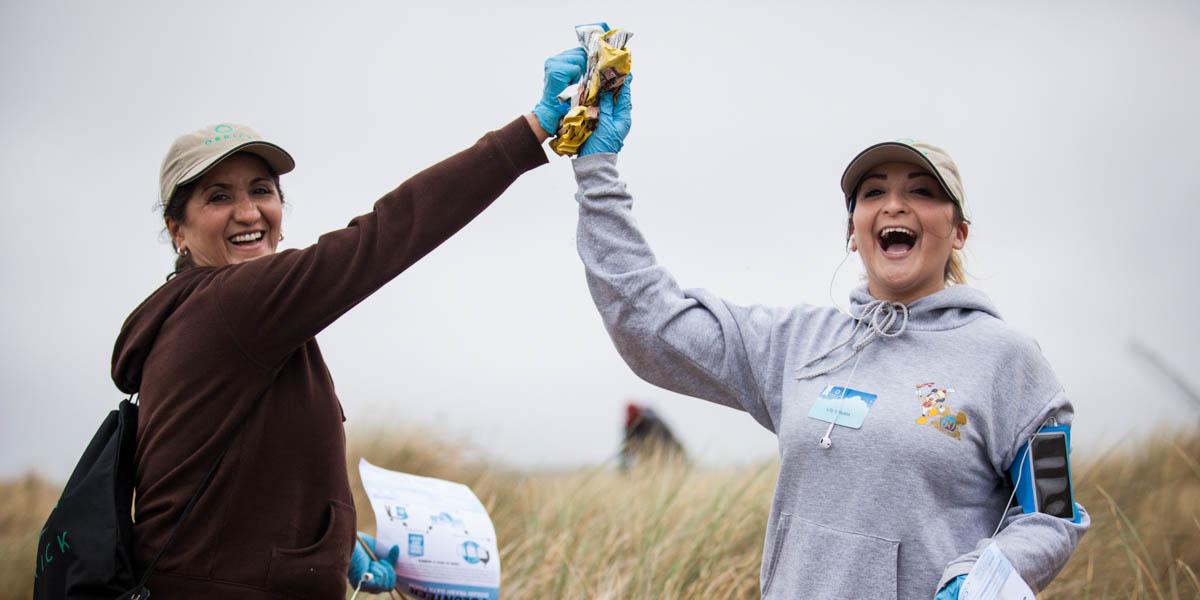 Volunteers at Coast Cleanup Day
Maria Durana/Parks Conservancy
Before we jump into the New Year, we have to look back and give a HUGE round of applause to all of the volunteers who generously contributed their time and energy to the Golden Gate National Parks in 2012.
On behalf of the National Park Service, the Presidio Trust, and the Parks Conservancy, THANK YOU! We know that your time is precious and we are honored and grateful that you choose to spend it with us caring for these spectacular parks.
Over the course of this past year, more than 36,000 members of our community volunteered in the parks, contributing over a half-million hours of service. The numbers are certainly impressive, but it is each of you who give these numbers meaning and significance—you bring the heart and soul to this collective effort.
Some of you were able to offer a few hours and some of you hundreds of hours—across the spectrum, we are truly thankful. Each and every one of you has made a positive impact that contributes to the fundamental health and enduring preservation of these vital parklands.
As volunteers, you have supported just about every aspect of managing these parks. Below is just a SMALL sampling of your accomplishments in 2012 - we've only scratched the surface:
Grew over 200,000 plants in our native plant nurseries for 55 projects
Restored critical habitat and landscapes: mapped 1,430 new populations of priority invasive plant species, installed 206 fish habitat structures in Redwood Creek, celebrated the 25th anniversary of the Habitat Restoration Team
Greeted visitors and led walks, talks, and public programs: welcomed 500,00 visitors to Alcatraz, celebrated the opening of the new suspension bridge and engaged nearly 60,000 visitors over the course of the year at Point Bonita Lighthouse 
Tracked and banded raptors: recorded 21,169 sightings of 17 species
Captured the park and community in photographs
Organized events and programs
Celebrated and supported the Golden Gate Bridge 75th Anniversary with over 300 volunteers
Reenacted historic events
Monitored birds and other wildlife: managed over 70 Western Gull nests on Alcatraz
Educated, engaged, and inspired young people
Maintained and rebuilt trails: brushed 45,913 feet of trail, hauled 42 cubic yards (over 42 tons) of material
Volunteered full-time as interns: 137 interns contributed 109,578 hours of service - the equivalent of 52 full-time staff
Weeded, planted, and mulched: Park Stewardship alone pulled 7,000 large bags of invasive weeds and planted 27,180 plants
Cleaned and cared for beaches and park grounds: removed 4,350 pounds of debris (40% of which was recycled) from 20 coastal sites on Coastal Cleanup Day
Assisted with administrative and office work
And much more…
You are an absolute inspiration. Our parks were established by community action and each of you carries on that legacy today through your dedication, spirit, and remarkable generosity.
You are Park Heroes! Cheers to you and here's to an exceptional 2013 for all!
New to volunteering? We'd love to give you an introduction. Please contact us at (415) 561-3044 or volunteer@parksconservancy.org, or visit the Volunteer page.
January 30, 2013