Drums, Waves, Wind: Adams' "Inuksuit" at Lands End on July 29
Inuksuit jazz performance at Lands End by John Luther Adams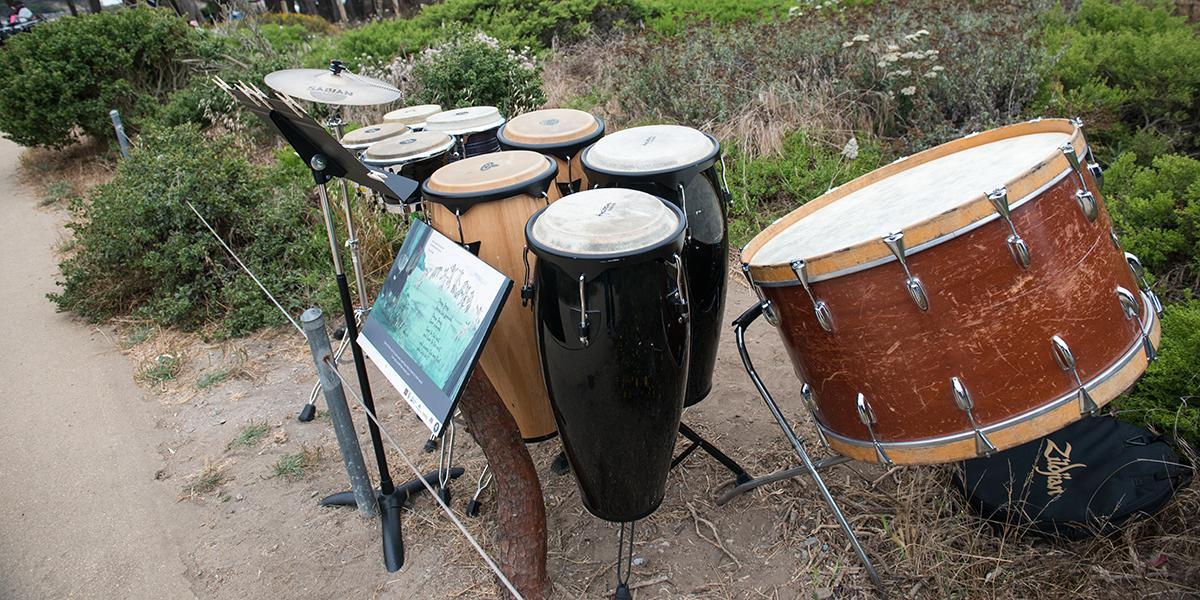 Inuksuit is intended to create a harmonious marriage of music and geography
Paul Myers/Parks Conservancy
One of the world's leading cultural institutions devoted to jazz and related forms of music, SFJAZZ is joining forces with the Parks Conservancy to present John Luther Adams' Inuksuit, in a free Tunes on Trails outdoor performance at Lands End and Sutro Baths on Saturday, July 29 (1 pm).
Described by the New York Times as "the ultimate environmental piece," the 80-minute composition—featuring 9 to 99 percussionists—is designed for large open-air spaces. Doug Perkins of Sō Percussion directs this exclusive performance at Lands End, part of the John Luther Adams Festival (July 26–30).
Adams, a Pulitzer Prize- and Grammy-winning composer, produces art from a uniquely American viewpoint, with an emphasis on the natural world, the Alaskan wilderness, and the culture of indigenous peoples such as the Inuit.
Named for the human-shaped stone monuments erected by indigenous peoples of the Arctic to mark important locations, Inuksuit is intended to create a harmonious marriage of music and geography, allowing the audience to create their own experience as they move within the vast performance area.
As listeners walk, the balance changes between the various musicians and the mix of natural sounds in the environment—a primary aspect of the concept the composer calls "sonic geography." 
"Each performance of Inuksuit is different, determined by the size of the ensemble and the specific instruments used, by the topology and vegetation of the site—even by the songs of the local birds," Adams explains. "The musicians are dispersed throughout a large area, and listeners are free to discover their own individual listening points, which actively shapes their experience."
Inuksuit is a perfect fit for the Art in the Parks program, a partnership of the Conservancy and the National Park Service to bring new experiential perspectives to park visitors and art lovers alike.
"People often find similar meaning both in music and nature—an emotional response that evokes awe, hope, and connection the world beyond oneself," says Kate Bickert, Senior Director of Engagement & New Initiatives for the Parks Conservancy. "This partnership with SFJAZZ is the latest in our experimental new program, Tunes on Trails, which seeks to provide community connection to music and nature through brief pop-up concerts in different park locations."
August 1, 2017