During World War II, the Presidio of San Francisco—the Army's Western Defense Command—played a pivotal role in the unjust incarceration of 120,000 Japanese Americans, purportedly in the name of national security.
A special exhibition, "Exclusion: The Presidio's Role in World War II Japanese American Incarceration," opened in April at the Presidio Officers' Club, exploring this little-understood part of the post's history.
This exhibition marks 75 years since Lieutenant General John L. DeWitt issued Civilian Exclusion Orders from the Presidio, in response to the infamous Executive Order 9066 signed by President Franklin D. Roosevelt.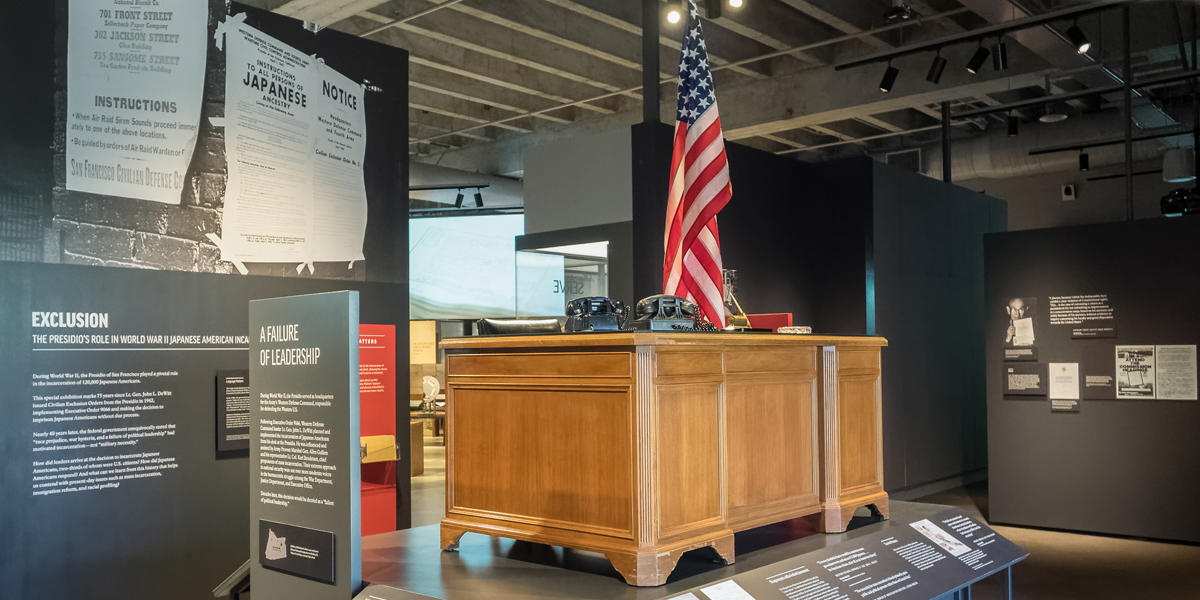 Information about the Japanese internment at the Presidio
Dan Friedman

Rosalyn Tonai, executive director of the National Japanese American Historical Society (NJAHS), collaborated with the Presidio and the Fred T. Korematsu Institute to share this important historical event with the public, as this topic feels especially relevant and urgent today.
The exhibition invites visitors to investigate the choice—both personal and political—that led to this dark chapter in American history. How did leaders arrive at this decision? How did Japanese Americans respond to the violation of their civil liberties? And what, as a nation, have we learned that can help us address the present-day issues of immigration, racism, and mass incarceration?
"Exclusion" is the latest special exhibition at the Presidio Officers' Club, a cultural institution showcasing the Presidio's role in serving and shaping the nation. Special exhibitions explore the Presidio's heritage and allow for fresh perspectives and a deeper exploration of the topics and themes presented in the club's permanent exhibition.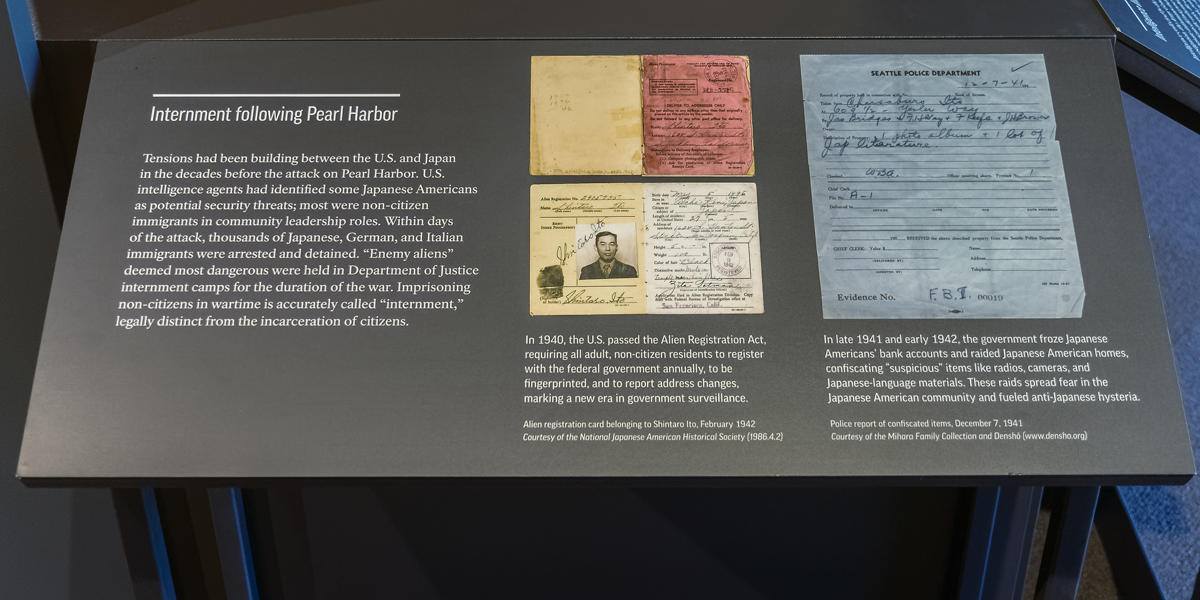 Information about the Japanese internment at the Presidio
Dan Friedman

As the long-time executive director of NJAHS, Tonai was a key figure championing the creation of the Military Intelligence Service Historic Learning Center, located at the Presidio's Crissy Field.
Within its walls, visitors learn about the U.S. Army language school created just before the attack on Pearl Harbor where mostly Japanese American soldiers were trained as linguists supporting the American World War II effort.
These linguist soldiers have been credited with significantly shortening the war in the Pacific and saving many lives. Ironically, at the same time these soldiers were serving their country, many of their family members were incarcerated in crude and humiliating camps by the government to wait out the war.
In recognition of the 75th anniversary of these events, two special exhibitions at the Presidio help visitors understand what transpired and think about how lessons learned may apply to the issues of our times: "Exclusion," at the Presidio Officers' Club, and "Children of the Camps," at the MIS Historic Learning Center.

Exclusion: The Presidio's Role in World War II Japanese American Incarceration
Heritage Gallery, Presidio Officers' Club
Tuesdays to Sundays, 10 am–6 pm
Through March 2018
Free

Children of the Camps
MIS Historic Learning Center, 640 Old Mason St., Crissy Field
Saturdays and Sundays, Noon–5 pm
Through June 30, 2017
$10 admission
(Note: Also on view during the week at NJAHS Peace Gallery in Japantown)
 
May 1, 2017