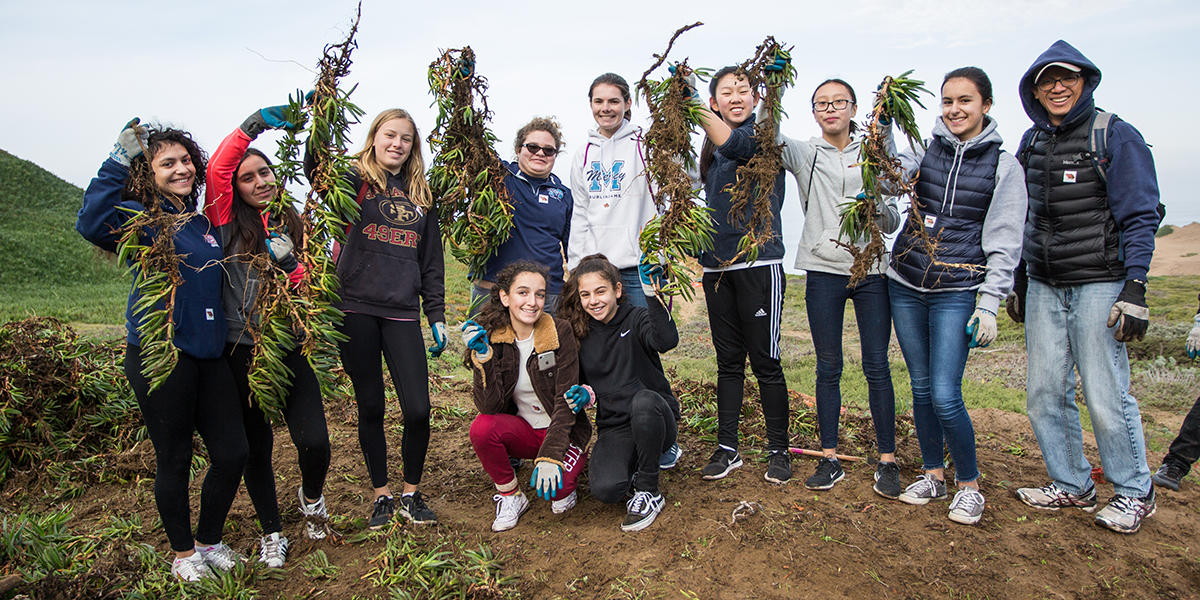 Volunteers at work
Maria Durana/Parks Conservancy
There's no doubt about it—giving your volunteer time helps the Golden Gate National Parks in tangible and quantifiable ways. In fact, in 2013, over 35,500 volunteers across the parklands contributed more than half a million hours of work—valued at $11 million!
And while volunteering is a wonderful selfless act that greatly benefits these national treasures and the communities that enjoy them, have you ever asked yourself: What's in it for me?
It can be hard to speak about how volunteering may benefit the volunteer. Although it might feel a bit too self-centered, there's no shame in appreciating the fact that volunteerism brings many rewards for yourself and your family.
Part of finding the right volunteer opportunity is being honest about what you hope to learn and accomplish. So what benefits can you gain from volunteering with the Golden Gate National Parks Conservancy?
1. Volunteering is a great way to get outside and explore
Did you know there are over 24 volunteer opportunities offered by the parkwide programs of the Parks Conservancy, National Park Service, and Presidio Trust? Tasks range from helping out at a nursery to tracking the fall migration of raptors through the Marin Headlands to removing invasive plants in our national parks.
These opportunities take place in some of the most spectacular parks in the country, including Muir Woods National Monument, the Presidio, Alcatraz Island, and more. You can discover the amazing beauty of parks in your own backyard—or travel to an area you've never been to before.
2. Volunteering is healthy for you
Time in nature has many salutary benefits, from increased physical activity to improved mental, emotional, and community health. You can burn calories, clear your mind, and lift your mood by doing something good!
Research has shown being outside correlates with greater functional ability and lower rates of obesity, depression, and mortality. Volunteering gives you aerobic exercise that's good for your whole person!
Spending time in nature has been shown to:
Increase physical activity
Increase levels of vitamin D
Lower rates of myopia (nearsightedness)
Increase longevity
Decrease stress, anxiety, depression
Mitigate the effects of trauma and ADHD
3. Volunteering opens doors to learning and expands your mind
Volunteering in the Golden Gate National Parks is a priceless experience that can reward you with new skills and knowledge. With thousands of plants, animals, birds, and historic features across the parklands, there's no shortage of things to learn about!
Park Academy classes are another fantastic thank-you benefit for our hard-working volunteers. These free classes—provided to Parks Conservancy staff, interns, members, and volunteers—provide ongoing learning opportunities on topics like vegetation ecology, nature drawing, raptor identification, botanical science, and more.
Upcoming classes include the next installment of the Gardening in the Fog Series, Science Saturday at Mountain Lake, and California Soundscapes. Learn more at www.parksconservancy.org/parkacademy. So what's keeping you from enriching your mind today?
4. Volunteering connects you with a wonderful community
Volunteering in these beautiful parks is a great way to spend time with your family and friends—and meet great new people who share your passions and interests. We have a great group of dedicated staff, interns, and volunteers who will make you feel welcome and part of the park community!
While it may be a challenge to bring a big family together and coordinate everyone's schedules, volunteering is a fun activity that you can all share together. It is a great way to catch up with your friends and family—while setting a good example for the children.
So with all these benefits, what are you waiting for? Join us as we work toward our vision of PARKS FOR ALL FOREVER. Get started today at www.parksconservancy.org/volunteer.
August 31, 2014