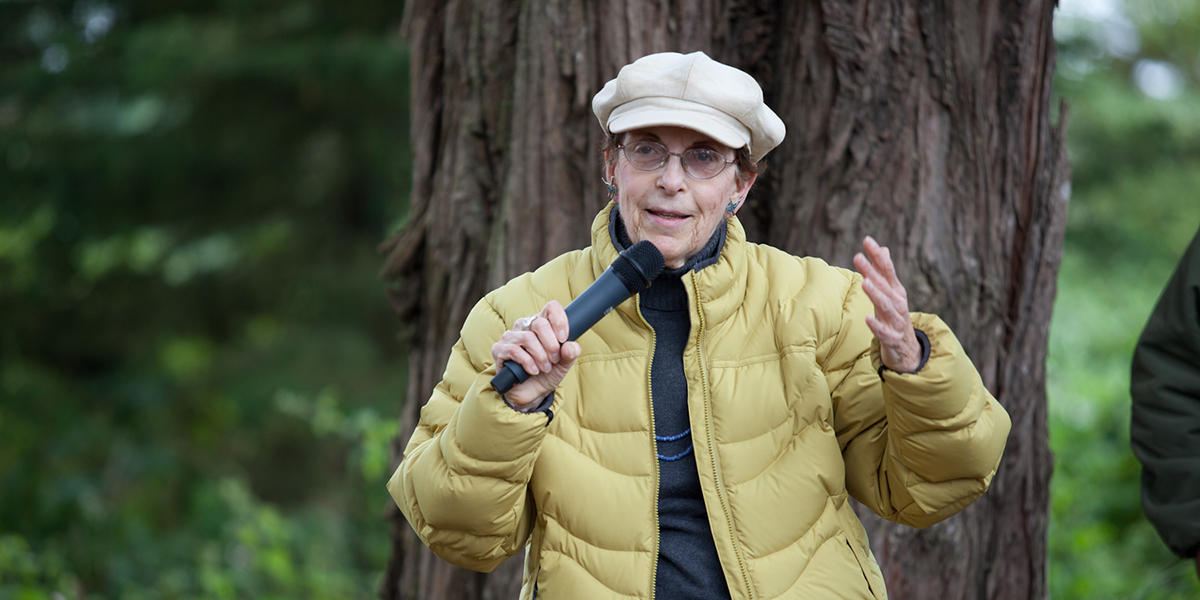 Amy Meyer at National Trails Day, 2014
Maria Durana/Parks Conservancy
To celebrate Women's History Month, we're highlighting four fascinating women who made their mark on these lands that eventually became the Golden Gate National Parks in 1972.

Juana Briones
Juana Briones was a foundational figure in San Francisco's history. Her mother and grandparents were in the epic De Anza expedition of 1776 from New Spain, and the Briones family eventually established a homestead near El Polín Spring in the Presidio—an active site of archeological study of that early era. Briones married a Presidio cavalryman in 1820, and their marriage produced 11 children (8 of whom survived to adulthood). As the abuse from her husband became unbearable, Juana broke from the patriarchal strictures of the age and struck off on her own.

At the foot of current-day Telegraph Hill, she built an adobe—the first private dwelling between the Presidio and Mission Dolores—and held the title in her own name. As a farmer and rancher and businesswoman, Juana attained such success that she later purchased a 4,400-acre tract in the Los Altos Hills to expand her operations. And with her knowledge of Mexican medicinal traditions and Native American herbal remedies, Briones also established a reputation as a respected healer who treated people of all nationalities and walks of life.

It is said that the name of her nascent community—Yerba Buena (the "good herb")—honors Briones' healing mint tea. Today, many historians consider Juana the "mother of San Francisco."
Sarah Seaver Randall
After a six-month "honeymoon" aboard the Hannibal, Vermonters William Edgar Randall and Sarah Seaver Randall arrived in San Francisco from Boston in 1850. William began a journal, but it was Sarah who made most of the entries because he was wracked by seasickness during most of the arduous journey around the southern tip of South America. As a part of the famous '49er wave of migration, the young couple lived in several places in Oregon and California (a son was actually born in the heart of Gold Country, at Murphy's Camp). The Randalls eventually purchased 1,400 acres near Bolinas in Marin County, and they were among the earliest American settlers in Olema Valley.

A long-simmering land dispute boiled over in June 1860, when William was shot and killed by an irate neighbor. While raising five young children, Sarah took over the management of the Randall Ranch dairy operation and successfully defended the property boundaries in court. In 1870, census records showed Sarah Randall as head of household. The Randall dairy was producing 5,000 pounds of butter a year—establishing the family as a key player in the area's rise as an epicenter of California dairy production and innovation.

In 1880–1, Sarah built the lovely Randall House, which is still visible off Highway 1. Maintained by the National Park Service, it is currently home to a colony of rare Townsend's big-eared bats.

Sallie K. Braun
At the height of World War II, Oakland native Sallie Braun was hired as a junior typist by the U.S. Army in San Francisco. She later served as the executive assistant to the commander of the Port of Embarkation at Fort Mason, and in 1957, she was promoted to Marine Transportation Specialist—becoming possibly the first woman to hold that position.

But Braun's influence far exceeded her title. "Sallie seems to have been one of those women who really ran things far and above her official position description," says Stephen Haller, historian for Golden Gate National Recreation Area.

For U.S. servicemen coming into San Francisco's port, Braun served as the primary point of contact and key operative—and her name became an informal code word for the City by the Bay. Ship captains, in fact, would talk about "paying a trip to Sallie" over the radio as they sailed for Fort Mason (see sketch).

"In a later era, Sallie doubtless would have received promotion into the upper ranks of the hierarchy," Haller says, "but in the 1950s she had to be content with widespread—if informal—recognition for her influence."

Braun's papers—gathered during her career in civil service—are a vital resource in the San Francisco Maritime National Historical Park's archive collection.
Amy W. Meyer
Living in San Francisco's Richmond District, Meyer was "looking for a small community project" in 1970 when she heard about a neighborhood effort to stop the development of a small parcel in East Fort Miley, near her home. It turned out that that piece of land was part of a larger greenbelt envisioned by Congressman Philip Burton—a "national park next door."

In January 1971, Meyer helped form a coalition of park advocates, People for a Golden Gate National Recreation Area; she was a co-chair of the group, alongside a towering conservation figure, former Sierra Club President Ed Wayburn. Thanks to their persistent grassroots efforts—abetted by a confluence of factors, including changing priorities in the National Park Service, the decommissioning of military sites across the U.S., and a continuing debate over the future of Alcatraz Island—the Golden Gate National Recreation Area was established on October 27, 1972.

Although she says the original concept called for an 8,000-acre park, more and more sites—abounding with natural, cultural, and historical resources—were added over the years. Today, Meyer's "small community project" has grown to an 80,000-acre swath of unparalleled open space, stretching across three counties and straddling one of the most famous straits in the world. Amy Meyer is widely regarded as the "mother of the Golden Gate National Parks."
 
March 1, 2015