When the calendar hits late September/early October and Karl the Fog recedes back to the Pacific Ocean, San Francisco finally experiences its summer. Days above 70 degrees should not be taken for granted. In August 2016, we only experienced one day in the 70s—one measly day.
But the heat wave days are upon us, and rather than boil in the recesses of the city, hop on a car/bike/Lyft/Muni and cool down with a visit to one of these beaches in your local national parks!
Baker Beach
Baker Beach

Curran White/Parks Conservancy
This one-mile stretch of sand doesn't skimp on the scenery—the views of the Marin Headlands and the Golden Gate Bridge will make you stop in your tracks. Visit the historic Battery Chamberlin, where you can see a 97,000-pound cannon of the type originally emplaced at this decommissioned military site, while you make your way toward the Golden Gate Bridge.
On hot days, this coastline is rather popular, and parking is extremely limited. If you're dead set on a bridge-side beach day, get there early, or you will have to put in some steps to hit the sands. There are no lifeguards on duty here—and the surf can be serious--be sure to exercise caution while swimming.
Marshall's Beach
Marshall's Beach

Kirke Wrench/National Park Service
You can't get much closer to the Golden Gate Bridge than at Marshall's Beach. This secluded stretch of sand and rocks is a favorite among sunbathers who dare to go bare.
To get there, you must hike down the Batteries to Bluffs Trail from the entrance near Battery Godfrey. We suggest parking at Fort Scott and walking down the Batteries to Bluff Trail from there to gain access. No supervision on duty so make sure to keep your wits about you while taking a dip.
Pro tip: Don't attempt to lug yourself and your belongings from Baker Beach to Marshall's Beach or you'll be doing some huffing and puffing.
China Beach
Kids enjoying China Beach

Hien-Nhi Langton/Parks Conservancy
Between Lands End and Baker Beach lies the sheltered cove of China Beach. Smaller than its neighbor, Baker Beach, this pocket of sand features a picnic area, sunbathing, good play spots for children, and spectacular views of the Marin Headlands and Golden Gate. There is no lifeguard on duty so exercise extreme caution if you're going to splash around.
Muir Beach
Muir Beach
Kirke Wrench/National Park Service
Tucked into the coastline three miles west of Muir Woods National Monument are the shimmering waters off Muir Beach. Perch yourself at this quiet cove, beach, and lagoon to soak in the rays and admire habitat restoration at work. There are no lifeguards at Muir Beach so be sure to follow the beach safety signs posted around the area. The northernmost end of the beach is popular with clothing-optional sunbathers.
San Francisco Maritime National Historical Park
San Francisco Maritime National Historical Park

Spencer Holtaway
A popular destination for swimmers, this national park site offers views of Alcatraz Island and even comes with its very own historic seagoing vessels that resemble pirate ships. The waters tend to be rather chilly, but on a sweltering day, there is nothing more refreshing than a dip in the Bay. After you work up an appetite swimming, saunter over to Fisherman's Wharf for some fish and chips.
East Beach
East Beach, Crissy Field

Kirke Wrench/National Park Service
This bridge-side beach has it all: Stunning vistas, vibrant wildlife, picnic benches, restrooms, and some of the best sand in the San Francisco Bay. Bring sweatshirts and sunglasses for the kids, as the wind can blow sand. Although the water is usually clean and safe, heed warnings when they are posted.
Ocean Beach
Although it's one of the largest beaches in California, offering miles of sandy dunes and ocean panoramas, Ocean Beach is not a safe place to swim.
According to Doug Armstrong, Ocean Beach Patrol Supervisor, Ocean Beach's exposure to multiple swell directions coupled with its proximity to the tidal exchange at the mouth of the Golden Gate Strait make it subject to a tremendous amount of rip currents—and the rip currents change every day.
If you plan on going to Ocean Beach, Armstrong recommends that you do not get more than ankle-deep in the surf. Let the cool ocean breeze cool you down rather than these turbulent waters.   
Stinson Beach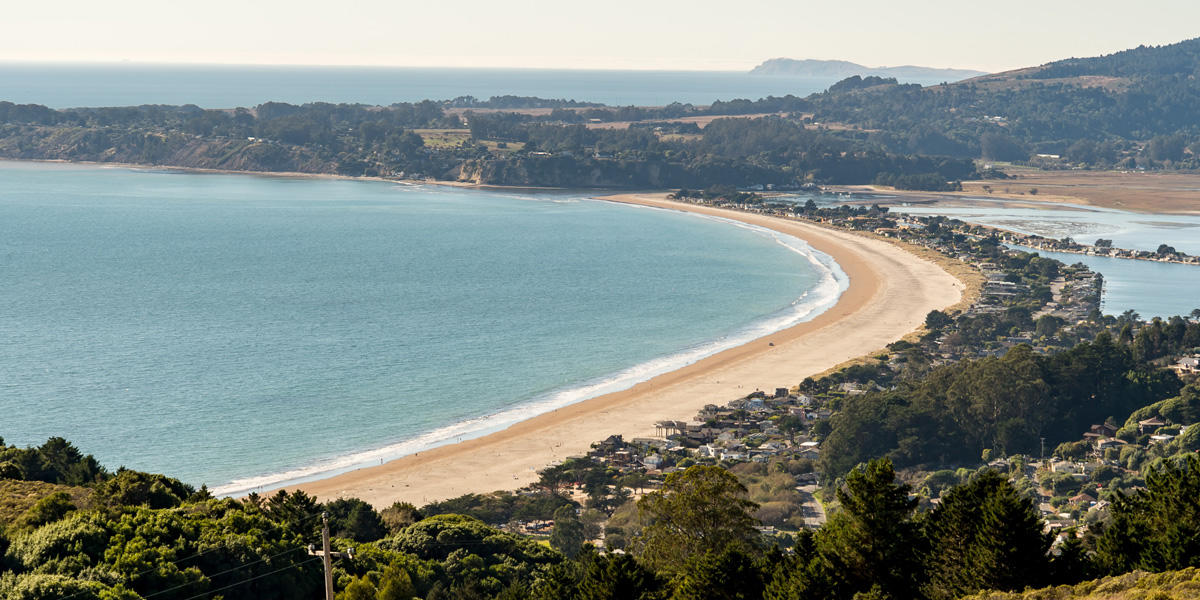 Stinson Beach
Alison Taggart-Barone/Parks Conservancy
Stinson Beach defines the quintessential California beach: Soaring rugged cliffs leading down to the white sand shores teeming with shorebirds, surfers, and swimmers. There are recreational opportunities aplenty along this oceanfront. Lifeguards are generally on duty from Memorial Day to Labor Day.
Beach Safety Tips
Never turn your back to the ocean! Be actively aware of what's happening in front of you in the ocean.
Check changing tides and weather conditions before you leave home.
Keep children within reach.
We only recommend swimming at beaches with lifeguards, and only when there is a lifeguard on duty.
If you are caught in a rip current, stay calm and swim parallel to the beach until you are out of the current, then swim toward the shore with incoming waves. If you need assistance, wave your arms and yell for help.
Watch for floating debris, which may be taken up by strong waves and thrown against you.
Avoid slippery rocks. Rock outcrops can be slippery from mist, rain, or spray. Large waves can knock people off rock outcrops and severely injure them or knock them unconscious.
Wear shoes to protect your feet from sharp rocks and debris.
Do your part to keep beaches clean of trash, especially sharp objects and glass. (Most beaches do not allow glass bottles of any kind.)
Your dog is a better swimmer than you; do not try to attempt to rescue if you believe she or he is in distress.
Call 911 in an emergency.
And if you want to bring your furry sidekick to the beach, check out our list of eight dog-friendly places in the parks where your pooch can tag along.
Save
October 1, 2016