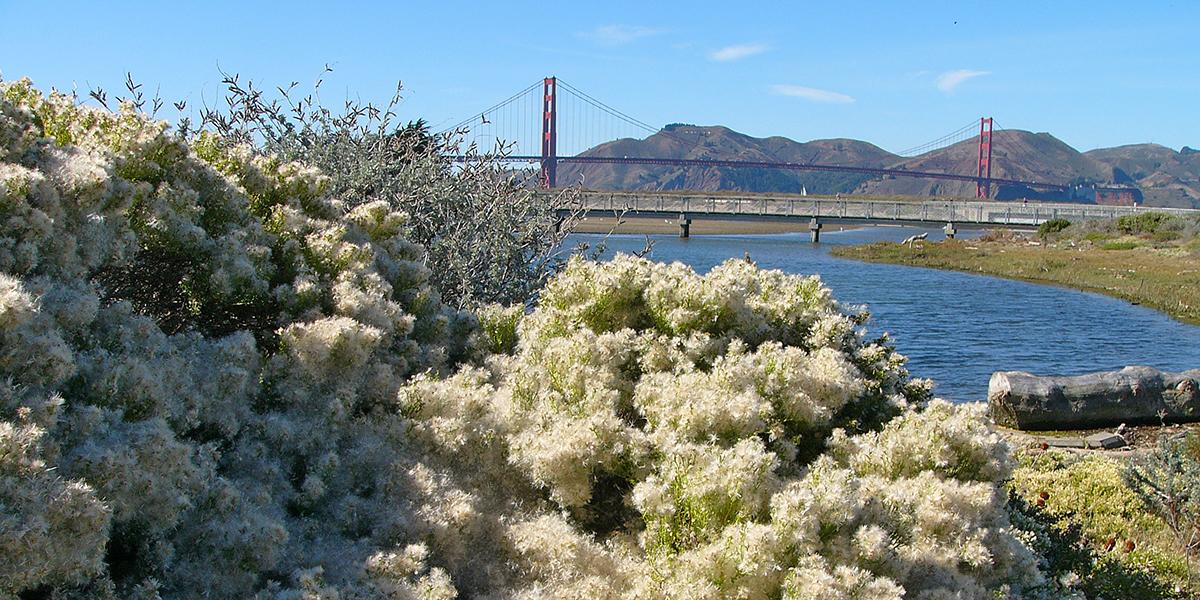 Coyote brush reveals why it is named after the trickster canine in the fall
Will Elder/National Park Services
Sometimes it seems like San Francisco summer finally arrives in September/October. It seems the endless bank of fog finally lifts and the sun shines down upon us all—making Baker Beach a popular destination.
If you find yourself strolling down the sand ladder to enjoy some time on the beach, look out across the hillside on your way down and you will see a sea of fluffy white seed blanketing the landscape. A couple key species are coming into their full glory during this time of year (at least from a seed collector's perspective): coyote brush (Baccharis pilularis) and mock heather (Ericameria ericoides).
So what is all the fluffy white stuff out there? Most of it is a parachute-like structure (pappus) that is attached to a very tiny seed. The pappus enables the seed to be picked up and carried in the wind. If you have ever made a wish and blown the seed from a common dandelion, you have experienced this first-hand (although I don't recommend it).
Why does seed need to fly so far? Coyote brush is considered a pioneer species because it is one of the first to appear after a disturbance like fire. The fluffy white seed flies into the area and begins to germinate with the winter rains. Once established, it provides shelter for other plants and organisms to become established, and it is also a nectar source for bees, butterflies, and other insects.
Mock heather helps stabilize the beautiful coastal sand dunes. In addition, leaves dropped from the mock heather shrubs form mulch which helps soils stay cool and retain moisture content high on hot days, creating perfect conditions for native lizards.
As far as leisure goes during this Indian summer, relaxing in the park while sitting and watching the fluffy white seed fly away in the wind is at the top of my list. It brings out the imagination and curiosity in all of us—where will it land, how far will it go?
Even better than that, come to a volunteer program at one of the Native Plant Nurseries and you might just find yourself out there collecting fluffy white seed with us.
By Michele Laskowski
Seed Collection Ecologist, Parks Conservancy
October 27, 2012