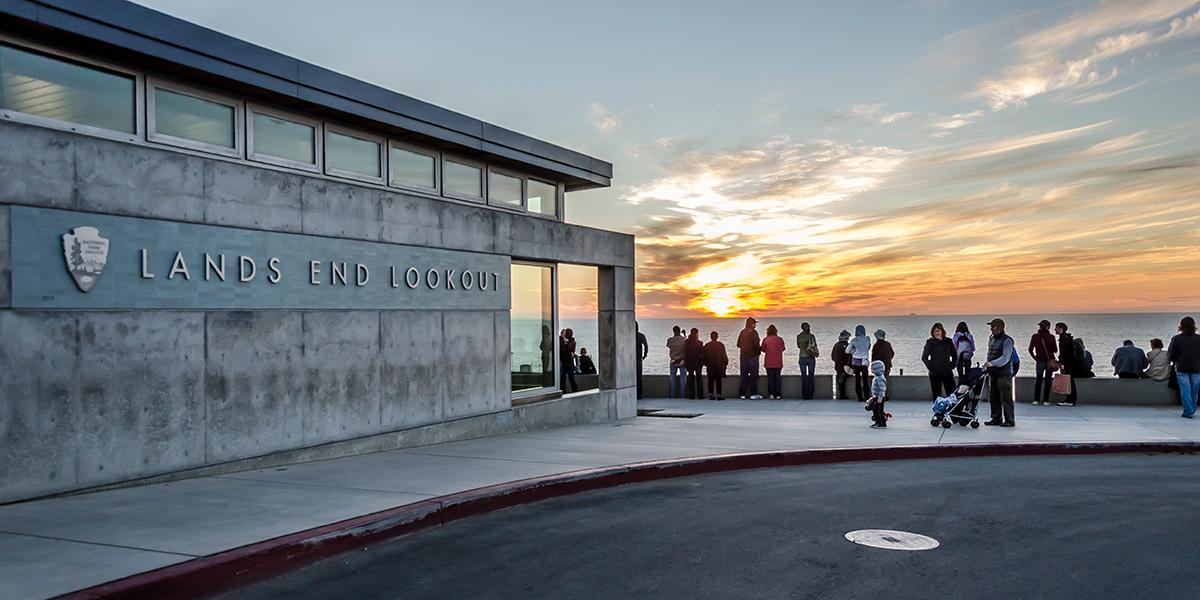 The Lands End Lookout is a gathering place for the thousands of visitors and locals that flock to this site each year
Alison Taggart-Barone/Parks Conservancy
Lands End has landed its visitor center. Conceived with the community's input, supported by the community's generosity, and realized through the community's cooperation, the long-awaited Lookout will see its grand opening on April 28. And you're invited! The event--which features a ribbon-cutting, open house, and half-hour guided walks--begins at 11 am.
Beautifully situated near the Merrie Way Overlook and trailhead, just above Louis' restaurant, the aptly named Lookout boasts big windows that offer expansive views of Sutro Baths, the Cliff House, and sunset over the Pacific Ocean.
Here are some other notable features of this state-of-the-art, 4,000-square-foot facility:
Park store filled with brand-new interpretive products, such as a "fortune-telling" deck of cards harkening back to the coin-operated Fortune Tellers of the Musée Mécanique arcade, once housed at the nearby Cliff House
Fascinating exhibits and artifacts that share stories of Lands End's vibrant past, present, and future
Maps and visitor information on the area's many trails, natural features, and historic sites
Café offering to-go snacks and sandwiches--and hot drinks for those chilly coastal excursions Restroom facilities
Drinking fountain/water bottle-filling station
Sustainable "green" features such as reclaimed timber benches, solar panels, LED light fixtures, and low-flow fixtures
Landscaping with native plants grown in the Conservancy's own nursery
The Lookout is the perfect starting point to your explorations of Lands End. Venture down to the evocative ruins of Sutro Baths. Linger in the calm of the nearby Sutro Heights Park. Hike the improved Coastal Trail through one of the most brilliant wildflower displays in the park. Bring your Lands End bird guide and enjoy the avian cavalcade at this birdwatching hotspot. Soak in Golden Gate views at the new USS San Francisco Memorial overlook. And plan your itinerary with our new, customizable park map--layered with trails, points of interest, and much more.
This jewel of a visitor center represents just the latest major milestone in the revitalization of Lands End--funded through a lead gift from the Richard and Rhoda Goldman Fund, and major support from the Horace W. Goldsmith Foundation, Lisa and Douglas Goldman Fund, California State Coastal Conservancy, and members of the Golden Gate National Parks Conservancy.
In collaboration with the National Park Service, Parks Conservancy staff and volunteers have enhanced the Lands End trail system, built overlooks, improved forest health, placed trailheads and wayfinding signage, and restored native habitat for birds and other wildlife. Thanks to our generous donors and dedicated volunteers for making all of this possible--and an extra note of gratitude to the neighbors of Lands End who have been patient and understanding throughout the construction process!
Help us realize the next chapter of our work at this beloved national park site--improvements to Lands End's east end, around Eagle's Point. To learn how you can contribute, contact Kathryn Morelli at kmorelli@parksconservancy.org or (415) 561-3050. Join our Park Stewardship team and volunteer to help with our ongoing habitat restoration work.
April 15, 2012