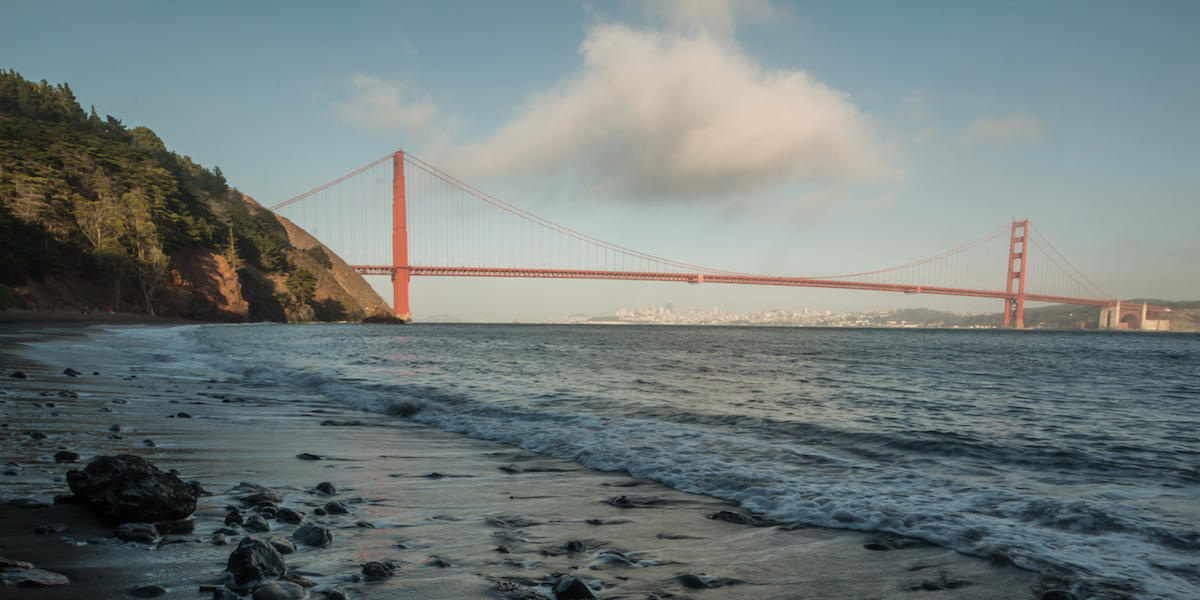 Cloud hovers over the Golden Gate Bridge
Ryan Curran White/Parks Conservancy
Around 1882, a small boy huddled on a beach south of Sausalito watched his father swim his morning regimen in San Francisco Bay. The man cut through wavelets until he reached a buoy.  Tapping it, he exchanged a "hi" sign with his much-relieved son, and then swam back. 
Poet Robert Frost would later describe the intense anxiety of this ritual, being certain that each day his father would not return from the swim. Frost scholars later suggested that his foreboding 1928 poem "Once by the Pacific" was inspired by this boyhood fear of the power of ocean waves. The poem begins:
The shattered water made a misty din.
Great waves looked over others coming in,
And thought of doing something to the shore
That water never did to land before. 
Many literary figures—Ina Coolbrith, Bret Harte, and Richard Henry Dana among them—must have reflected on the surging tidal waters of the Golden Gate in the 19th century. But there's something so personal about Frost's experience—will my dad make it back?—that gives his words such edge. 
There are many recent writers whose works are peppered with descriptions of the landscapes around the Golden Gate, luminaries such as Wallace Stegner, Jack Kerouac, Gary Snyder, and Maxine Hong Kingston. But I want to add a few newer authors to this list, to offer up some fresh angles on the Marin Headlands.
Back in the mid-1980s, novelist and poet Jim Paul found the "army ruins" of the Marin Headlands to be "particularly irresistible," so he forged an alliance with the newly-formed Headlands Center for the Arts (HCA), and his adventure set off.
Jim's 1991 book, Catapult – Harry and I Build a Siege Weapon, is a great rollicking read, a celebration of boys throwing rocks. The Marin Headlands are themselves a character in the story: "They were California hills the breakers had sheered open, the faces of the sea cliffs a tangle of red stone over green. The formation is too much, even for geologists. Mashed and cast ashore and lifted into mountains and cut into cliffs, it's like some crazy dialect. The geologists call it Franciscan Melange."
Another HCA alum, and one of my favorite writers, is Rebecca Solnit. Like Stephen Jay Gould in his heyday, Solnit is a master of the "pull from everywhere" essay, and yet her chapters read like tight storylines.
Wanderlust – A History of Walking opens with the author imagining a walk in the Marin Headlands: "Where does it start? Muscles tense. One leg a pillar…the other a pendulum, swinging from behind."
The chapter is entitled "Tracing a Headland," and Solnit's words touch home for anyone who has wintered in Marin: "Spring had come after an unusually wet winter, and the hills had turned that riotous exuberant green I forget and rediscover every year."
"Walking is a subject that is always straying," writes Rebecca Solnit, and her essays have a similar style. She finds her favorite wildflower, shooting stars, near the Headlands Nike Missile Base, and wryly notes that their "small magenta cones with sharp black points seem aerodynamically shaped for flight…."
Hers is a writing style that values connections among far-flung things, and which, for me, perfectly complement the many layers—from rocks to ravens, from butterflies to batteries—that coexist in the Marin Headlands.
February 27, 2013