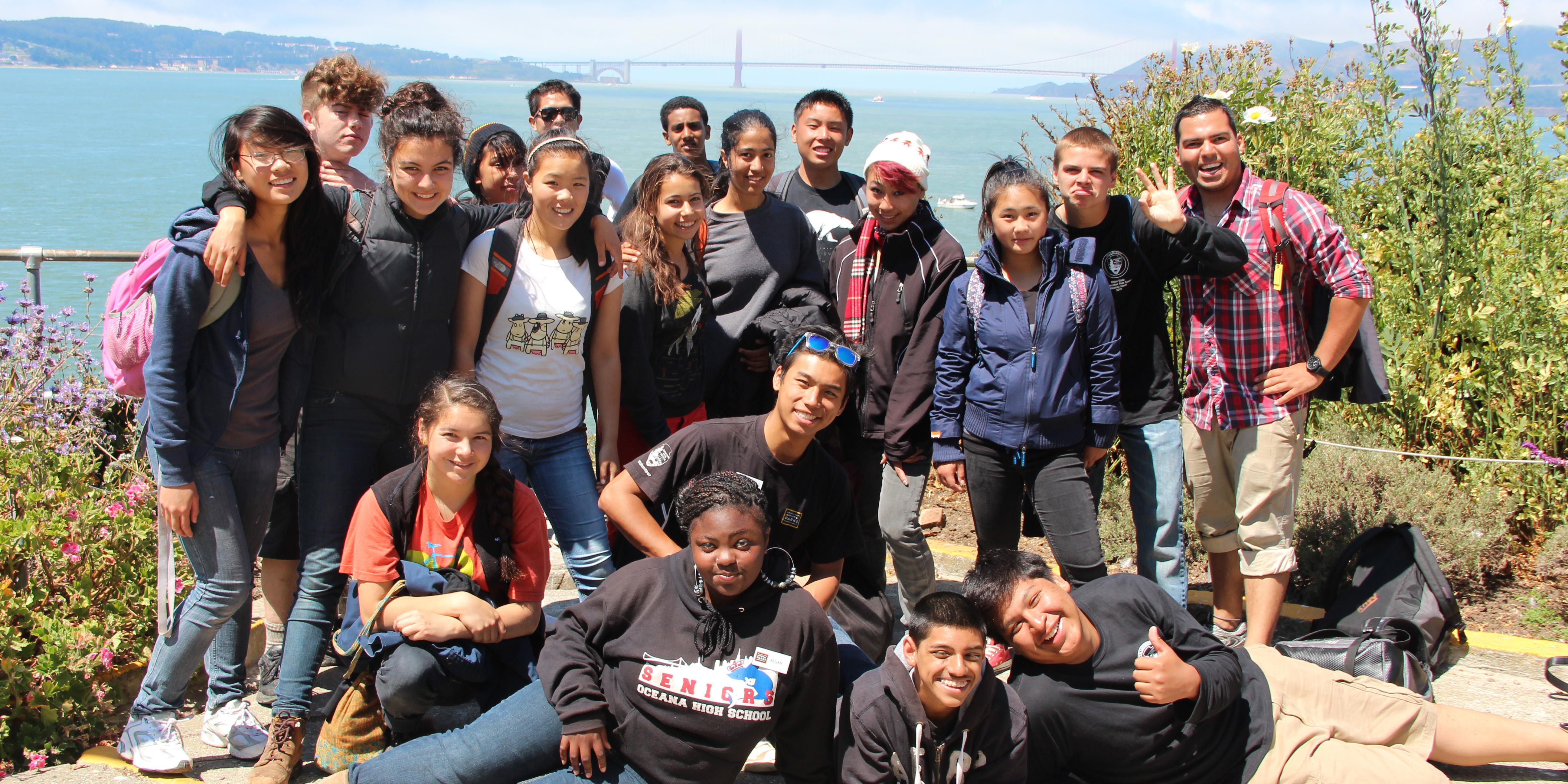 LINC program participants explore Alcatraz Island.
"If you want to sing out, sing out, and if you want to be free, be free, 'cause there's a million things to be you know that there are, you know that there are, you know that there are..." A chorus of 20 voices trails off gradually, followed by enthusiastic clapping, animated chatter, and jovial celebration.
This captures the essence of the group of high school students that participated in the Linking Individuals to their Natural Communities (LINC) Program. LINC is a six-week summer youth program through Park Stewardship that unites 17 students from different high schools around San Francisco to explore and learn in their national parklands.
They perform ecological and cultural restoration at native plant nurseries and sites throughout the Golden Gate National Parks, take a camping trip to Yosemite, and visit places such as an organic farm in Pescadero and San Francisco's Recology Center—all while picking up new job skills and making tight friendships.
To the Park Stewardship staff, LINC 2012 appeared to be yet another smashing success in youth development. But the students are the real judges when it comes to the program's worth and achievements. Participants Kristen Sinclair and Nadeen Hanhan welcomed the opportunity to share their thoughts and reflections of LINC 2012.
Kristen Sinclair
Kristen is a senior at School of the Arts whose charisma and positivity during the program was limitless. When asked how her perspective of the parks and nature changed as a result of the program, she responded that she didn't realize the possibility of making a career out of restoring public lands. "I had considered a career in nature but always assumed that…it would have to be through working in a zoo or doing something that you might see on Animal Planet," Kristen explained. "But through working with people who have careers in the park, I am now considering different paths and careers that might allow me to do something that I love—that I never viewed as a career before."
She also expressed that working in the parks changed her perspective on her ability to make a positive impact in nature. "Before LINC, I had an opinion that I had a large lack of green in my thumb, and would kill anything that I attempted to help," Kristen said. "But LINC has given me a new sense that with guidance, patience, and some supportive teammates I can actually work with plants and not destroy them."
Lastly, we asked her about her most memorable moment from LINC 2012. Kristen immediately settled on the group's musicality during work and play. She described a moment during the first camping trip when one student started softly singing the Eurythmics's "Sweet Dreams (Are Made of This)" at the campfire. Within seconds, "the group was going full-blown a capella in Yosemite," recounted Kristen. The group grew extremely tight over the six-week program!
Nadeen Hanhan
Nadeen also had a unique view on the things she learned and her most memorable moment. Outspoken and spirited, Nadeen is a junior at George Washington High School. Her curiosity about environmental service work led her to apply for the LINC program but, like Kristen, she had little idea of the upkeep the parklands require. "I always enjoyed spending time in national parks…because [they were] place[s] where I learned without even realizing that I was learning," Nadeen recalled. "Despite this," she continued, "I've never done any sort of volunteer work in the parks. I guess I never really thought about the work and maintenance that went into the existence of national parks. LINC gave me the opportunity to realize how gratifying park service work really is."
Nadeen is proud of the hard work she and her fellow LINC participants put into restoration days at places like Milagra Ridge and Oakwood Valley. Her most memorable moment, however, was in the Marin Headlands, where the students spent two days building a post-and-cable fence near Battery Alexander. "It was pretty physically wearing work and by the end [of] both post-hole days, we were definitely pretty tired," Nadeen said. "We stayed motivated, however, by seeing the progress we were making every time another pole went in. The work we did at LINC challenged us every day, but as a group, we pulled through."
It is these personal stories that motivate Park Stewardship staff as we begin planning—already!—for next year's summer program. Thank you Kristen, Nadeen, and the rest of LINC 2012 for all the laughs, learning experiences, hard work, and unforgettable memories!
October 28, 2012