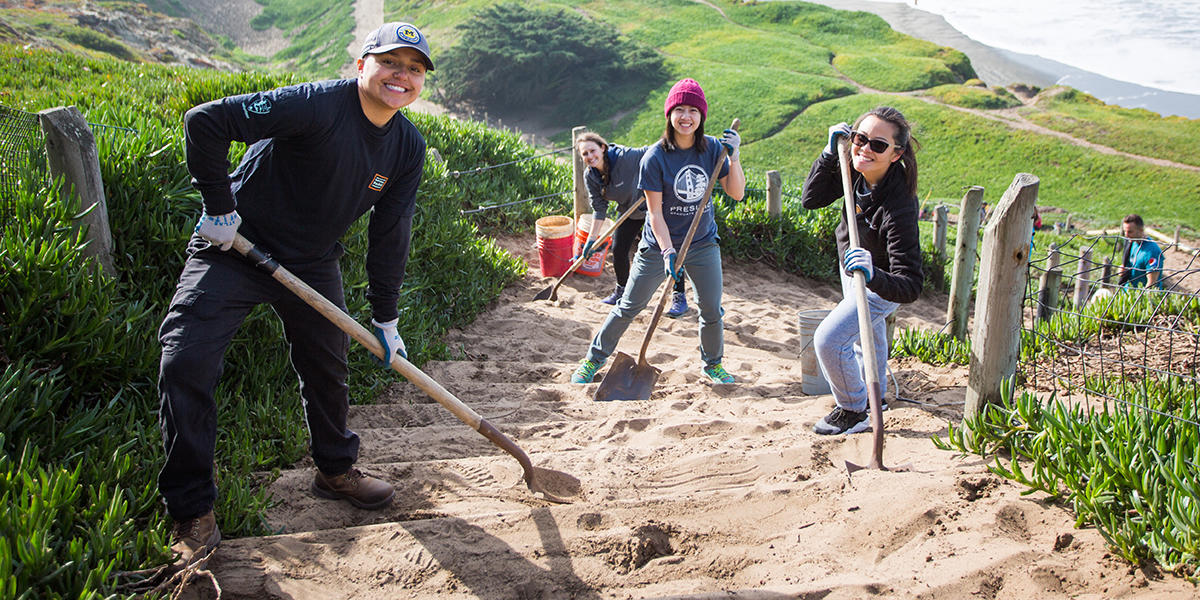 Volunteers work at Fort Funston
Maria Durana/Parks Conservancy
The Golden Gate Trail Crew loves this time of year. The days are long, the birds are singing, and National Trails Day is just around the corner! What is National Trails Day? Well, it's the most trail-friendly day of the year, of course. It is a celebration of America's magnificent trail systems, occurring annually on the first Saturday in June.
This year National Trails Day will take place on Saturday, June 7. Evolving during the '80s from the collective interest of trail advocates, outdoor enthusiasts, and passionate community members, National Trails Day was founded as a singular day on which people can band together to show their pride and dedication to the trails they love.
The Golden Gate Trail Crew couldn't choose just one trail to focus on this year, so they decided on five trails across the Golden Gate National Parks. More detailed information on how to get involved can be found here. 
One of the trails the Golden Gate Trail Crew is focusing on is the Veterans Trail. This brand-new trail will link visitors to East Fort Miley, the Veterans Administration Hospital, and the Legion of Honor. The current social trail that connects these three locations has many users—dog walkers, runners, golfers from the nearby course, and hikers who wander over from Lands End. Bridging the gap between these three historic sites will provide a sense of connectivity throughout the Lands End area.
At the moment, the current social trail is severely eroded and unstable. This year's National Trails Day volunteers and the Golden Gate Trail Crew will complete the Veterans Trail and provide safe access for many visitors. Work will entail distributing approximately 200 cubic yards of fill materials onto the trail surface, and constructing a small low water crossing structure to allow passage over a drainage ditch. Once the Veterans Trail is complete, interpretive signs will be added to provide visitors with directions and information about the area. 
With Memorial Day still on our minds, we are reminded, as we work on the aptly named Veterans Trail, of the duty to honor the many veterans across the nation. Their efforts and dedication to our country were and remain vast. The Golden Gate Trail Crew asks you to honor these veterans and your local trails by joining a National Trails Day project near you! 
June 30, 2014