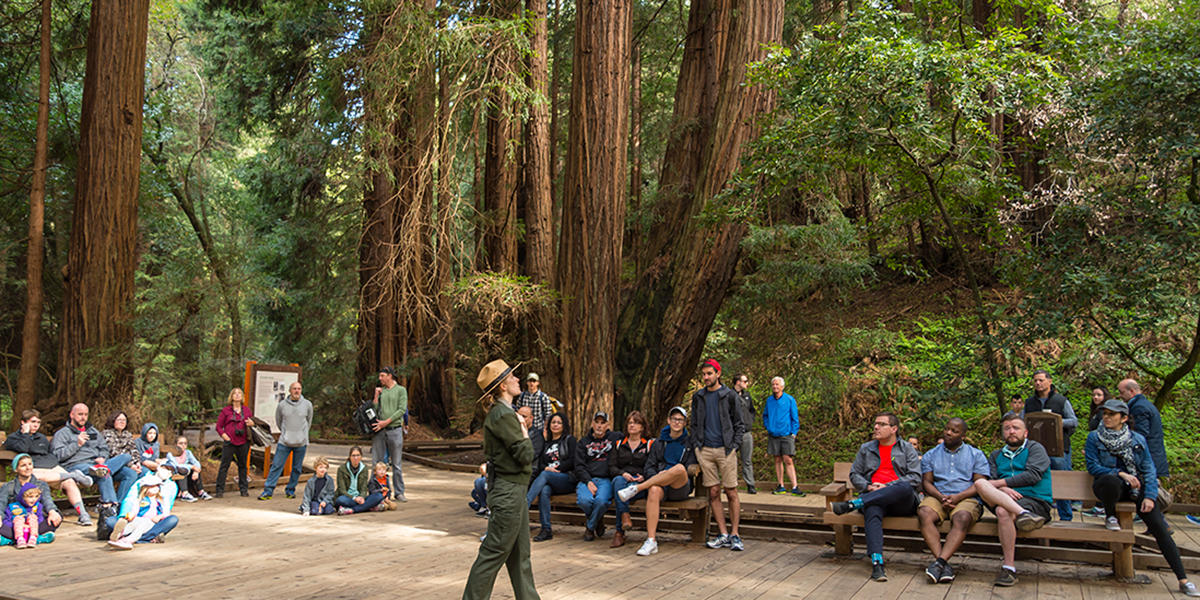 Tours through the redwood trees
Alison Taggart-Barone/Parks Conservancy
It takes about 700 years for the average coast redwood tree in Muir Woods National Monument to reach its prodigious height. For visitors on a busy day, it feels like it takes just as long to find a parking spot.
As the San Francisco Bay Area's population has swelled and the popularity of the beloved redwood grove has grown unabated, the visitation to Muir Woods—an ancient old-growth forest with some of the tallest and oldest living things on the planet—has sky-rocketed.
In 2016, about 1.1 million people visited Muir Woods—a 30% increase over the last decade.
"The reservation system will allow us to proactively manage visitation to Muir Woods to provide a safer and more enjoyable experience for visitors," says Laura Joss, general superintendent of Golden Gate National Recreation Area, the National Park Service (NPS) unit that manages Muir Woods. "With so many visitors coming to Muir Woods, people are illegally parking along roads and walking dangerously on narrow roadsides. We worked with the community to develop a system to address this challenge."
A new reservation system—for parking and for seats on the Muir Woods Shuttle—will be in place starting Jan. 1, 2018 (see FAQs below). Beginning on Jan. 16, visitors who wish to park their private vehicle at Muir Woods or ride the shuttle will be required to have a reservation (visit gomuirwoods.com or call 1-800-410-2419).
"Making a parking or shuttle reservation will be quick and easy," Joss says, "but the benefits will be immense—safer and more enjoyable visits for both locals and visitors alike, better protection for the trees, and no more circling the lots waiting for a parking place. Your reservation will ensure a spot."
According to the National Park Service, this new system is the latest step in a multi-year process to alleviate congestion and improve public safety in and around Muir Woods. In 2005, the NPS and County of Marin launched the Muir Woods Shuttle to help reduce the amount of traffic within the National Monument.
Since then, the NPS has continued to work with county officials, land-management agencies, U.S. Congressman Jared Huffman, local communities, and other stakeholder groups to address the high-volume visitation challenges posed by Muir Woods' popularity.
The parking and shuttle reservation system—operated by Ace Parking Management, Inc.—is just one component of a larger effort at Muir Woods. Over the next five to seven years, the NPS is planning improvements to the trail network, enhanced transportation alternatives, and additional projects that will improve visitor experiences and preserve the park's natural and cultural resources.
---
FAQs from the National Park Service
To whom does this reservation requirement apply?
This requirement applies to those who wish to park a private vehicle at Muir Woods National Monument, and those who wish to ride the Muir Woods Shuttle.
Reservations are not required for those arriving at Muir Woods by bike, on foot, or with a tour operator.
Reservations will be required beginning on what date?
Jan. 16, 2018. From that date forward, reservations will be required seven days a week, year-round.
How do I reserve a parking spot or a seat on the Muir Woods Shuttle?
Visit www.gomuirwoods.com or call 1-800-410-2419, starting on Jan. 1, 2018.
How much does it cost?
The parking reservation fee is $8 per vehicle in the first year, increasing $0.50 every two years.
The shuttle reservation fee is $3 roundtrip, per person (age 16 and up) in the first year, increasing $0.25 every two years.
Although visitors under 16 years of age can ride the shuttle for free, a reservation is still required.
Will I still have to pay an entrance fee for Muir Woods?
Yes, the admission fee remains $10 for each visitor, age 16 and up. You may purchase the entrance fee in advance, when you make your reservation.
How far in advance can I make a reservation?
The system will be available starting Jan. 1, 2018, and visitors can make reservations up to 90 days in advance, on a rolling basis. A limited number of reservations will be held and released five days in advance, to provide access for visitors who were unable to plan their trip further in advance.
Nevertheless, demand is expected to be extremely high, so plan ahead and book a reservation well in advance.
Can I make parking reservations onsite?
No, parking reservations will not be sold onsite. However, visitors can make day-of reservations (subject to limited availability)—if made off-site, in advance of arrival at Muir Woods. Nonetheless, visitors are strongly encouraged to plan ahead.
How many parking spaces will there be?
Under the new reservation system, approximately 232 parking spaces for private vehicles will be made available.
What about ADA parking spaces? Will those require reservations?
Yes. Reservations will be required for the eight ADA spaces.
Do I reserve a specific spot in the parking lots?
No, your reservation is for a specific window of arrival—not a specific parking space. Upon your arrival at Muir Woods, parking ambassadors will help guide you to available parking spaces.
How does the system work?
For online reservations, you will receive an email confirmation, followed by a parking or shuttle pass with a unique barcode. For phone reservations, you will get a confirmation number, and may also opt to have the parking/shuttle pass emailed to you.
Download the pass on your mobile device (download in advance, as there is no Wi-Fi or cell service at or near Muir Woods), or print a hard copy of your pass. Present the pass when boarding the shuttle or entering the parking area. A parking manager will be on-site to answer questions, and shuttle hosts will be available at the shuttle stops to assist visitors.
How long does my reservation last?
You may stay until the end of regular park hours on the day of your reservation, regardless of your scheduled arrival time.
Can I cancel/change my reservation?
Yes. A full refund will be provided for cancellations made at least 72 hours in advance of the reservation time. A 50% refund will be provided for cancellations made between 48 to 72 hours in advance of the reservation time, and no refund will be provided for cancellations made with less than 48 hours' notice.
Can I just show up at Muir Woods and try my luck, looking for an empty parking space?
No, visitors who wish to park at Muir Woods must have a reservation, and parking reservations will not be sold onsite.
What if I don't park in the designated lots? Can I just park along Muir Woods Road?
Parking at Muir Woods will be by reservation only. Parking along Muir Woods Road and Frank Valley Road will be illegal without a reservation and permit, beginning January 16, 2018. This will be strictly enforced, and violations will be subject to a $99.00 fine.
Where and how do I catch the Muir Woods Shuttle?
The Muir Woods Shuttle (ADA accessible) can be picked up at the Pohono Street Park & Ride Lot, the Sausalito Ferry Terminal, and the Marin City Hub.
Beginning January 20, 2018, the shuttle will run on all weekends and holidays, year-round.
Additionally, the shuttle operates on weekdays during certain summer dates, from June 18 to August 10. You will only be able to make a shuttle reservation for a date and time when the shuttle is operating. Visit gomuirwoods.com for all the details.
What about commercial vehicles, i.e., for tour operators?
There will be 12 large-vehicle parking spaces, made available for commercial carriers. They will be required to make reservations through a separate system, beginning in late spring 2018.
Do other national parks have parking reservation systems?
Yes. Similar programs are in place at Haleakalā National Park in Hawai'i (parking reservations required between 3 and 7 am for sunrise viewing) and Yosemite National Park (visitors can reserve parking spots on four peak weekends).
What if I have more questions about the new reservation system?
Visit gomuirwoods.com for full details.
Muir Woods photos by Vivien Kim Thorp
January 1, 2018