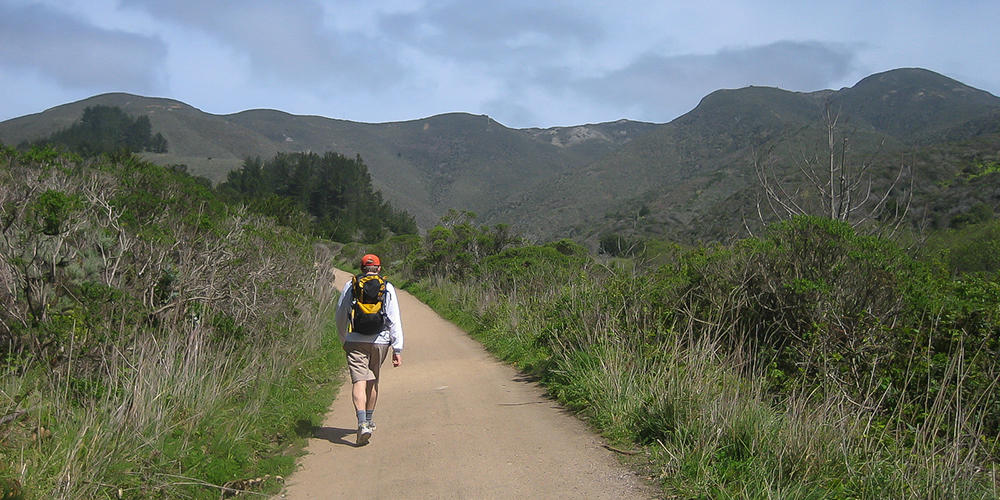 Rancho Corral de Tierra
Parks Conservancy
Rancho Corral de Tierra is the newest piece of parkland to join the ever-growing list of sites in the Golden Gate National Parks, and we consider ourselves quite lucky to welcome this magnificent parcel into the fold.
We're still learning about the fascinating elements that help make this site so unique, but we DO know one thing: the geologic makeup of Rancho Corral de Tierra is very different from the composition you'll find in other Golden Gate National Parks. For rocks' sake—it's granitic!
If you've ever hiked through the Marin Headlands or the Presidio, you may have noticed that most of the trails running through these parks are surfaced with a reddish-brown rock. This native rock, called chert, underlies about 50 percent of the Marin Headlands and is scattered throughout other locations of the parks.
However, there is one location where you're not likely to find much chert: Rancho Corral de Tierra. Along with the recent addition to our parks, we've gained some very interesting geologic diversity! Montara Mountain, which sits 1,898 feet above sea level and adjacent to Rancho, provides a spectacular example of the area's unique geology and landscape. Unlike most of our park sites, Montara Mountain and Rancho Corral de Tierra were formed by granitic rock.
The granite found in these locations was formed approximately 100 million years ago and at one point was part of the Sierra Nevada Mountain Range! Around 15 million years ago, the San Andres Fault became active and bisected the original block of granite (known as the Salinian Block).
Because of this monumental geologic event, the western half of this block took a 300-mile journey north along the Pacific Plate and settled in San Mateo County as Montara Mountain. With Rancho Corral de Tierra sitting so closely to Montara Mountain, the geology of the two locations is very similar—and provides park visitors with a new type of surface to hike upon.
Next time you're exploring Rancho, take a look at the granite outcroppings and think about how much time and energy it took for this rock to travel into our national parks!
Learn more about the geology of the park with this guide to the Geology of the Golden Gate Headlands (PDF).
March 30, 2013