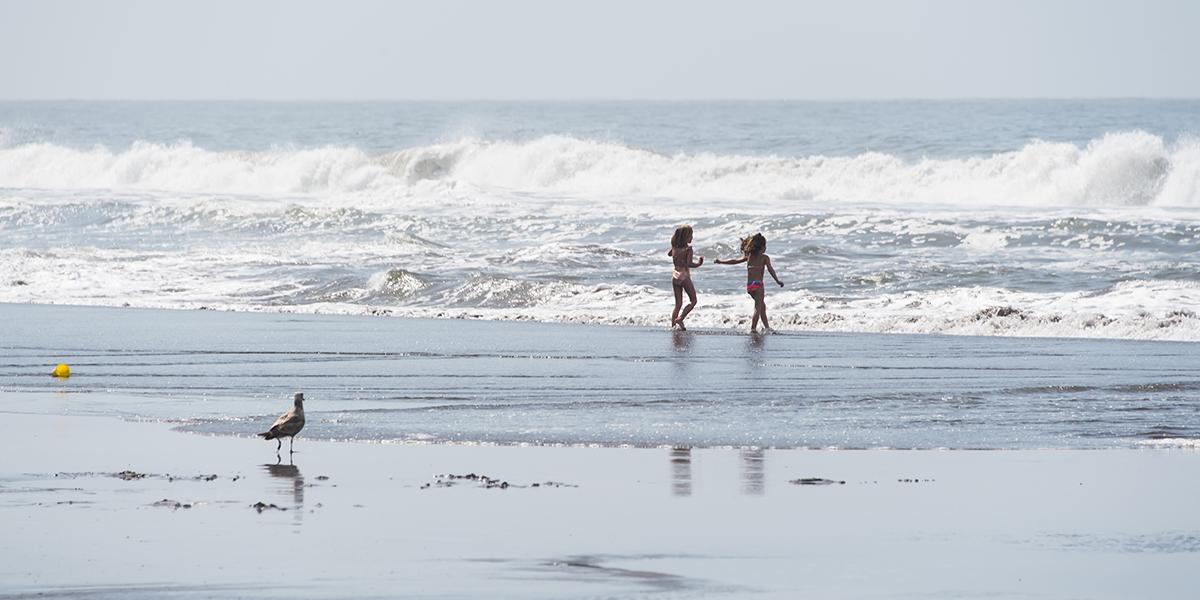 Stinson Beach
Alison Taggart-Barone/Parks Conservancy
It's August—one last chance for a big summer outing with the kids! Taking the family to an amusement park this summer can cost hundreds of dollars. Why not bring the gang out to the Golden Gate National Parks, where 80,000 acres of redwood groves, sandy beaches, rocky coastline, secluded coves, breathtaking hillsides, and 100% genuine California beauty are open and available for absolutely FREE?
And it's not just access to wondrous natural and cultural treasures that is free of charge. Many guided hikes, walks, tours, exhibits, and programs are also free. Here's a day-by-day guide to August to help you fill your itinerary. The experiences are literally priceless, and the options virtually limitless!
August 1, 2013: Nike Missile Site Open Hours
Tour the only restored Nike missile site in the country and get a closeup view of Cold War defenses. The site is open Thursday to Saturday, 12:30–3:30 pm.
August 2: Shuttle Through Time
Enjoy a free shuttle tour traversing the history of the Presidio, led by a knowledgeable park ranger.
August 3: Healthy Parks, Healthy People: Hiking for Heartbeats
This ongoing series of healthful activities comes to beautiful Mori Point—a great spot to get active and take in breathtaking coast views.
August 4: Battery Townsley Open House
An underground facility shrouded in mystery during World War II, Battery Townsley is only open on the first Sunday of each month. Don't miss the giant gun on display, from the historic USS Missouri!
August 5: Headlands Center for the Arts
Check out working studio and exhibition space—free and open to the public—in the inspirational setting of the Headlands. Open five days a week.
August 6: Fort Point Open Hours
This majestic fortress at the Golden Gate is a delight for history and architecture buffs—and photographers. Free admission. Open during the summer Thursday–Tuesday, 10 am–5 pm.
August 7: Marin Headlands Nursery Drop-in
Summer is an important time for the native plant nurseries, and the Marin Headlands facility is especially busy this year growing plants for Muir Beach restoration. Nursery work is a great way to introduce the whole family to stewardship! Wednesdays and Saturdays are drop-in days for the Marin Headlands nursery; for all volunteer opportunities, visit the volunteer page.
August 8: Mysteries from the Lost Galleon
Part of the ongoing Contemporary Historians series at the Presidio, this lecture—by maritime scholar Edward Von der Porten—tells the story of the shipwreck of the San Felipe and examines Chinese-Philippine-Mexican trade during the 16th to 18th centuries.
August 9: Marine Mammal Center Tours
Get an up-close view of the vital work of rehabilitating marine mammals, as you tour the hospital, research, and education. Great for the kids—and admission is free! Open daily, 10 am to 5 pm.
August 10: Fort Funston Hang Gliders
The towering cliffs of Fort Funston and consistent winds make Fort Funston one of America's premier spots for hang gliding! Catch a vicarious thrill of flight as you watch these aerial daredevils swoop. Check the webcam (see link) to check conditions.
August 11: Beginning Birding
Join experienced docent Jane Haley for an introduction to birding. Bring field guides and binoculars, and practice your technique around Rodeo Lagoon—a hotspot for avian life.
August 12: Fort Baker Fog Fall
Soak in the architectural beauty of this former Army post, then settle in for one of summer's most spectacular shows: the "waterfall" of fog that spills over Slacker Ridge. The hill behind the old Chapel provides a great vantage point. (Weather dependent, of course.)
August 13: Alcatraz Exhibit at the Hyatt
Can't make it to Alcatraz itself? Do the next best thing—browse this free exhibition covering the sweep of the island's history: its military past, its prison era, the Indian occupation, and current national park status. There's even an authentic replica of a cell! Open daily.
August 14: Three Flags of the Presidio
On this ranger-guided walk, you'll learn the many layers of the Presidio's rich history, covering the Spanish, Mexican, and American eras.
August 15: Golden Gate Bridge Experience
If you haven't been to the Bridge Plaza recently, come see the exciting changes implemented for the 75th Anniversary last year. See new interpretive exhibits, traverse new trails, and browse the Pavilion welcome center! You can also take a guided tour and get green-screen photos (fees apply).
August 16: Stinson Beach
It's the dog days of summer, and you deserve a break from the heat! Make it a "staycation" and come to much-loved Stinson Beach on a weekday, when you'll have lots of open sand to yourself.
August 17: Fort Point Civil War Days
Take a trip back in time and see Fort Point come to life with re-enactors in military dress and period costume. See drills, hear music, and experience a slice of Civil War history.
August 18: Off the Grid: Picnic in the Presidio
On every Sunday (11 am–4 pm) through October 27, foodies and families alike come to the lovely Main Post lawn for a community picnic par excellence. Featuring the delectable delights of Off the Grid food trucks!
August 19: Evening at Mori Point
The moon is full on August 20, so this is a great day to plan your own sunset/full moon stroll at gorgeous Mori Point. An active site of habitat restoration, the point is also an incredible place to watch the sun dip into the Pacific. (Hope for a fog-free evening!)
August 20: Muir Woods After Hours
Strolling the redwood groves in the dark is one of the more extraordinary experiences in the parks. This guided hike is free, but park admission applies ($7 adult, free for kids under 16).
August 21: Lands End Lookout
Did you know? The Lookout visitor center was named best new building in San Francisco in 2012, according to Chronicle urban design critic John King. If you haven't yet visited this understated gem, don't delay! Summer hours are 9 am–5 pm during the week, 9 am–7 pm on Saturday and Sunday.
August 22: Buffalo Soliders: Gone but Not Forgotten
Hear the remarkable story of the African-American "Buffalo Soldiers" who served in the Presidio during an era of racial prejudice—and became immortalized in song and cinema.
August 23: El Polín Spring
New interpretive signage and seating further elevate this lovely site in the Presidio in the eyes of the local birding community. It's a key stopover point on the Pacific Flyway, making it a great place to spy some fascinating species!
August 24: Shipwrecks at the Golden Gate
Learn about—and see—some of the ships that met an untimely fate on the treacherous rocks of the Golden Gate. A fascinating glimpse at San Francisco's early maritime history.
August 25: National Parks Fee Free Day
In celebration of the National Park Service's birthday, admission fees to all park units are waived. No more excuses not to see Muir Woods! And forget about the hassle of driving/parking—take the Muir Woods shuttle (runs through October 27, small fee applies).
August 26: Point Bonita Lighthouse
Point Bonita is one of the most jaw-droppingly awesome sites in the Golden Gate National Parks. The lighthouse, and the small suspension bridge that leads to it, are simply stunning. Point Bonita Light is open Saturday through Monday (12:30 pm–3:30 pm).
August 27: Slide Ranch
A nonprofit at a coastal farm site, Slide Ranch connects the community with nature (and the nature of food!). The public is free to explore its trails, tidepools, beaches, and gardens during daylight hours.
August 28: Welcome to the Presidio Exhibit
Two galleries explore the Presidio story—how it was transformed from military post to national park, and what lies ahead in the future. Free, open Wednesday–Sunday, 11 am–5 pm.
August 29: Phleger Estate
Visit little-known Phleger Estate, at the southern edge of the Golden Gate National Parks, where you will savor the peace and serenity of the quietest redwood forest in the parklands.
August 30: Hawk Hill
The views are always sensational from this promontory, but in late August you will also have the chance to see some of the early raptorial migrants in the fall migration, flapping their way over the Headlands. Stay tuned for weekend docent programs in autumn!
August 31: Presidio Birdlife
Walk with an expert ranger and get to know some of the fine-feathered residents of the Presidio.
August 31, 2013