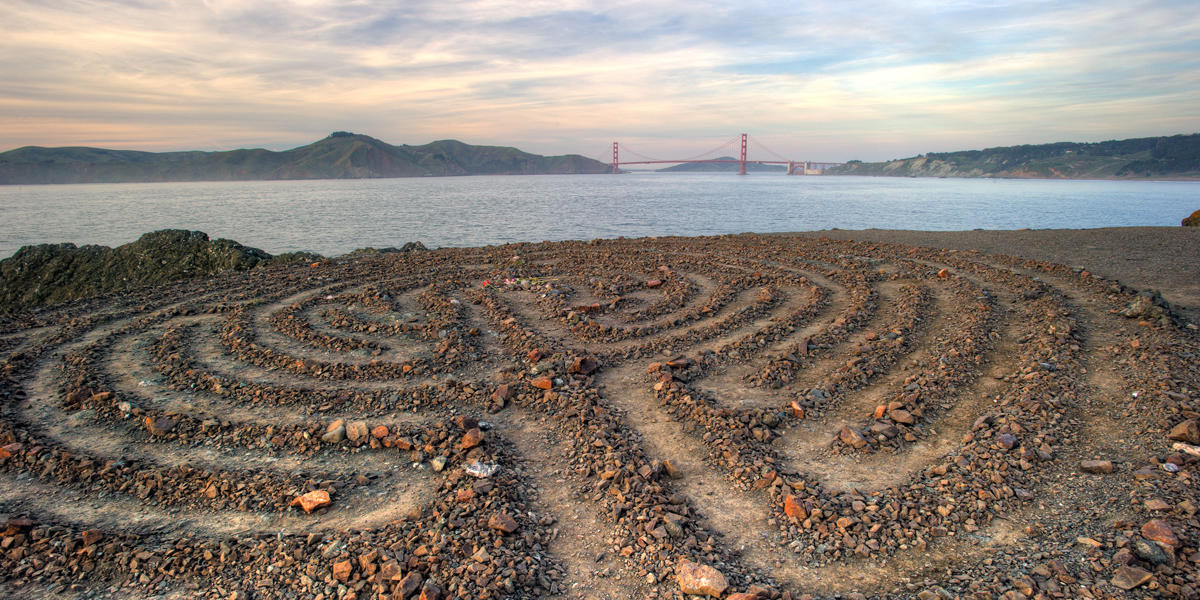 Lands End Labyrinth
Mason Cummings/Parks Conservancy
Just in time for Valentine's Day, we asked our field staff to share their favorite romantic trails—perfect for first dates, soul-soaring walks, and maybe even popping the question. Read on to see the sites and hikes our park experts recommended.
Pirates Cove Trail, Marin Headlands
Walk south of Muir Beach to the isolated cove. The trail's grade is enough to get your heart pumping, so by the time you drop into a secluded beach, you'll have earned your glass of champagne, a picnic, and some luxurious minutes to recline.
Miramontes Trail, Phleger Estate
San Mateo County
The towering redwoods and rippling creek create a cozy and intimate atmosphere for a pair of hikers' first date. Rendezvous on the Miramontes Trail and find the softer side of the park. Watch out for banana slugs too—nothing says romance like a slug sighting!
The "Boardwalk," Mori Point
San Mateo County
A National Park Service wildlife biologist's idea of romance can be found at Mori Point—in the ponds. Listen for the low croaking sound of a male California red-legged frog and you'll know he is looking for love, and a mate. Good sunset views can also really help set the mood.
Tennessee Valley Trail
Marin County
Tired of meeting for lunch or coffee on the first date? Meet for a walk to the beach at Tennessee Valley. At two miles, it's the perfect distance to talk, kiss at the beach, and return. And if there's no connection there, it's doubtful you'll find it over coffee, and this way you'll get some exercise too!
Lands End Rock Labyrinth
San Francisco
From Eagle's Point or Merrie Way, take the stairs to Mile Rock Beach. Behold the mystery! Watch the sunset, sit in silence, and get lost in the scenery.
Muir Beach Overlook and Owl Trail
Marin County
One of the most majestic trails in the park, this trail has uninterrupted, endless views of the great Pacific Ocean. Look for whales migrating south as you migrate with your lover along the Owl Trail.
February 20, 2012