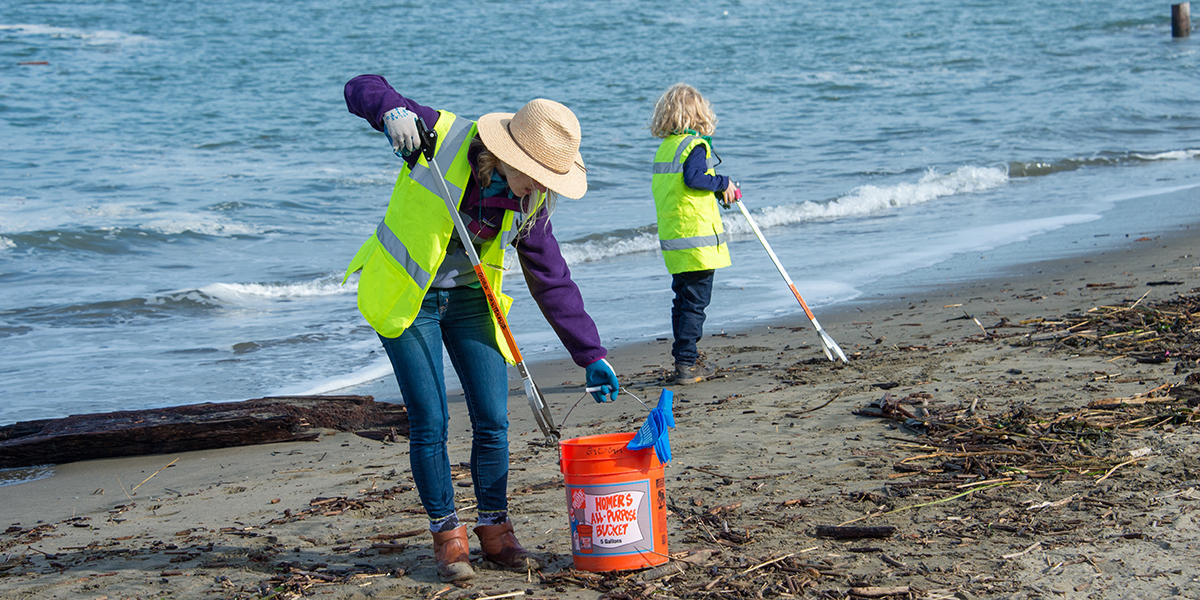 MLK Day of Service
Doc Miles/National Park Service
Winter in the Bay Area isn't just about earlier sunsets, slightly chillier days, and (hopefully) hella rainfall, it's also when a whole menu of exhibits, activities, and volunteer work days are taking place.

So...don't let the coziness of the indoors deter you. Don't binge watch Netflix until there's a hole in your couch. Get outside and seeing what winter in the Golden Gate National Parks has to offer!  

Planting Help
Wet soil = ideal conditions for planting. It's no secret that, in the winter, we need tons of help making your national parks greener. We have thousands of native plants that are just waiting to be placed in the ground to restore habitat at sites all across the Golden Gate National Parks.

The parks in San Mateo County (Rancho Corral de Tierra, Mori Point, Milagra Ridge, and more) especially need your help this year! You can join a drop-in weekly program or plan a group volunteer work day.

And don't forget, a volunteer activity is a fantastic way to spend quality time, outdoors, with friends and family members this holiday season. Learn more at parksconservancy.org/volunteer.

StoryWalk
What's a StoryWalk? Pages from children's books are put on signs and sprinkled along a trail for the enjoyment of you and your family. Walk the trail, explore the park, and read the story!

For our third StoryWalk, in partnership with the Presidio Trust and the Yosemite Conservancy, we've placed pages from Where's Rodney? by Carmen Bogan along the trail at accessible Gerbode Valley in the Marin Headlands.  

Sanctuary
For its latest exhibition, the FOR-SITE Foundation, one of our partners for the Art in the Parks program, invited 36 artists from 21 different countries (Syria, Democratic Republic of the Congo, Iran, and Egypt, to name a few) to design contemporary rugs reflecting on sanctuary. This installation offers visitors a multiplicity of perspectives on the basic human need for refuge, protection, and sacred ground.

The exhibition runs until March 11, 2018 at the Fort Mason Chapel.

Martin Luther King, Jr. Day of Service
We know we're biased, but we promise that volunteering with us is "lit"—and good for the body and soul. Why? Because time in nature has many salutary benefits, from increased physical activity to improved mental, emotional, and community health. You can burn calories, clear your mind, and lift your mood by doing something good!

And, in honor of the legacy of Martin Luther King, Jr., join us for our first volunteer work day celebration of 2018: the MLK Day of Service. We have volunteer opportunities all across the Golden Gate National Parks. Find one that's perfect for you and your loved ones.

Hands-On Tam
All hands on deck—er, we mean mountain! Hands-On Tam (Feb. 3) is One Tam's first big volunteer event of the year. It's a chance to restore and give back to critical natural areas from the Marin Headlands to Bolinas Ridge. Come out and explore beautiful areas while assisting in invasive plant removal, outplanting of native plants, and seed collection.

Sign up for a volunteer opportunity.
January 1, 2018