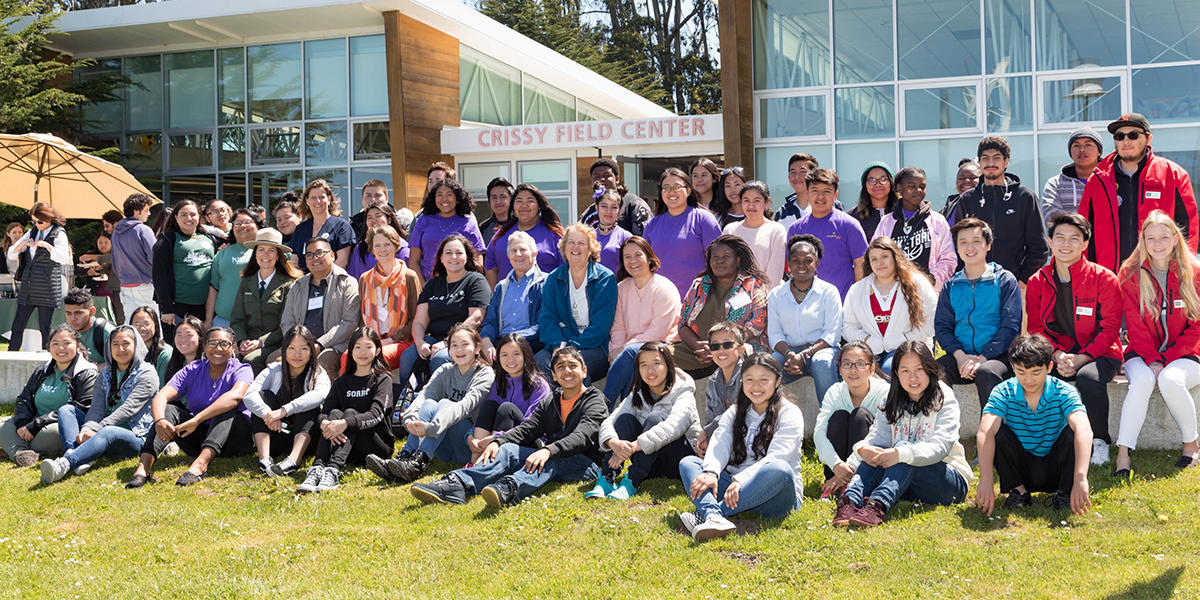 I-YEL students
C. Fiorito/Compass Photographers
Every year I-YEL students graduate from high school—and the Crissy Field Center's ladder of programs. Some return as counselors and interns, while others come back to the Center as full-time educators. This year, current participants in I-YEL (Inspiring Young Emerging Leaders, a youth-driven leadership program for high schoolers working on environmental and social change) will have a chance to meet these I-YEL alumni.   
On Saturday, June 28, the first-ever I-YEL Friends and Family Camp Overnight will take place at Rob Hill Campground in the Presidio of San Francisco. Current I-YEL interns will host alums and their families for a one-day, one-night camping trip, bringing together passionate park advocates from the 13 years of this inspirational and ever-evolving youth program.
Friends and Family Camp Overnight is an opportunity for former I-YELers to revisit the Golden Gate National Parks. It's the perfect opportunity for new and old I-YEL interns to discuss their experiences and gain valuable tips. The high school students will surely have plenty of questions  for their older counterparts, from navigating the I-YEL program as a youth intern and helping with CFC programming, to managing the rigors of high school classes and tackling the big question, "what comes after graduation?"
Now some of the oldest I-YEL alumni are in their early 30s, are married, and have kids. These alumni are encouraged to bring their spouses, children, parents, grandparents and anyone else they consider family to the event, people who normally aren't involved in the youth-focused curriculum of the program. 
Center staff are trying to continually add to their programs' foundation and community of support. They aim to encourage new generations to join I-YEL and visit their national parks, by letting youth who have graduated high school know that they still have a place in I-YEL. 
Activities during the camp event include interpretive programs by current I-YEL interns in Spanish, Chinese, and English. Also, everyone invited will bring a dish for a multicultural potluck. Guests also are encouraged to bring favorite table and field games to the campground for sharing with others. 
More information about the event can be found on the I-YEL Facebook page.
July 31, 2014