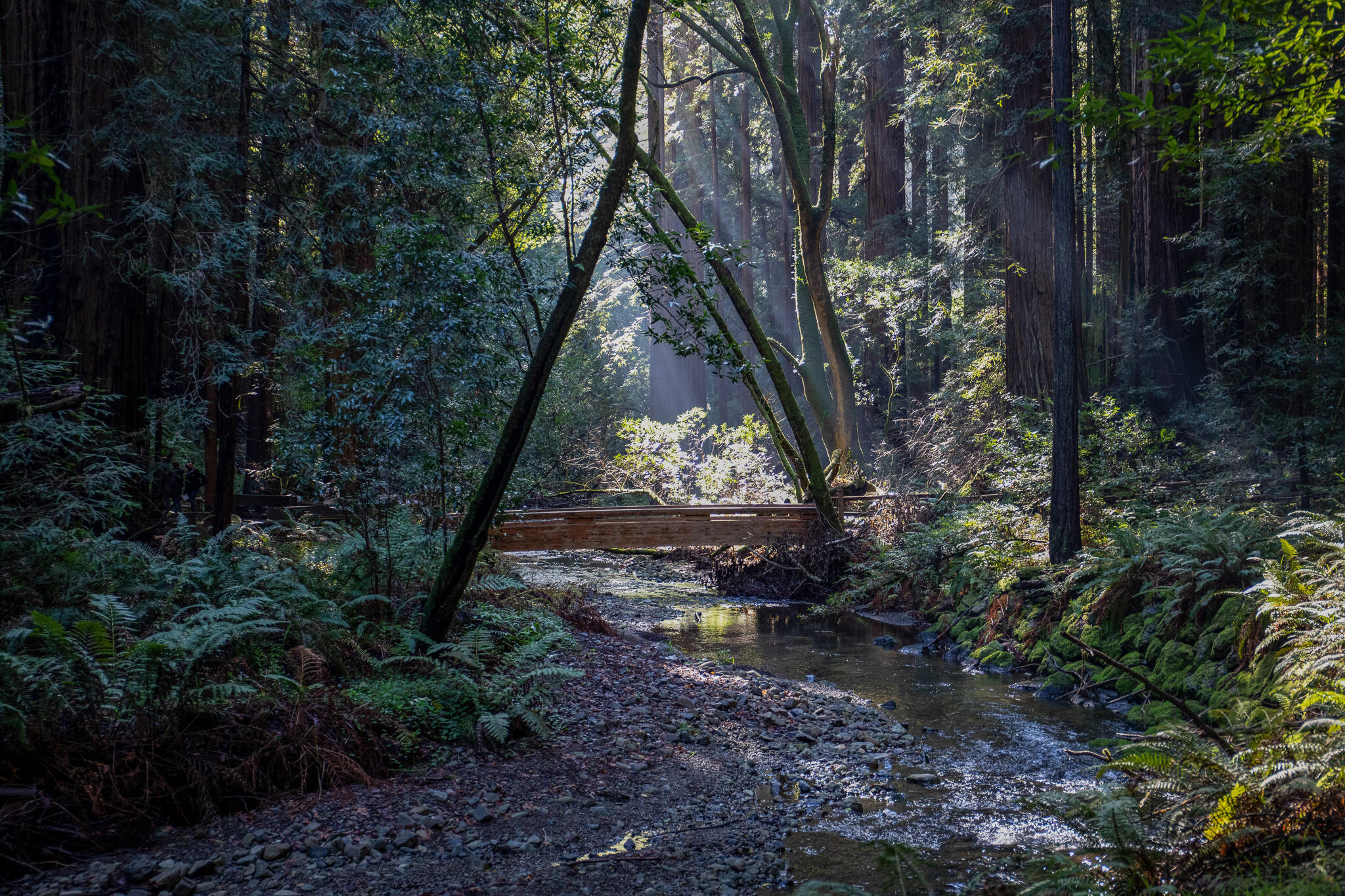 Bridge in Muir Woods Forest
Paul Myers Parks Conservancy
Explore Muir Woods as a completely flat loop or venture up the hillside on to trails less traveled for more of a workout! See a map of all hiking trails in the Woods here.
Distance: Varied
Time: 1-3 hours
Level: Easy to moderate, can either do a flat loop, or venture up the hillside a bit
Access/Parking: You MUST make parking reservations to park at the Woods – do this ahead of time! There is an entry fee to the park, which you can pay with your parking reservation, or at the entry point when you arrive. If you "come on a whim", you can park along the roadside (a tad hairy) at the Dipsea trailhead on Panoramic Highway x Bayview Drive (Mill Valley) and hike down the Dipsea Trail to Muir Woods.
Restrooms: Near the parking lot, and past the Visitor Center
Just past the Visitor Center, turn left over the first bridge on to the Bohemian Grove Trail
For a more rigorous hike and higher view of the woods:

Take a left on to the Hillside Trail, and follow that through the woods
Turn right on the Ben Johnson Trail, cross the bridge and turn right (or left to the Bootjack Trail if you'd like to go further and then backtrack) on the Redwood Creek Trail all the way back to the Visitor Center

For a flat hike:

Stay on the Bohemian Grove Trail paralleling Redwood Creek
It will take you over another bridge and you can turn left on Redwood Creek Trail to the Bootjack Trail as far as you like, and then turn around and follow the Redwood Creek Trail back to the Visitor Center