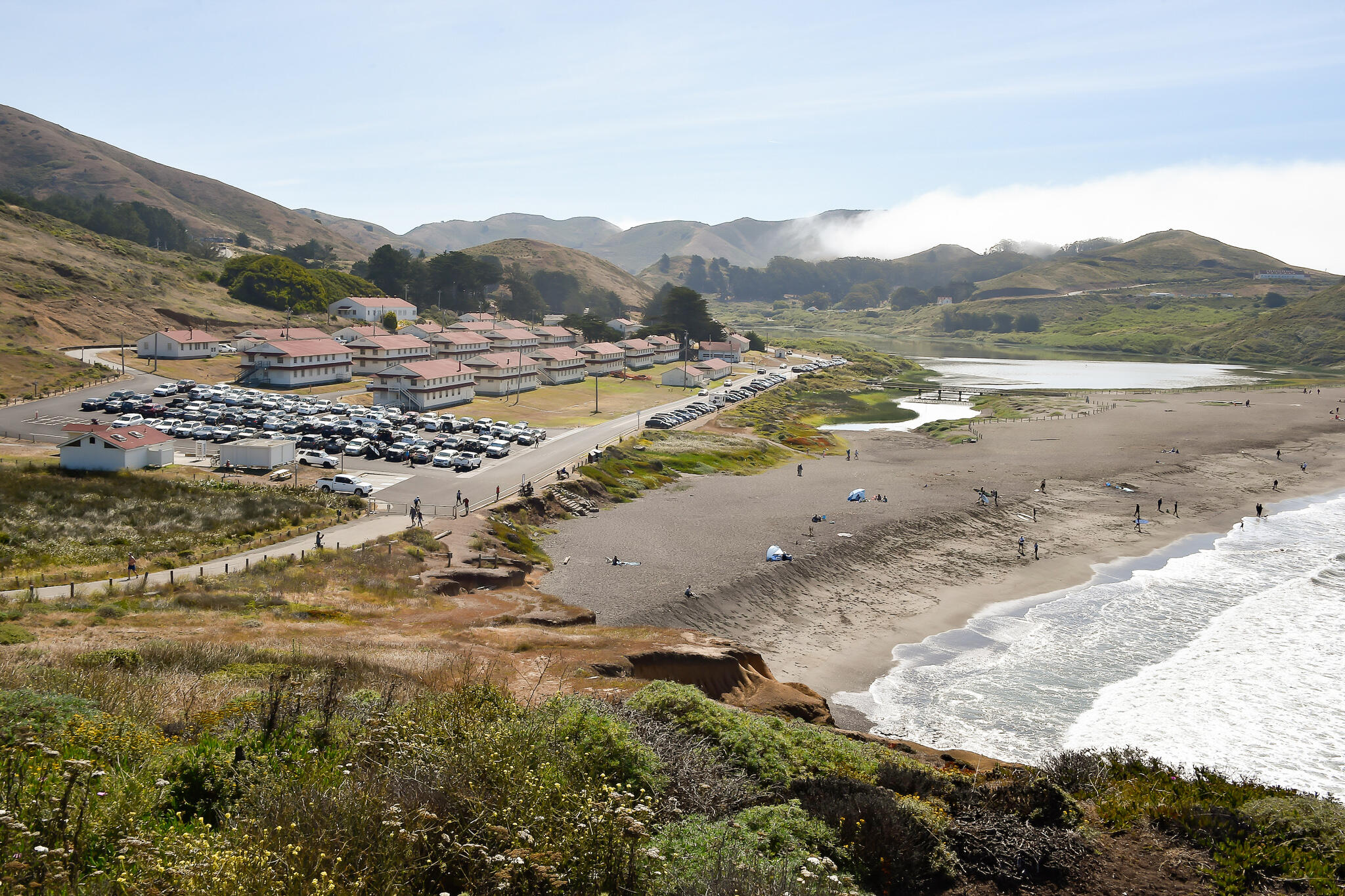 View of Rodeo Beach
Alison Taggart-Barone Parks Conservancy
Marvel at the beauty of the Marin Headlands on this moderate hike! There isn't any shade for the duration of the hike, so make sure to wear a hat and sunscreen. Print out the map or download on your phone as service is not reliable.
Distance: 4.5 miles
Time: 3 hours
Level: Moderate, gradual uphill and then gradual downhill
Access/Parking: Park in front of Point "B" on the map – a gravelly parking area in front of a long off-white building.
Restrooms: Portable restroom at parking area
Start at Point "A" and do this hike in a counter clockwise direction for the best views, starting uphill on Miwok and coming down Wolf Ridge & Coastal Trails

From the trailhead, follow the Miwok Trail

Take a left on the Wolf Ridge Trail - with nice views of the headlands and ocean.

At the top, pause for a snack break and take in the views north over to Stinson Beach and Bolinas and south towards San Francisco.

At the intersection with the Coastal Trail, continue straight (toward the ocean) on the Coastal Trail

There will be a point where the Coastal Trail goes "across" the bowl looking over the buildings below or goes down hill toward Battery Townsley.  Both may be called the Coastal Trail.

Go down toward Battery Townsley. The trail will become paved at some point with breathtaking ocean views.

Picnicing options are at tables near the restrooms, on the beach, or there is a lovely little grassy spot with 2 tables on the lawn next to the lagoon as you walk back toward your car.

To get back to your car, follow Mitchell Road along the lagoon.

Consider a stop at the Marine Mammal Center on your way back if you have the energy!