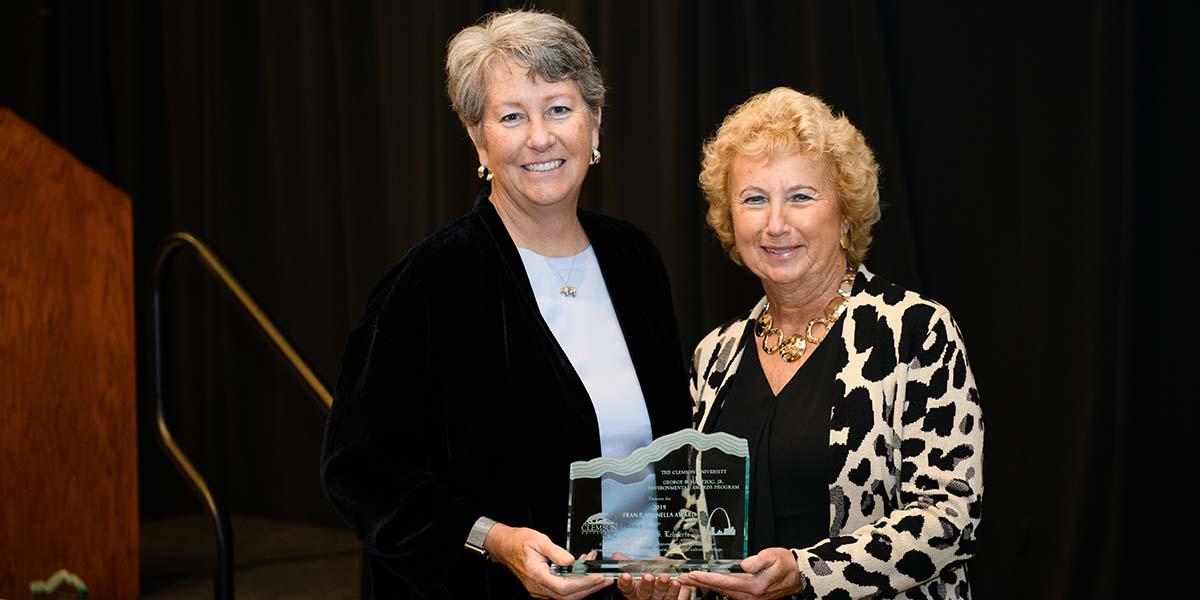 Chris Lehnertz (left) with her award's namesake, former National Park Service Director Fran Mainella, at the Hartzog awards ceremony
Courtesy Clemson University Institute for Parks
Chris Lehnertz, President and CEO of the Golden Gate National Parks Conservancy, was recently honored with the Fran P. Mainella Award by the Clemson University Institute for Parks in recognition of her long-standing commitment to diversity and inclusion in our nation's parks.
The institute presents the annual awards program, which is named for George B. Hartzog Jr., the seventh director of the National Park Service, to showcase leading figures in the field of conservation. Specific awards were named after visionary leaders that Hartzog respected and admired. Award recipients are following in Hartzog's footsteps by making significant contributions to the management of parks and preservation of our natural, historical, and cultural heritage.
The Fran P. Mainella Award is named in appreciation of the dynamic career of Fran Mainella, the first female director of the National Park Service. The award recognizes sustained and innovative achievement by a woman in the management of America's natural, historic and cultural heritage.
Brett Wright, dean emeritus of Clemson University's college of behavioral, social and health sciences, presented the award to Ms. Lehnertz at a ceremony on October 22. According to Dr. Wright, Lehnertz has a passion for making parks relevant, accessible, inclusive and welcoming for all.
"Recognizing that 36 percent of our national parks are now in urban areas, Chris is committed to advancing the role these sites can play in supporting civic needs such as education and literacy, wellness and urban quality of life," continues Dr. Wright. "She's worked hard throughout her career to bring different perspectives, people and communities to our parks, to make these public lands and our nation as a whole, stronger and more united."
Lehnertz has also made inclusion of the Bay Area's more than seven million residents a focus of her new role as president and CEO of the Golden Gate National Parks Conservancy.
"As the nonprofit partner of the National Park Service (NPS) at the GGNRA, the Parks Conservancy is committed to amplifying the park's inclusion efforts," she says. "I believe parks can spark powerful change. With community partners, we offer education and literacy programming, health and wellness activities, and youth leadership programs to serve our local residents."
Lehnertz started her park career as deputy superintendent at Yellowstone National Park, later serving as the regional director for the Pacific West Region, and superintendent at both Golden Gate National Recreation Area and Grand Canyon National Park. She successfully led several complex and challenging projects and issues, and was also deeply involved in multiple strategic planning efforts, many of which have resulted in crucial park accomplishments like the addition of lands to Joshua Tree National Park, policy on the Revisiting Leopold Report (2012) for resource stewardship in the 21st century, a modern and sustainable design for a new transcanyon waterline at Grand Canyon National Park and plans for an Inter-tribal cultural site at Desert View in Grand Canyon. She also played a role in the addition of four new units to the national park system – César E. Chávez National Monument, Honouliuli National Monument, Tule Springs Fossil Beds National Monument, and the Manhattan Project National Historical Park.
Before her work with the NPS, Chris fulfilled her passion for protecting the natural world in posts at the US Environmental Protection Agency, the US Fish & Wildlife Service, the US Forest Service, and the Colorado Division of Wildlife. Throughout her career, she has worked to establish a people-first culture. She served five years on the NPS Safety Leadership Council, resulting in a new national system of safety designed to improve safety, health, and wellness in every park unit and for every NPS program. She has focused her career on establishing a culture of respect and inclusion in spaces where people could be safe, feel secure, and find support.
###
The Clemson University Institute for Parks (CUIP) provides research, education, training, and outreach that enhances the management of the world's parks and protected areas. It accomplishes this by providing park and protected area managers with innovative research to support science-based decision-making; and by developing current and future leaders in the park movement by providing interdisciplinary and transformative education and training programs. The Institute currently consists of 35 Fellows and 8 Scholars working on park-related research.
Visit the CUIP website for more information about the George B. Hartzog, Jr. Environmental Awards program and its recipients.
November 19, 2019