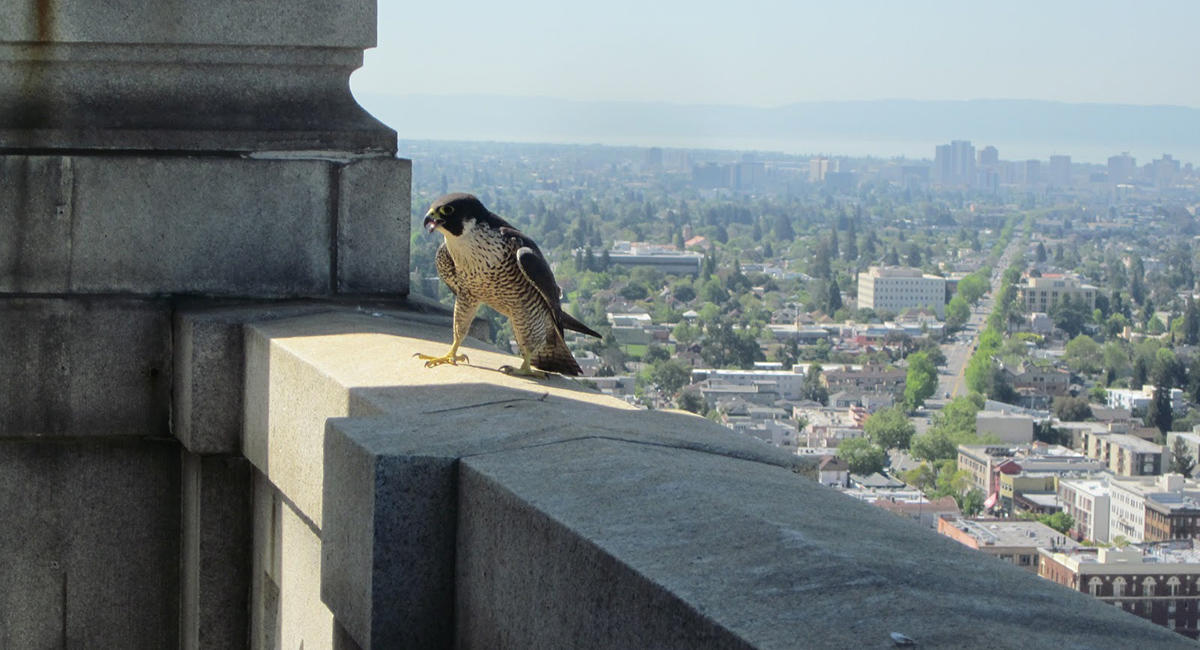 A Peregrine Falcon defends its nest at the UC Berkeley Campanile tower.
Courtesy Doug Bell
Peregrine Falcons, the world's fastest animal, were once on the brink of extinction. Due to the ubiquitous use of persistent pesticides such as DDT, California's population of Peregrine Falcons declined from hundreds to just two known breeding pairs by 1970. Thanks to the tireless efforts of scientists, falconers, citizen scientists, and academics, we now enjoy these truly magnificent birds as they reclaim not only their natural habitats but new urban nest sites as well.
By now, you might have heard about the nesting pair of Peregrine Falcons discovered at UC Berkeley in 2017. These magnificent birds have captivated the attention of birders, students, and tourists alike and have been monitored from the ground using spotting scopes near the Campanile Tower.
Wouldn't it be great if we could get a closer look? If we could peek in on the growing falcon family whenever we'd like, allowing researchers to follow the chronology of nesting without disturbing the birds? If they could determine exactly when the eggs are laid, when hatching occurs, and when to band the chicks?
For the next month, a crowdfunding project is underway to raise funds to install a webcam so everyone can enjoy and study UC Berkeley's "own" Peregrine Falcons in real time and in much greater detail than previously possible.
You can help make this webcam installation possible by donating to the project's crowdfunding page today! Click here to learn more about the project and show your support!
The Campanile Peregrine Webcam is a collaborative effort among UC Berkeley and the Museum of Vertebrate Zoology (www.mvz.berkeley.edu), the East Bay Regional Park District (www.ebparks.org), the Golden Gate Raptor Observatory (www.parksconservancy.org/programs/golden-gate-raptor-observatory) and the Institute for Wildlife Studies (www.iws.org).
November 21, 2018