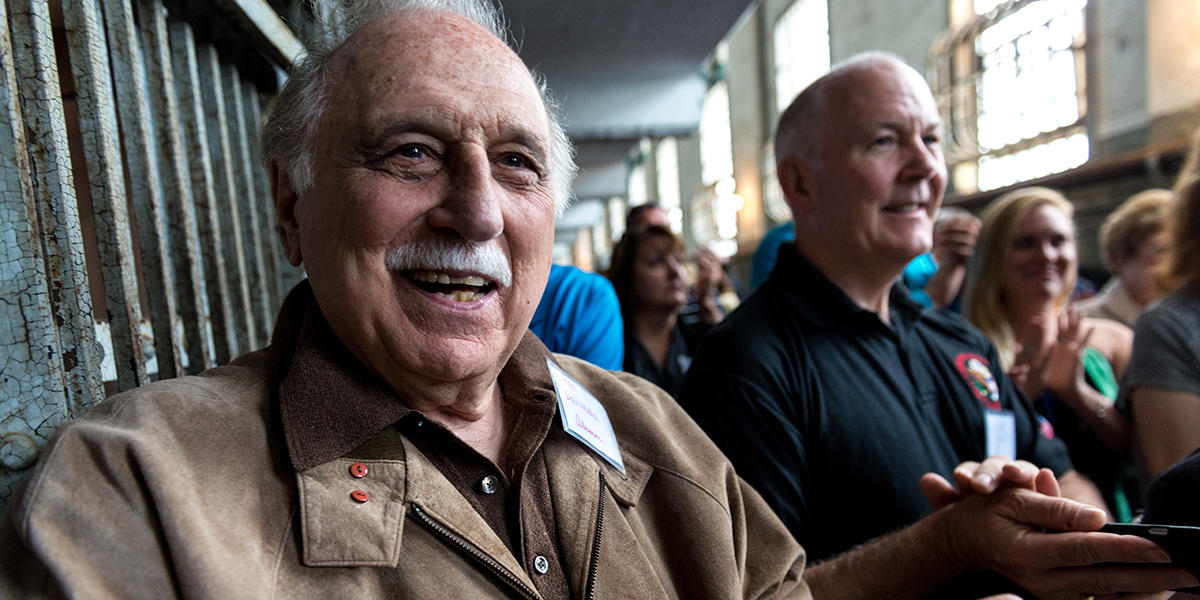 Former Alcatraz guard George DeVincenzi and other alumni participate in a reunion on the island in 2015
Paul Myers/Parks Conservancy
A chapter of San Francisco history will come to a close on Sunday, August 12 on Alcatraz Island. Members of the Alcatraz Alumni Association will gather for the final official reunion on the Rock. But their stories will continue to be told.
August 12 will be a special day on Alcatraz. Former guards and possibly a former inmate, along with family members and others, will be on the island to share their tales through tours, panel discussions, and presentations throughout the day. There's no extra cost for the events on the day.
Regular tickets for Alcatraz Cruises on that day are sold out, but a limited number of tickets will be released to the general public on Friday, August 10 at 10 a.m. You can get the tickets by going to https://www.alcatrazcruises.com/ or calling (415) 981-7625.
If you miss out on the tickets, the voices of the Rock's living history live on through the award-winning Alcatraz Cellhouse Audio Tour. Click the link above to get your Alcatraz tickets today.
We'll have more amazing tales from the Alcatraz alumni in our fall issue of Gateways, including the story of an eye-opening encounter at a past reunion. Not getting our stories? Sign up here to become a member of the Golden Gate National Parks Conservancy and get Gateways or sign up for our monthly E-ventures newsletter here.
August 6, 2018