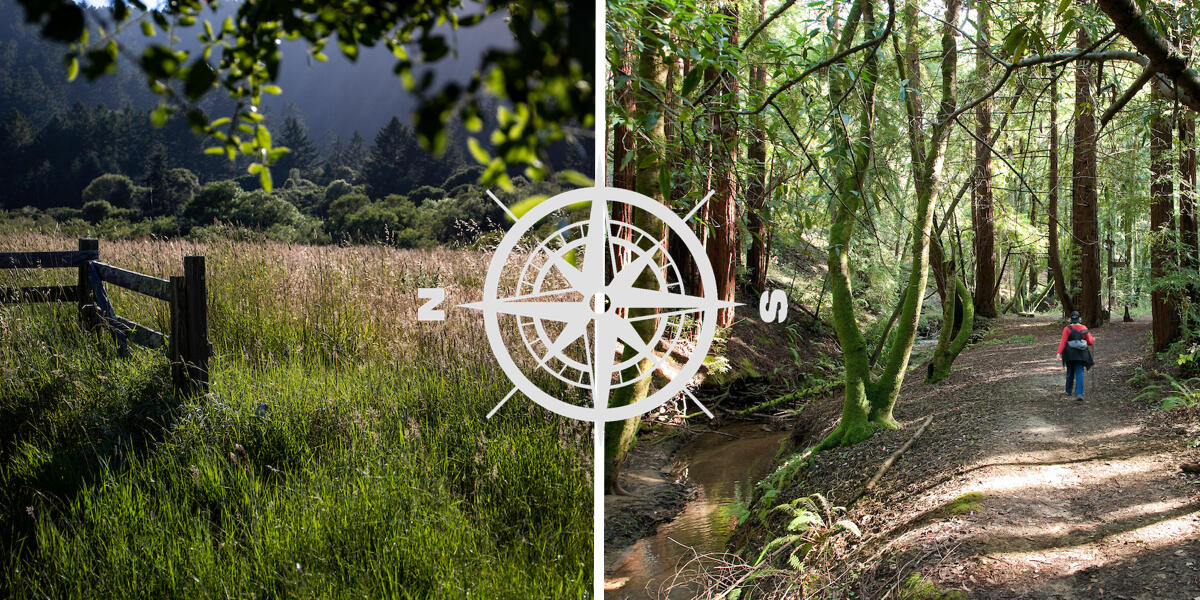 Olema Valley and Phleger Estate
Left: Craig Stocks / Parks Conservancy, Right: Paul Myers / Parks Conservancy
Unimpeded views of Tomales Bay fill your view beyond the ridgeline of Olema Valley. Forty-five miles southeast, Phleger Estate is engulfed by towering redwoods. More than 30 other park sites, with varied landscapes and ecosystems, are sandwiched between these two locations. Olema Valley and Phleger Estate are the most northern and southern sites in the Golden Gate National Recreation Area (GGNRA)—both have many reasons to venture to the farthest reaches of the parks for.
Olema Valley
When you open a map of the parks, you'll notice that Olema Valley reaches almost all the way up to Tomales Bay, neighboring Point Reyes National Seashore. Olema Valley is also the most western park site in the GGNRA!
Hike: Bolinas Ridge Trail stretches along the length of Olema Valley. The trail is about 11 miles long and can be hiked partially, as an out-and-back, or one-way with a shuttle car. Hiking due north along the trail will reveal the most sweeping views of Tomales Bay. During the fall, foliage changes colors around the southern part of the trail in autumnal shades of orange, yellow, and red. Olema Valley runs right along the San Andreas Fault—keep your eyes out for fascinating geologic features like sag ponds (small ponds that form in depressions near fault lines) and shears (a sudden drop-off in the ground due to a fault line).
Did you know? Much of Olema Valley contains or is adjacent to working ranchlands. That means there might be cows moo-ving around on or near the trail! Make sure to shut gates behind you so they don't wander away.
Phleger Estate
At the other end of the parks, Phleger Estate marks the most southern (and eastern) point in the GGNRA. This park is a stone's throw from Silicon Valley, making for a peaceful escape into the woods.
Hike: The Miramontes, Mount Redondo and Raymundo Trail loop winds through the quiet forest at Phleger Estate. This route is 6.5 miles long with moderate elevation gain. Several creeks meander along certain portions of the trail, but may be low or empty in the fall. The shade of the forest overhead keeps most of the hike shady and cool—a good option for warmer fall days.
Did you know? Century-old redwood stumps left behind from years of intensive logging mark the landscape here. See how many rings you can count in these fallen giants. Neighboring these stumps are new growth redwoods and firs that are rising again.
September 21, 2021