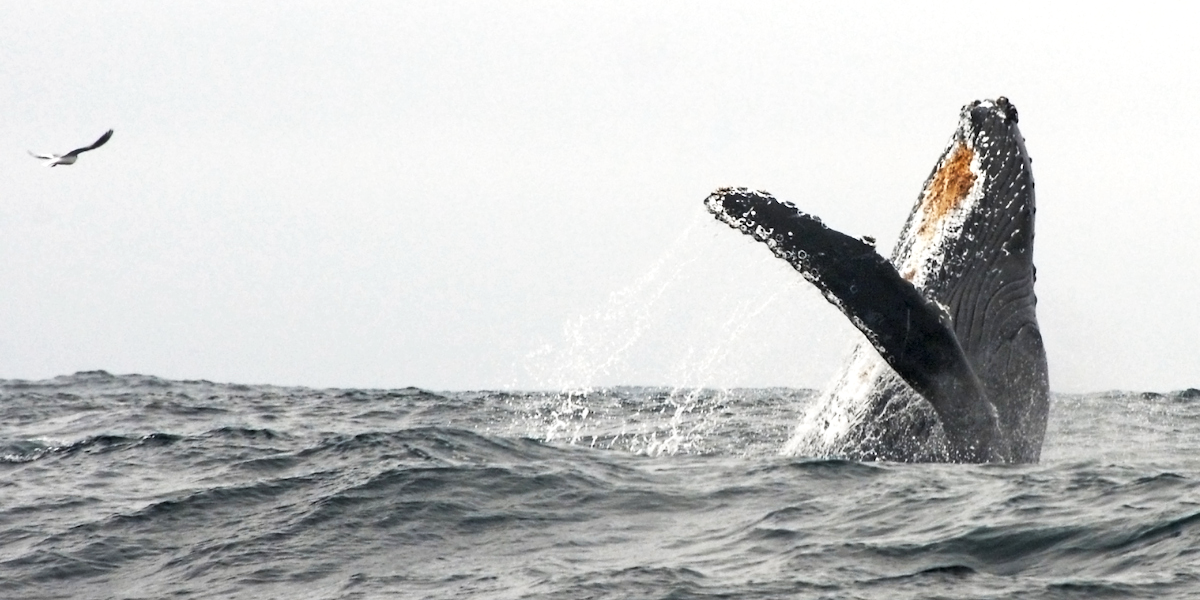 Migrating Whale Breaches Offshore of GGNRA
Jessica Weinberg McClosky / Parks Conservancy
"Why do living things move?" and "What is the importance of migration?" are a few of the essential questions that leaders recently dove into with participants in the Crissy Field Center's Migratory Story program. In the most recent iteration of the program, the CFC team provided impactful online programs and virtual Hawk Hill field trips to numerous 5th grade classes from San Francisco and Marin County public schools. 
Through Migratory Story, students examine animal migration patterns, the obstacles they face, and the adaptations that support them. Next, they investigate reasons for human migration with a focus on the Bay Area. In every year of the program, staff have opened up about their own family migration stories, which paves the path for young people to explore and be passionate about their own stories. We asked some of our incredible instructors what inspires them about this program, and this is what they shared. 
"When I get to share about my own family's migration story of escaping Vietnam during the Vietnam War by boat to seek safety and a life of opportunities for me, it resonates with students. I can build rapport being able to understand and find parallels in all of our migration stories. We all deserve universal needs, be it animals or humans. Teaching Migratory Story creates a space of trust and understanding that is necessary for us to learn and grow together." - Amy Tam, Educations Program Coordinator  
"Coming from a family of Pilipino immigrants, I understand how it feels to be made invisible in history and science classes in grade school. It's an invaluable experience to intentionally create brave spaces where my students can share their families' journeys and to see the joy in their eyes when their peers or educators come from similar backgrounds." - Lealani Manuta, Education and Youth Media Specialist  
"Migratory Story frames migration as something natural and necessary. As an Indigenous person from Mexico my story has to do with something that has always existed on this continent: Migration." - Miguel Cruz, Environmental Education Specialist 
"My family immigrated in the early 80s, Migratory Story relates to me by understanding and appreciating the struggles, the stories, and the tough times my family went through. It gave me a better appreciation as an American-born, first-generation Chinese to what my folks went through to give my siblings and I a happy life." - Sam Tran, Middle School Program Manager 
If you're interested in bringing Migratory Story to your own students or young people, check our program page later in the year for online curriculum. 
Since the fall migration season of 2015, in honor of his wife and longtime Golden Gate Raptor Observatory bander Jennie Rhine, Tom Meyer has provided annual generous support for this unique program 
January 22, 2021