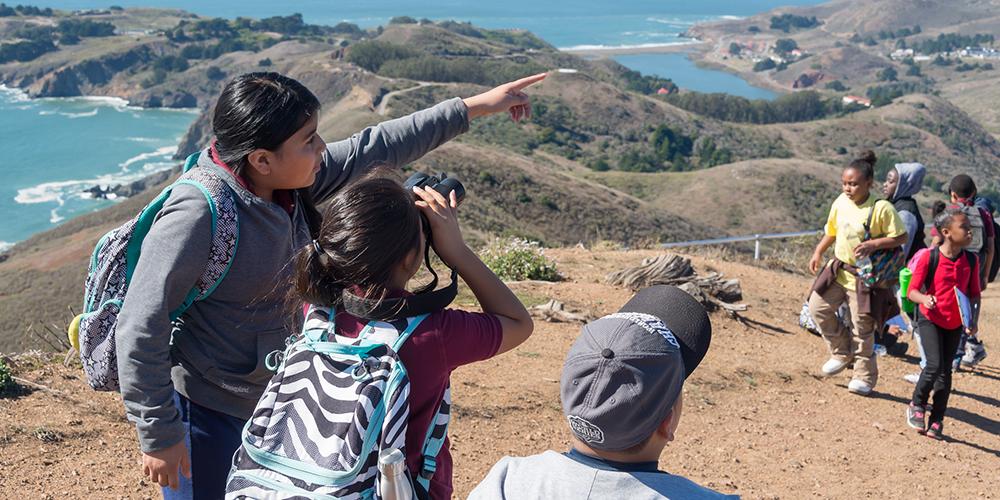 Golden Gate Raptor Program at Hawk Hill
Alison Taggart-Barone/Parks Conservancy
Migratory Story is an intersectional, multi-touch program that dives into the essential question, "Why do living things move?" More importantly, "What is the importance of migration?" This Crissy Field Center program explores migration with a social, historical and scientific approach, introducing youth to concepts including push/pull factors, or the challenges and contributions of both animal and human migration to their environments. 
Students focus on case studies of animals, identifying key characteristics of their migration patterns, the challenges or obstacles they face, and the adaptations that support them. Once youth have explored the value of migration through animal case studies, they investigate the reasons for human migration using San Francisco Bay Area as a case study. After bridging the significance of human migration to animal migration, students can solidify theses learnings by reflecting on their own migration stories. Throughout the program, students build inquiry skills, develop vocabulary of migration terms, critically analyze information, reflect and empathize with diverse migration narratives. 
Check out Crissy Field Center page to learn more about our programs and the leadership we build with our youth and students.
Discover more about San Francisco Bay Area Immigration history on the Angel Island Immigration Station Foundation website. 
Learn More About the Program
Click the + signs below to see more details about this program.
Migratory Story emerged from a partnership between the Crissy Field Center, the National Park Service, and the Golden Gate Raptor Observatory. They started off using raptor migration to address the science of migratory patterns in nature. Over evolutions and iterations of Migratory Story, we have compared raptors to the human world, while drawing parallels of common obstacles and adaptations used universally by all.
Since the fall migration season of 2015, in honor of his wife and longtime Golden Gate Raptor Observatory bander Jennie Rhine, Tom Meyer has provided annual generous support for this unique program that exposes urban public school students to the raptor world, nurtures their curiosity about nature, inspires the ornithologists of tomorrow, and helps them connect the epic journeys of raptors with their own families' migration stories.
As the program stands, the Crissy Field Center has taken lead on Migratory Story, guiding students through interdisciplinary field & class activities, calling upon the scientific method of observation, inference, hypothesis, and conclusions. These programs are supported by English literacy standards of peer communication and inquiry of multi-media materials and through frequently updated data gathered by the Golden Gate Raptor Observatory. 
Through Migratory Story, Crissy Field Center staff have seen the value in uplifting untold stories and hidden narratives that traditional education has rarely offered to student and their communities. In every iteration of the program, staff have opened up their own family's migration stories which paves the path for young people to explore and be passionate about their own. Migratory Story has shown us that people will invest in the conservation of their environments once they are invested in the preservation of their histories, their communities and themselves.
Together as staff who are children of immigrants, staff who are migrants themselves, students who are children of immigrants, students who are newcomers and lands that have rich histories, The Crissy Field Center, the Golden Gate Raptor Observatory and the National Parks Service of Golden Gate National Recreation lands are amplifying the breadth and significance of immigrants.