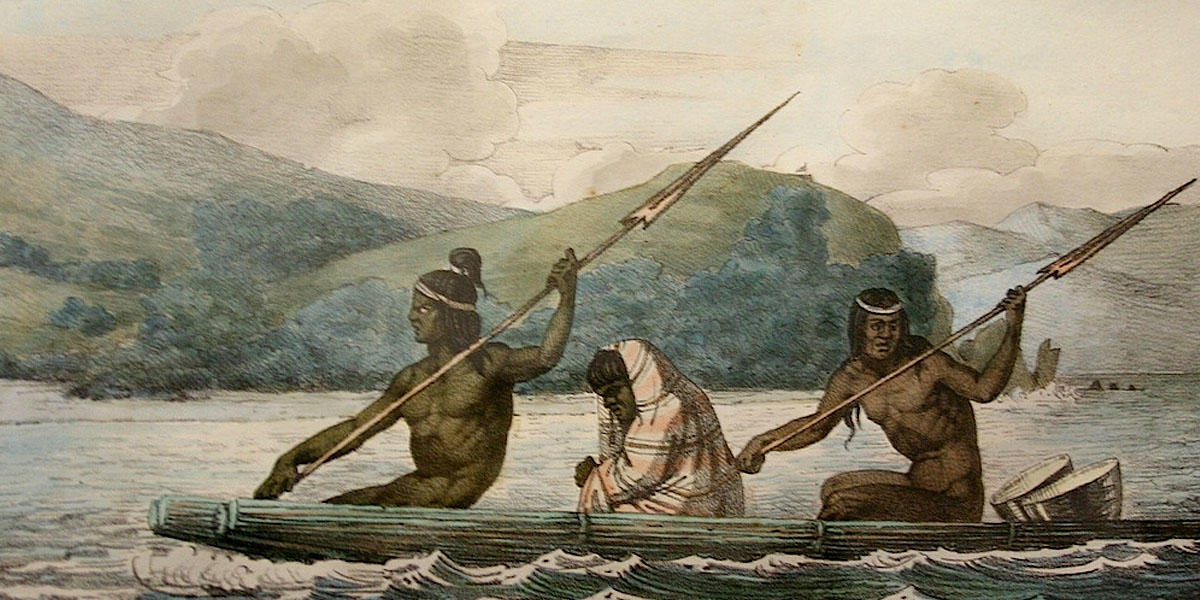 Ramaytush Ohlone in a tule boat in the San Francisco Bay, 1816.
Louis Choris
By William Urich
Park Stewardship Intern
Current ethnographic and archeological research suggests the Ohlone people came to the San Francisco Bay Area by sea as early as 4000 BCE in balsas, canoes furnished of tule reeds. Known today as the Ramaytush Ohlone, these peoples were part of a much larger socio-linguistic tradition with over 10,000 individuals spread across various tribes in the area.
Over 50 villages and tribes of the Ohlone, also known as Costanoan (from the Spanish missionaries who described the Ohlone as "Coastal natives"), were identified circa 1769 by Spanish colonists. They inhabited the Bay Area, Santa Clara Valley, East Bay, Santa Cruz Mountains, Monterey Bay, and Salinas Valley.
The Ramaytush Ohlone were living in coastal and inland establishments along the San Francisco Peninsula down to the end boundary of present-day San Mateo County. They were and are our ancestral stewards of the Peninsula.
The tribes of the Ohlone were broken up into smaller groupings called tribelets. These groups were often a small collection of families and relatives and usually had their own specific socio-linguistic traditions passed down over generations.
The Aramai tribelet was comprised of about 10 families and established itself in what is now called Pacifica in San Mateo County. They lived in two primary villages: the smaller village of Timigtac, located along Calera Creek, and the primary village of Pruristac, located immediately south in the San Pedro Valley.
Just over the hill from our national park site of Mori Point is Calera Creek, which flows from the neighborhood of Vallemar. As a site actively managed by the Park Stewardship Program, volunteers, interns, and staff work each week to revitalize the coastal bluffs, hillsides, and native marsh and grasslands. In the similar vein of the Aramai who tended the land, we continue to shape it and make it a healthier ecosystem for the local habitat.
The Aramai tended the land by harvesting tule reeds from the vast wetland of Mori Point. They were intricate weavers, crafting beautiful, watertight and durable baskets, building their living structures, and making seaworthy fishing boats using this technique.
Deer, elk, foxes, and waterfowl populations, in addition to steelhead trout and abalone found in healthy estuary biomes, were so abundant that the Aramai didn't have to domesticate livestock or concentrate on preserving food. Native strawberries and blackberries, along with yarrow, buckwheat, and abundant acorns from coastal oaks, provided ample food so the Aramai did not have to till soil for crops.  
Each day I spend with my peers at the Parks Conservancy, and with our passionate and vital cast of volunteers, I endeavor to remember the people who shaped, shared and enshrined these lands and waters. We must remember and acknowledge those who came many generations before this country was founded, and continue to listen to the Ramaytush Ohlone who are still currently living here today. Their wisdom is valuable for stewarding the land.
We strive to honor their legacies, to honor each other and to honor this world we all share. While places like Mori Point have had a history of land use and have experienced disturbance, we have the chance to make it flourish like it was for thousands of years. Please join us and your fellow community members in stewarding these special places by volunteering to work in our parks and creating your own connection with the land.
December 4, 2018