San Francisco Critter Socks Collection.
Golden Gate National Parks Conservancy
Bobcats, raccoons, and mule deer, oh my! 
Here in the Golden Gate National Parks, visitors love encountering wildlife as they explore our open spaces. As part of the Golden Gate UNESCO Biosphere Reserve, the park is home to an amazing number of animal species, from banana slugs to snowy plovers, coho salmon to Mission blue butterflies. Nearly 53 species of mammals, 250 species of birds, 20 species of reptiles, and 11 species of amphibians call the Golden Gate National Parks their home during some part of the year.
But the ecology of our park is fragile. Of the more than 300 animal species that make their home in the Golden Gate National Parks, 35 are endangered, rare, and threatened. That's more federally protected species than any other national park unit in the continental United States—more than Yosemite, Yellowstone, Sequoia, and Kings Canyon National Parks combined. 
To help kids learn about park wildlife, we developed our San Francisco Critter Socks Collection.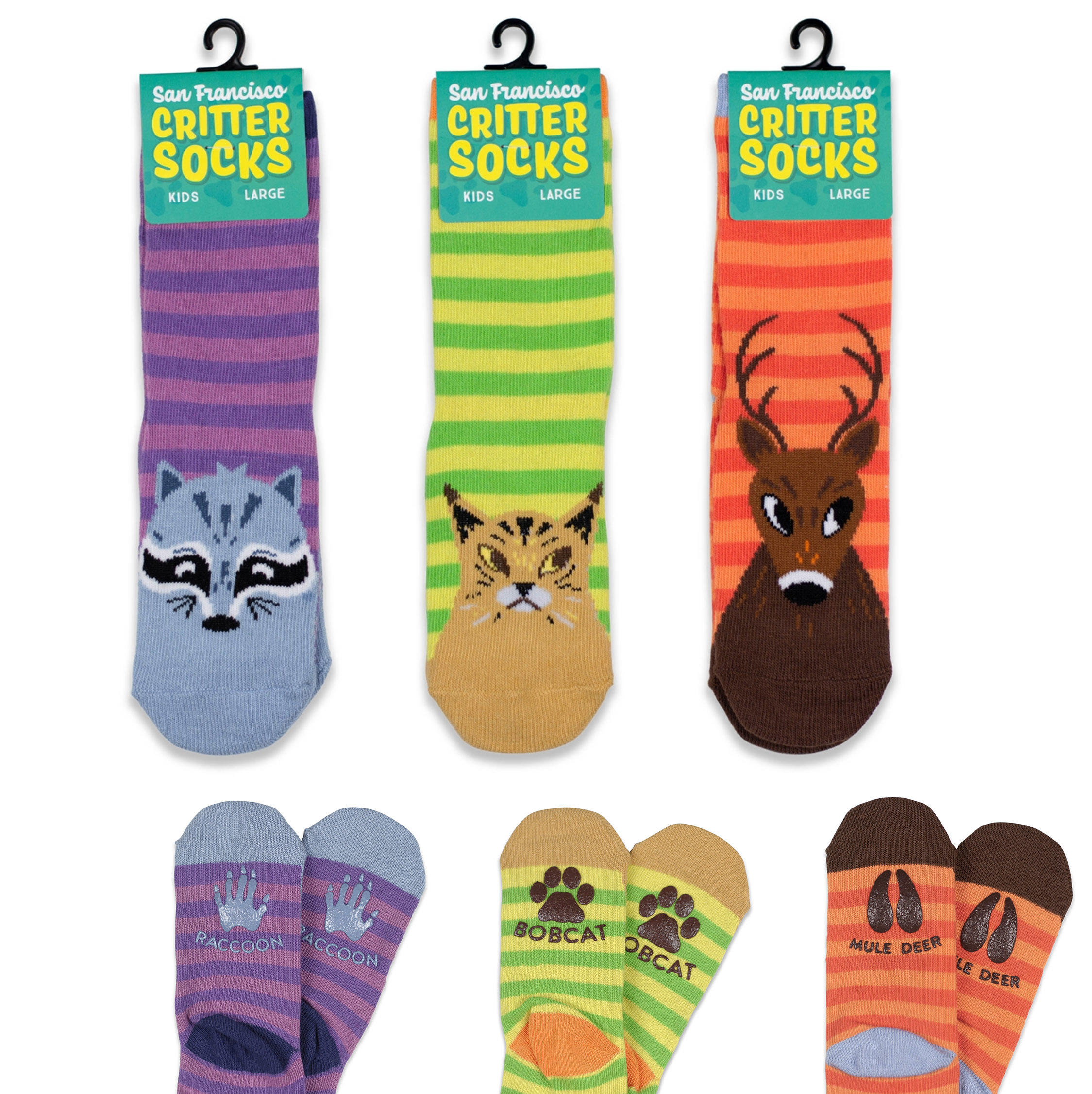 San Francisco Critter Socks, from left: raccoon, bobcat, mule deer.
Golden Gate National Parks Conservancy

The collection celebrates three species that make their home in our park: raccoons, bobcats, and mule deer. Kids love these playful socks because they make learning about animals TOE-tally awesome! All features on the socks are designed to be fun educational opportunities for kids: faces on the toe are an illustrated guide to animals in the park, tracks on the sole teach animal identification, and names are an exciting spelling challenge for young readers. Plus, as an important safety feature, the animal tracks are anti-slip, ensuring that your favorite little explorer stays safe on all of their adventures. 
The best part? 
When you purchase a pair of socks, proceeds from each sale return to the park and help us keep sharing the story of urban park wildlife. Thanks to supporters like you, we're helping foster the next generation of nature stewards! 
SHOP KIDS SAN FRANCISCO CRITTER SOCKS HERE >>
Come across an animal while you're exploring in the park? 
Here are some helpful tips to keep you and your family safe: 
•  Never feed wildlife. Don't even think about feeding candy to that squirrel!
•  Don't be a buzz kill. Never interfere with mating, predation, or other natural behavior.
•  Keep a respectful distance from wildlife (at least 10 feet). No Instagram shot is worth endangering an animal.
•  Follow "leave no trace" principles. Leave the outdoors better than you found it.
Learn more wildlife encounter tips at: https://www.parksconservancy.org/conservation/wildlife-encounter-tips
 
February 3, 2020